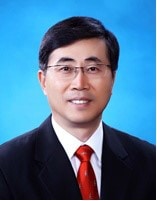 Mr. Ismail Yoon President, Samsung Gulf Electronics
Mr. Ismail Yoon first joined Samsung in August 1988 to manage the sale of military and defense products at the Samsung Trading Corporation, a division now part of Samsung Construction & Trading Corporation. During his 26-year career at Samsung, Mr. Yoon has marked a number of achievements. Chief among them were his successes in transforming a new petrochemical division into a 500 million dollar business and managing the opening of new branch offices in Egypt, Kuwait and Algeria.
Mr. Yoon was named as President of Samsung Gulf Electronics in December 2014. Within his remit, Mr. Yoon is charged with overseeing company operations in sales and marketing of related products in the GCC region, including Yemen. He brings a wealth of experience to the position, including 14 years steering operations in the Middle East.
Mr. Yoon first laid roots in the Middle East when he joined the Middle East Specialist Program in Egypt in 1992. As part of the program, he studied Arabic, Islam & Middle Eastern Culture at the American University of Cairo (AUC). When he returned to Korea in 1994, Mr. Yoon moved to the Overseas Strategic Planning division and took charge of its Middle East & Africa branches.
In 1999, Mr. Yoon was dispatched to Saudi Arabia, where he held the position of Managing Director at Samsung C&T Corporation, before joining Samsung Electronics in 2012 to serve as Vice President of the Handheld Products division of the Middle East & Africa sales team.
Mr. Yoon is an expert in trading, with specialization across export, import and triangle business. He is also a specialist in Project Organizing, and has handled more than 300 different kinds of products, including chemical, electronics and IT products.