SMART CAMERA NX300
NX300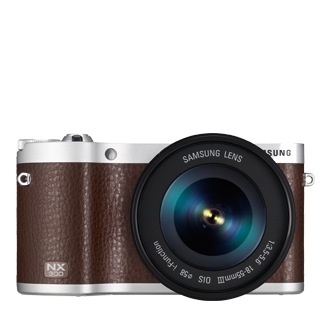 High performance made portable—great for the on-the-go photographer. The NX300 features a new, ultra-sensitive 20.3MP APS-C CMOS sensor and an advanced hybrid autofocus system for delivering detailed images that help blur the line between professional and enthusiast. And thanks to the 1/6,000 shutter speed, you can keep up with the action, this helps to capture a fast paced moment you may have otherwise missed.
Recycling Batteries Responsibly
The European Directive on Batteries and Accumulators aims to minimise the impact of batteries on the environment and encourage the recovery of the materials they contain. In the UK, regulations on the recycling of batteries and accumulators (rechargeable batteries) were Introduced in 2009. The Waste Batteries Regulations aim to significantly increase UK collection and recycling of used portable batteries from 3% in 2007 to 25% by 2012, rising to at least 45% in 2016.

The battery symbol on a product or on its packaging indicates that the product must not be disposed of with general household waste. Instead, it is the consumer's responsibility to dispose of their waste batteries at a designated collection point so that they can be recycled. The separate collection and recycling of batteries at the time of dispo sal will help to conserve natural resources and ensure that they are recycled in a manner that protects human health and the environment. A comprehensive list of battery recycling centres can be obtained from: www.recycle-more.co.uk

All Samsung products that are subject to the Batteries Directive are compliant with the UK battery and accumulator Requirements. In accordance with national law, SAMSUNG Electronics (UK) Ltd is a member of an approved batteries producer compliance scheme. This scheme collects, treats and disposes of batteries on Samsung's behalf.
Features
Fast and powerful, the Samsung SMART CAMERA NX300 allows you to quickly and perfectly capture spontaneous, even magical, moments throughout your day
Amazing, professional-quality photos
The ultra-sensitive sensor has the highest resolution and is the largest in its class—so it collects the most light. That means high-quality images and lifelike colours, even in low lighting.
Send images instantly and wirelessly
Dual-band supported Wi-Fi ensures stable network connections at all times. Got a great shot or video you can't wait to share? Email, text or Facebook it right from your camera, or send it to a smart TV and those at home can see it right away.
Tilt display
The 3.3" Super AMOLED tilt display lets you capture hard-to-get shots. Frame a low-angle image without having to lie on the ground, or shoot over a crowd and see exactly what you're getting.
The filters you want
A wide selection of new, easy-to-use filters lets you make your photos more creative, more you, and more share-worthy.
Do everything better and faster
The NX300's image processor is our most powerful yet. We're talking awesome colour reproduction, noise-cancelling technology and overall improved performance—speedier than ever.
Automatic back-up
"AutoShare" sends every picture you take instantly to your phone and GPS tags them—so backing up and sharing are super easy. Set it up once and your camera saves it as the default setting.
tech specs
Image Sensor
Color Filter

RGB Primary Colour Filter
Lens
Usable Lens

Samsung Lenses for Samsung NX Mount
Image Stabilization
Type

Lens Shift (Depends on Lens)
Distortion Correct
Mode

LDC On / Off (depends on Lens)
i-Function
i-Function

i-Depth, i-Zoom (x1.2, 1.4, 1.7, 2.0)
Display
Type

AMOLED with Touch (C-type Touch Control Enabled) and Tilt (Up 90°, Down 45°)

Resolution

WVGA (800 x 48 ) 768k dots (Pentile)

User Display

Grid (4 types), Histgram, Icons: On / Off, Distance Scale: ft / m / Off
Focusing
Type

Phase Detection & Contrast AF

Mode

Single AF, Continuous AF, MF, Touch AF & Shutter

Focusing point

Total AF Point: 105 points (Phase Detection AF), 247 points (Contrast AF) Selection: 1 point (Free selection ) Multi: Normal 21 (3 x 7) points (Cross point 1), Closeup 35points Face Detection: Max. 10 faces
Shutter Speed
Type

Electronically controlled vertical-run focal plane shutter

Speed

Auto: 1/6,000s ~ 30s Manual: 1/6,000s ~ 30s (1/3EV step) Bulb (Limit time: 4min)
Exposure
Metering System

TTL 221 (17 x 13) Block segment Metering: Multi, Centre-weighted, Spot Metering range: EV 0-18 (ISO 100 · 30mm, F2)

ISO Equivalent

Auto, 100, 200, 400, 800, 1600, 3200, 6400, 12,800, 25,600 (1 or 1/3EV step) * AUTO ISO upper level is selectable. (Up to ISO3, 200)
Drive Mode
Mode

Single, Continuous, Burst (5M size only), Self-timer, Bracket (AE / WB / PW)

Continuous

JPEG: High (8.6fps) , Normal (up to 5fps) selectable Burst: 10, 15, 30fps selectable, 30 shots by 1 release RAW: High (8.6fps), Normal (up to 5fps) selectable

Bracket

Auto Exposure Bracket (±3EV), WB, PW
Flash
Type

External Flash only (Bundle with SEF8A)

Mode

Smart Flash, Auto, Auto+Red-eye reduction, Fill-in, Fill-in+Red-eye reduction, 1st Curtain, 2nd Curtain, Off

Angle of View Coverage

28mm wide-angle (Equivalent to 35mm)

External Flash

Samsung External Flash available

Synchro (Flash attachment)
White Balance
Mode

Auto, Daylight, Cloudy, Fluorescent (W, N, D), Tungsten, Flash, Custom, K (Manual)

Micro Adjustment

Each 7 steps in Amber / Blue / Green / Magenta axis
Picture Wizard
Mode

Standard, Vivid, Portrait, Landscape, Forest, Retro, Cool, Calm, Classic, Custom (1~3)

Parameter

Contrast, Sharpness, Saturation, Colour
Shooting
Mode

Smart Auto, Program, Aperture Priority, Shutter Priority, Manual, Lens Priority, Smart, Wi-Fi

Smart mode

Beauty Face, Landscape, Macro, Action Freeze, Rich Tone, Panorama, Waterfall, Silhouette, Sunset, Night, Fireworks, Light Trace, Creative Shot, Best Face

Smart Filter

Vignetting, Minature, Coloured Pencil, Watercolour, Wash Drawing, Oil Sketch, Ink Sketch, Acryl, Negative, Selective Colour (R / G / B / Y 4 Colours)

Image Size

JPEG (3:2): 20.0M (5472 x 3648), 10.1M (3888 x 2592), 5.9M (2976 x 1984), 2.0M (1728 x 1152), 5.0M (2736 x 1824): Burst mode only JPEG (16:9): 16.9M (5472 x 3080), 7.8M (3712 x 2088), 4.9M (2944 x 1656), 2.1M (1920 x 1080) JPEG (1:1): 13.3M (3648 x 3648), 7.0M (2640 x 2640), 4.0M (2000 x 2000), 1.1M (1024 x 1024) RAW: 20.0M (5472 x 3648) * 3D Lens Image Size: JPEG (16:9) 4.1M (2688 x 1512), (16:9) 2.1M (1920 x 1080)
Image Play
Type

Single image, Thumbnails (15 / 28 images), Slide show, Movie

Editing

Smart Filter, Red-eye fix, Resize, Rotate, Face Retouch, Brightness, Contrast

Smart Filter

Vignetting, Minature, Coloured Pencil, Watercolour, Wash Drawing, Oil Sketch, Ink Sketch, Acryl, Negative, Selective Colour (R / G / B / Y 4 Colours)
Movie Clip
Mode

Program, Aperture Priority, Shutter Priority, Manual

Recording

With Audio or without Audio (user selectable, recording time: 29 min 59s)

Smart Filter

Vignetting, Minature, Coloured Pencil, Watercolour, Wash Drawing, Oil Sketch, Ink Sketch, Acryl, Negative, Selective Colour (R / G / B / Y 4 Colours) (1920 x 1080, 1280 x 720, 640 x 480, 320 x 240)

Image Size

1920 x 1080, 1920 x 810, 1280 x 720 , 640 x 480, 320 x 240 for Sharing

Frame Rate

60fps, 30fps, 24fps (1920 x 810 Only) (* 3D - 30fps Only)

Multi-Motion Recording

x0.25 (640, 320 only), x0.5 (1280, 640, 320 only), x1, x5, x10, x20

Movie Editing

Still Image Capture, Time Trimming
Storage
Media

SD, SDHC, SDXC, UHS-1 Support

File format

RAW (SRW ver2.0.0), JPEG (EXIF 2.21), MPO (for 3D), DCF, DPOF 1.1

Capacity (2GB)

20.0M: RAW 39
20.0M (3:2): Super Fine 130, Fine 163, Normal 217
10.1M (3:2): Super Fine 277, Fine 356, Normal 505
5.9M (3:2): Super Fine 471, Fine 570, Normal 727
2.0M (3:2): Super Fine 1053, Fine 1426, Normal 1941
Burst (5.0M): Super Fine 430, Fine 514, Normal 638
16.9M (16:9): Super Fine 153, Fine 190, Normal 251
7.8M (16:9): Super Fine 346, Fine 417, Normal 568
4.9M (16:9): Super Fine 512, Fine 670, Normal 896
2.1M (16:9): Super Fine 1015, Fine 1349, Normal 1700
13.3M (1:1): Super Fine 217, Fine 227, Normal 284
7.0M (1:1): Super Fine 336, Fine 465, Normal 592
4.0M (1:1): Super Fine 559, Fine 752, Normal 1203
1.1M (1:1): Super Fine 2149, Fine 2471, Normal 2819
Movie: 1920 x 1080
60p: High Quality 10m 10s, Normal 12m 43s 1920 x 1080
30p: High Quality 17m 41s, Normal 22m 9s 1920 x 810
24p: High Quality 21m 35s, Normal 27m 2s 1280 x 720
60p :High Quality 16m 51s, Normal 21m 6s 1280 x 720
30p: High Quality 29m 11s, Normal 36m 35s 640 x 480
30p: High Quality 120m 47s, Normal 153m 30s 320 x 240
30p: High Quality 218m 48s, Normal 278m 24s
※ These figures are measure under the Samsung standard.
Languages
Languages

29 Languages (Korean, English, Danish, German, Dutch, Swedish, Spanish, Italian, Czech, French, Portuguese, Polish, Finnish, Russian, Norsk, Simplified / Traditional Chinese, Arabic, Persian, Turkish, Hebrew, Thai, Greek, Hungarian, Estonian, Lithuanian, Latvian, Serbian, Croatian)
GPS
Type

Geo-tagging w / Optional GPS Module (WGS84)
Interface
DC Power Input Connector

DC 5.0V, 1A via Micro USB port
Power
Power Source

Type

Rechargeable battery: BP1130 (1,130mAh)

Battery

160 min / 320 shots (CIPA Standard)
Physical Specification
Dimension

Dimension (WxHxD)

122 x 63.7 x 40.7mm (excluding the projection part)
S/W and PC OS
Bundle PC S/W

Adobe Photoshop Lightroom, iLauncher
Wireless
Wireless

IEEE 802.11b/g/n support Dual Channel. AutoShare. Cloud. Email. Auto Backup. Remote Viewfinder. Mobile Link. Wi-Fi Direct. AllSharePlay. Social Sharing
System Requirement
Windows

iLauncher

PC with processor better than Intel Core 2 Duo 1.66GHz / AMD Athlon X2 Dual-Core 2.2GHz or higher Minimum 512MB RAM (Over 1GB recommended) Windows XP SP2 / Vista / 7 / 8 250MB of available hard-disk space (Over 1GB recommend) USB 2.0 port CD-ROM drive nVIDIA Geforce 7600GT or later / Ati X1600 series or later 1024 x 768 pixels, 16-bit colour display compatible monitor (1280 x 1024, 32-bit colour display recommended) Microsoft DirectX 9.0c or later

Macintosh

iLauncher

Mac OS 10.5 or higher Minimum 256MB RAM Minimum 110MB of available hard-disk space USB port CD-ROM drive
Support
Install Guide

All OS, 0.01MB, zip, MULTI LANGUAGE

Version : Lightroom 4.4.1

2013.07.03

Close tooltip pop-up

1. Title - Adobe Photoshop Lightroom S/W Ver. 4.4.1
2. Applicable Model - NX300, NX2000, NX1100
*Please download and update your program
*OPEN attached file - You can find URL address

[Improved items of Adobe Photoshop Lightroom Ver. 4.4.1]
- Enhanced NX300, NX2000, NX1100 RAW picture quality

[download URL]
- Windows: http://www.adobe.com/support/downloads/detail.jsp?ftpID=5600
- Mac.: http://www.adobe.com/support/downloads/detail.jsp?ftpID=5599
Upgrade File

All OS, 240.76 MB, zip, MULTI LANGUAGE

Version : 1.45

2014.12.16

Close tooltip pop-up

1. Title - NX300 firmware v1.45
2. Carrier or Corporate Customer - Open market
3. Description
[Caution] During upgrading firmware, a camera turns itself on and off 3 times.
Do not cut off the power and Do not remove battery before complete message.

[v1.45]
1.Fixed EXIF information error that captured RAW + over shutter speed 0.5sec

[v1.44]
1.Improved 50-150mm-S lens compatibility
2.Improved Flash-zoom issue of SEF42A Flash

[v1.43]
1.Improved 16-50mm-PWZ 16mm position movie recording intermittent line noise
2.Revision Open Source Licenses

[v1.42]
1.Improved movie playback sound performance

[v1.41]
1.Add Wi-Fi Privacy Lock function
2.Revision Open Source Licenses

[v1.40]
1.Adding Shunt down Action option of Sensor Cleaning
2.Adding DMF Responsiveness option (support lens 18-55mm-III, 16-50mm)
3.16-50mm S and Power zoom lens compatability
- Improved AF performance and color shading
- Power zoom lens, zoom speed changing option
- Power zoom lens, movie recording touch-zoom function option
- Power zoom lens, display focal-length option

[v1.34]
1.Fixed vertical noise on the left side after upgrade v1.33

[v1.33]
1.Remote ViewFinder - add touch AF function
2.Remote ViewFinder - add streaming quality option
3.Improved connection speed of android smart phone
(Please use latest version of Upgrade Smart Camera App)
4.Improved Movie recording(Framing Mode ON)
5.Improved 60mm,85mm lens full time manual focus performance

[v1.32]
1.Improved image quality
2.Improved LCD review
3.Reboot NX300 - Do not reset value of Slide show options

Upgrade guide

All OS, 0.28 MB, pdf, MULTI LANGUAGE

Version : 1.0

2014.06.26

Lens Upgrade File

All OS, 0.37 MB, zip, MULTI LANGUAGE

Version : 140311

2014.06.09

Close tooltip pop-up

This is the latest LENS firmware package.
To maximize improved firmware performance, body firmware should be the latest version.

1. 18-55mm-III (v1.11)
- Improved OIS performance
- Improved the DMF sense of rotation for MF ring
- Add new function for NX30 - Enable 3 steps control of DMF sensitivity

2. 18-55mm-I (v1.20), 18-55mm-II_iFn (v1.10),
20-50mm-I (v1.10), 20-50mm-II (v1.00), 20mm (v1.10),
50-200mm-I (v1.20), 50-200mm-II_iFn (v1.10)
- Change the sense of rotation for MF Ring. (Opposite position)
- Reduce the Current consumption when lens operated.
- Improved infinity AF(Auto Focus) accuracy at fireworks mode.

3. 18-200mm (v1.10)
- Improved NX200 movie mode aperture noise
- Improved OIS current and noise

4. 30mm (v1.22)
- Intermittent failure of DMF that occurs when user press half shutter is fixed.
- Accuracy of auto focus has been improved.

5. 85mm (v1.10)
- Back focusing problem of small aperture is fixed.

[How to check the Lens firmware version]
Please select the menu in the following order.
Menu -> Setup -> Device information

[How to update the Lens firmware]
1) Download the lens firmware file into the root directory of the SD memory card.
- When you upgrade the lens firmware, the lens which you upgrade must be attached on the camera.
- If you can not attach the lens to the camera, you can not not upgrade it.
- The file name of lens firmware is ''lens.bin''
- If there is a difference between attached lens and lens firmware file, you can find the ''File Error'' message.
2) Insert the SD card on which the lens firmware file is to be saved and then turn on the camera.
3) Please select the menu in the following order.
Menu -> Setup -> Device Information -> Firmware Update -> Lens Firmware -> ''Yes''
Some files may not be available from phones and tablets. Access this page from your desktop computer to be able to download all files.In order to read a PDF file, you must have Adobe Acrobat reader installed on your computer. You can download it at the Adobe website.Download Adobe Acrobat ReaderGoIn order to read DjVu files, you must have the DjVu viewer installed on your computer. Click this banner and install the viewer.Download Djvu ViewerGo
Have a question or need product support? Go to our support sectionGo
NEWEST
MOST HELPFUL
HIGHEST RATING
LOWEST RATING