Virus Doctor Air Purifier with Mood Lighting, 10 ㎡
SA501TP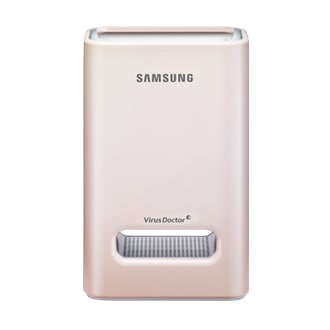 Virus Doctor SA501
Power Consumption (W) : 4,8 W
Room Coverage : 10 m²
Pre Filter : Yes
Recycling Batteries Responsibly
The European Directive on Batteries and Accumulators aims to minimise the impact of batteries on the environment and encourage the recovery of the materials they contain. In the UK, regulations on the recycling of batteries and accumulators (rechargeable batteries) were Introduced in 2009. The Waste Batteries Regulations aim to significantly increase UK collection and recycling of used portable batteries from 3% in 2007 to 25% by 2012, rising to at least 45% in 2016.

The battery symbol on a product or on its packaging indicates that the product must not be disposed of with general household waste. Instead, it is the consumer's responsibility to dispose of their waste batteries at a designated collection point so that they can be recycled. The separate collection and recycling of batteries at the time of disposal will help to conserve natural resources and ensure that they are recycled in a manner that protects human health and the environment. A comprehensive list of battery recycling centres can be obtained from: www.recycle-more.co.uk

All Samsung products that are subject to the Batteries Directive are compliant with the UK battery and accumulator Requirements. In accordance with national law, SAMSUNG Electronics (UK) Ltd is a member of an approved batteries producer compliance scheme. This scheme collects, treats and disposes of batteries on Samsung's behalf.
Virus Doctor Air Purifier with Mood Lighting, 10 ㎡
Features
Eliminates the airborne virus & bacteria
Eliminates the airborne virus & bacteria
Neutralises the harmful active oxygen
Eradicates allergens causing allergy
Protecting against Airborne Viruses
Samsung Virus Doctor is the appropriate way to protect ourselves against airborne diseases, defeating the cause of airborne diseases effectively. Besides, BAF (British Allergy Foundation) has approved S-Plasma ion's effectiveness eliminating of allergens. Keep the air you breathe clean and healthy with Samsung Virus Doctor.
Eliminating Viruses
Samsung Virus Doctor eliminates harmful viruses which cause of serious airborne diseases such as Influenza A, subtype H1N1 and even SARS. Many academic research organisations have proven the superior effectiveness up to 99.9% of S-plasma ion. Now you can feel perfectly safe about invisible tiny enemies in the air.
Neutralising active oxygen radicals
OH-radical can cause aging and skin diseases. According to the study by Hiroshima University, the active oxygen concentration level gets decreased significantly by the S-Plasma ion generating active hydrogen atom (H) which reacts to the active oxygen (OH-radical) to form a water molecule.
S-Plasma ion technology
S-Plasma ion technology generates negative (-) ions only which have functions to eliminate airborne viruses, bacteria fungi, mold and allergens as well as neutralise the harmful active oxygen (OH Radical) for cleaner and healthier indoor air quality.
Intuitive Interface
Another forte of Samsung Virus Doctor is its own intuitive interface so you do not have to learn how to use it by reading manuals overnight. Only with a slight touch, it immediately starts to work for your healthier atmosphere.
Simple & Smart Design
At any place, Samsung Virus Doctor offers finest design with varied colour options. Three major design award have verified its aesthetic value highly. You can see that the simple and neat looking itself coordinates with any places giving a visual delight.
Free Maintenance
Tired of changing filters? You are free from filter replacement with Samsung Virus Doctor. It has its own brush to clean up the filter inside. Enjoy freedom from cleaning and replacement costs!
Good Design award
Samsung Air Humid Purifier has won the Good Design Award 2010, Japan.
IDEA
Samsung Virus Doctor has won the Gold Prize in IDEA 2010, USA.
AHR
Cooling air flows out throught multiple outlets at every shelf level and maintains even and constant temperature.
tech specs
Performance
Noise Level

High (H)

Low (L)
Electrical Data
Energy Efficiency

Power Consumption
Physical Specification
Dimension

Net Dimension (WxHxD)
General Feature
Convenience

Mood Lighting

Pre-Filter

Display

Air Flow Control Step
NEWEST
MOST HELPFUL
HIGHEST RATING
LOWEST RATING