RR82EEPN
RR82EEPN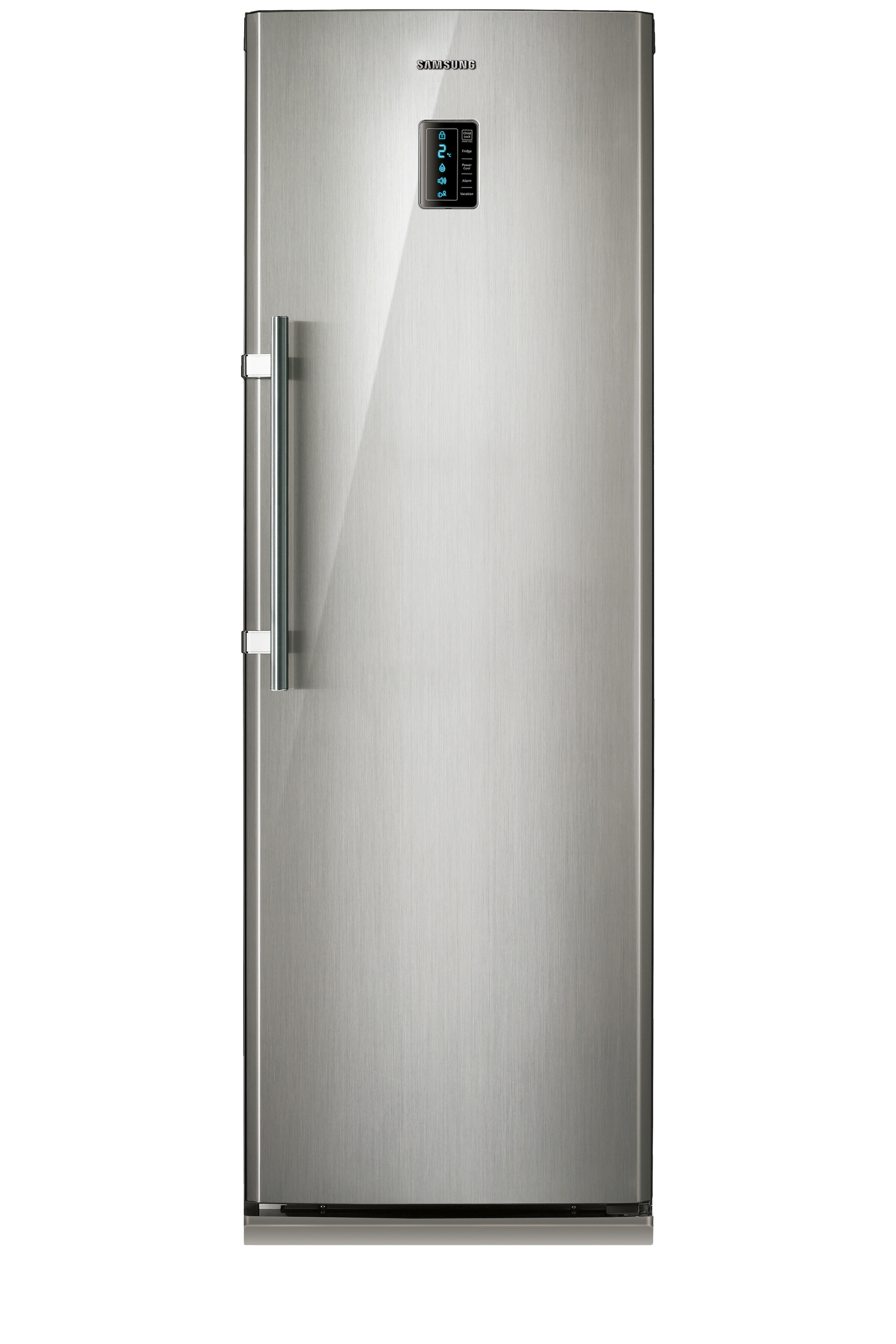 Samsung TWIN series blends its outstanding style and ground-breaking technology into one great masterpiece. Sleek blue LED display on the outside and LED tower lighting on the inside enlightens your everyday with stylishness and convenience. What's more, a smart performance in Energy A+ saves your money and nature. With lifestyle-customised Samsung TWIN series, brighten your life.

Capacity Total: 350 L
Dimension Net (WxHxD) 595 x 1,800 x 689mm
Weight 72 kg
Recycling Batteries Responsibly
The European Directive on Batteries and Accumulators aims to minimise the impact of batteries on the environment and encourage the recovery of the materials they contain. In the UK, regulations on the recycling of batteries and accumulators (rechargeable batteries) were Introduced in 2009. The Waste Batteries Regulations aim to significantly increase UK collection and recycling of used portable batteries from 3% in 2007 to 25% by 2012, rising to at least 45% in 2016.

The battery symbol on a product or on its packaging indicates that the product must not be disposed of with general household waste. Instead, it is the consumer's responsibility to dispose of their waste batteries at a designated collection point so that they can be recycled. The separate collection and recycling of batteries at the time of disposal will help to conserve natural resources and ensure that they are recycled in a manner that protects human health and the environment. A comprehensive list of battery recycling centres can be obtained from: www.recycle-more.co.uk

All Samsung products that are subject to the Batteries Directive are compliant with the UK battery and accumulator Requirements. In accordance with national law, SAMSUNG Electronics (UK) Ltd is a member of an approved batteries producer compliance scheme. This scheme collects, treats and disposes of batteries on Samsung's behalf.
Features
Swings both ways
With so much going on in the kitchen, there's usually little option as to where put the refrigerator. But your Samsung refrigerator fits anywhere you want. Because its reversible doors can be adjusted to swing open to the right or to the left, you can ensure that your fridge never blocks an entranceway or interferes with cabinets and appliances.
Stylishly beams its vitals
With its stunningly brilliant blue display, it doesn't take much more than a quick glance to absorb all its information. And it's as easy to use as it is to read. The Blue LED Display makes managing the Samsung twin refrigerator's temperature a breeze. Designed flush with the door's surface, blending seamlessly into the façade, the display accents the fridge's sophisticated, modern look.
Optimise fridge storage space with Big Box
Samsung's Side-by-Side refrigerators let you store more fruits and vegetables than your typical fridge thanks to the uniquely large capacity of its Big Box. When you pull the Big Box out to load, you can access all the ample internal storage space that it has to offer; which also makes stocking and organising it easy and effortless. So free up shelf space by filling up the Big Box.
Fold it to fit it
Samsung's innovative Foldable Shelf is flexible so you can fit everything you need. Fold it in half or completely up and out of the way to expand the refrigerator's capacity. So whether you use it as a full-depth shelf, a half-shelf or tuck it up against the wall to accommodate 3-layered cakes, watermelons or water jugs, this shelf always meets your ever-changing storage needs.
BRITA® Water Filter
Have a cup of refreshing clean water, purified with the BRITA water filter. (P option only)
Easy Handle
Easy to grab and hold, the handles facilitate secure one-handed door opening, making it especially convenient when putting in or taking out food.
Chic & Sleek
- Minimal classy design - Contemporary elegance - Sleek lines and modern design
LED Tower Lighting
The lighting is space-saving, semipermanent and has no heat emission. This energy efficient light makes every comer brighter than ever.
Frost-free freshness, the Samsung way
Kiss routine defrosting chores goodbye! Besides keeping your food fresh, nutritious and looking delicious, no-frost technology means never having to worry about defrosting your refrigerator again, saving you tons of time and even more frustration. Fresher food and frustration-free maintenance are the chief benefits of Samsung's no-frost refrigerators. But no-frost technology also ensures no icy build-ups, so there's always more space for food. So just relax and let Samsung do the work for you.
Energy A+
By being Energy A+ compliant you are assured that your SAMSUNG model is helping the environment by using less energy while saving you money.
tech specs
Refrigerator Feature
Shelves

Number of Shelf

Materials of Shelves

Tempered Glass with Metal Trim

Number of Vegetable&Fruit Drawer

Door Pocket

Number of Door Pocket
Physical Specification
Loading Quantity

20/40/40Hft

Dimension

Net (WxHxD)

Net Case Height with Hinge

Net Case Height without Hinge

Net Depth with Door Handle

Net Depth without Door Handle

Net Depth without Door

Gross (WxHxD)

- Dimension > Gross Depth: [747mm]
- Dimension > Gross Height: [1,876mm]
- Dimension > Gross Width: [653mm]
Support
Latest Updates
User Manual(EU Environmental Regulatory Statements)

Download

0.15 MB, pdf, ENGLISH, ALBANIAN, BULGARIAN, CROATIAN, CZECH, DANISH, DUTCH, ESTONIAN, FINNISH, FRENCH, GERMAN, GREEK, HUNGARIAN, ITALIAN, LATVIAN, MACEDONIAN, NORWEGIAN, POLISH, PORTUGUESE, ROMANIAN, SERBIAN, SLOVAK, SLOVENIAN, SPANISH, SWEDISH, TURKISHMore

2015.09.18
NEWEST
MOST HELPFUL
HIGHEST RATING
LOWEST RATING