CORE BMF with Bar Handle, 318 L, Inox
RL43WCIH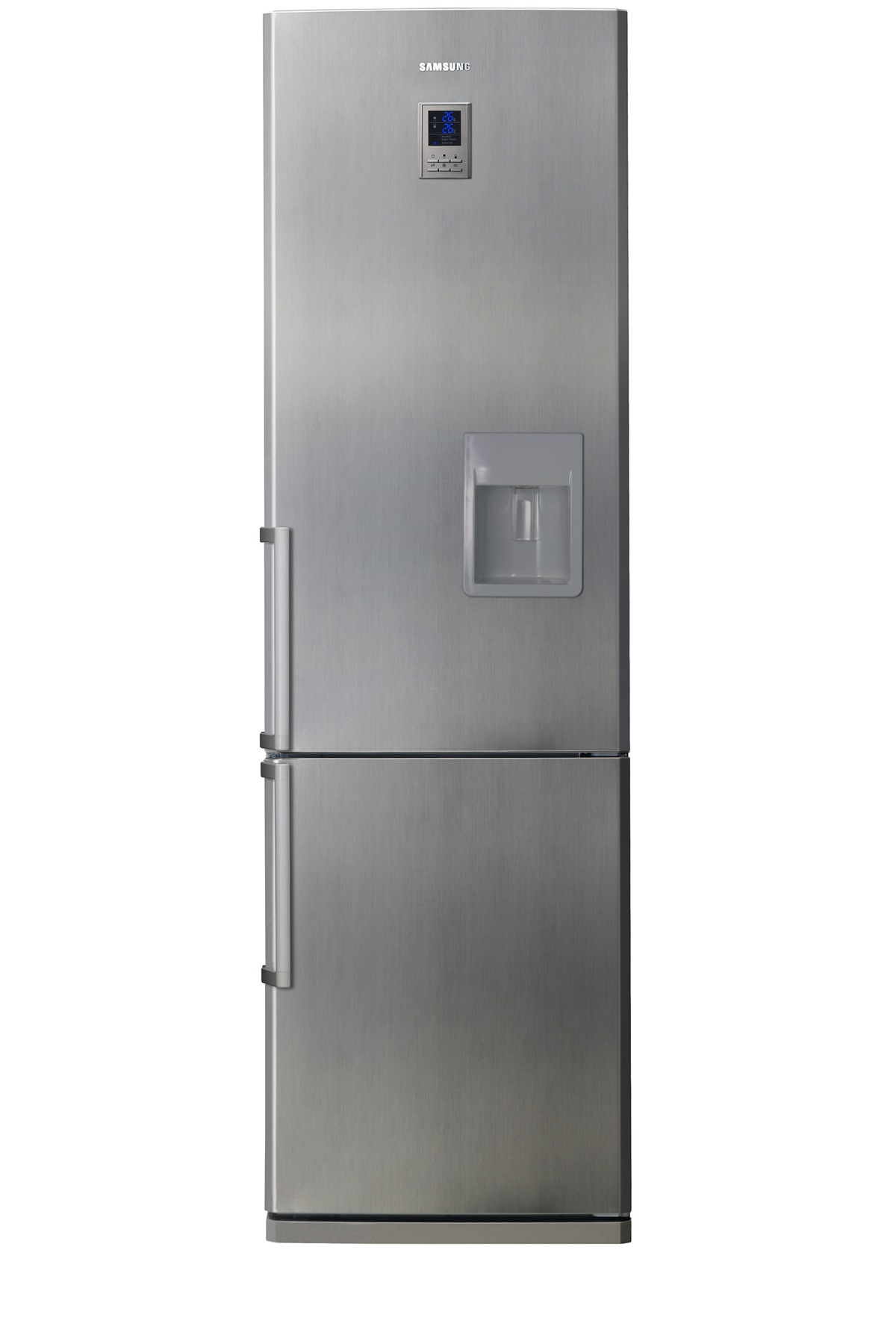 A true beauty. SAMSUNG's combi refrigerator is a refrigerator that performs as well as it looks. The perfect combination of modern design, innovative functions, and enhanced user convenience, this refrigerator offers the complete package of beauty and performance. The alluring charm of its attractive exterior and appealing interior makes this refrigerator beautiful both inside and out.
Recycling Batteries Responsibly
The European Directive on Batteries and Accumulators aims to minimise the impact of batteries on the environment and encourage the recovery of the materials they contain. In the UK, regulations on the recycling of batteries and accumulators (rechargeable batteries) were Introduced in 2009. The Waste Batteries Regulations aim to significantly increase UK collection and recycling of used portable batteries from 3% in 2007 to 25% by 2012, rising to at least 45% in 2016.

The battery symbol on a product or on its packaging indicates that the product must not be disposed of with general household waste. Instead, it is the consumer's responsibility to dispose of their waste batteries at a designated collection point so that they can be recycled. The separate collection and recycling of batteries at the time of disposal will help to conserve natural resources and ensure that they are recycled in a manner that protects human health and the environment. A comprehensive list of battery recycling centres can be obtained from: www.recycle-more.co.uk

All Samsung products that are subject to the Batteries Directive are compliant with the UK battery and accumulator Requirements. In accordance with national law, SAMSUNG Electronics (UK) Ltd is a member of an approved batteries producer compliance scheme. This scheme collects, treats and disposes of batteries on Samsung's behalf.
CORE BMF with Bar Handle, 318 L, Inox
Features
Chilled water with the convenience of an in-door water dispenser,saving you time and energy
Chilled water with the convenience of an in-door water dispenser,saving you time and energy
No Frost with Multi Flow ensures each shelf is cooled and no frost build-up on food or the refrigerator, so you never have to sacrifice the taste of food or defrost your refrigerator
Stylish LED lighting is space-saving and illuminates every corner of your refrigerator
soft minimal design
Leading the latest trend of soft minimalism, SAMSUNG presents the beauty of moderation. Using white and crystal clear material, the dual Box design shows the key look of the trend. The design enhances the aesthetics of your Kitchen as well as your quality of life.
design glass shelves
Beautiful tempered glass shelves can support all the contents of your Refrigerator; the stronger and sturdier shelves can hold up to 127kg, keeping your food safe and looking good.
tower lighting [LED]
More than an attractive semi-permanent LED Lighting fixture, this lamp illuminates your refrigerator to make your food look crisper & tastier. Echoing the design of the contoured surface, the tenderly-shaped circular light is a reflection of its own beauty.
water dispenser
Users can obtain cold water to drink without opening the refrigerator door.
no-frost technology
In conventional automatic defrost or manual defrost models, food stored in the refrigerator can be damaged by the formation of frost on its surface or by drying out. However, SAMSUNG's new technology automatically defrosts the evaporator frequently so food stays fresher in your refrigerator, easily outperforming the other refrigerators.
energy A+
Thanks to SAMSUNG's expert technology, the new combi Refrigerator proudly earns and A+ in energy for having powerful performance with environmentally friendly features. Help preserve the Environment without any sacrifice in performance. (RL44Q, RL41H, RL38H)
multi air flow
Cool air flows out through multiple outlets in every shelf level, providing steady and even cooling throughout the refrigerator. It quickly returns the refrigerator environment back to the correct temperature when the door has been opened, thus, maintaining ideal conditions to keep your food fresher for longer.
tech specs
Capacity
Net

Total

Freezer

Refrigerator
Physical Specification
Dimension

Net (WxHxD)

Net Depth with Door Handle

Net Depth without Door Handle

Net Depth without Door

Gross (WxHxD)
NEWEST
MOST HELPFUL
HIGHEST RATING
LOWEST RATING