RW33 Wine Cellar with Lock & Key, 148 L
RW33EBSS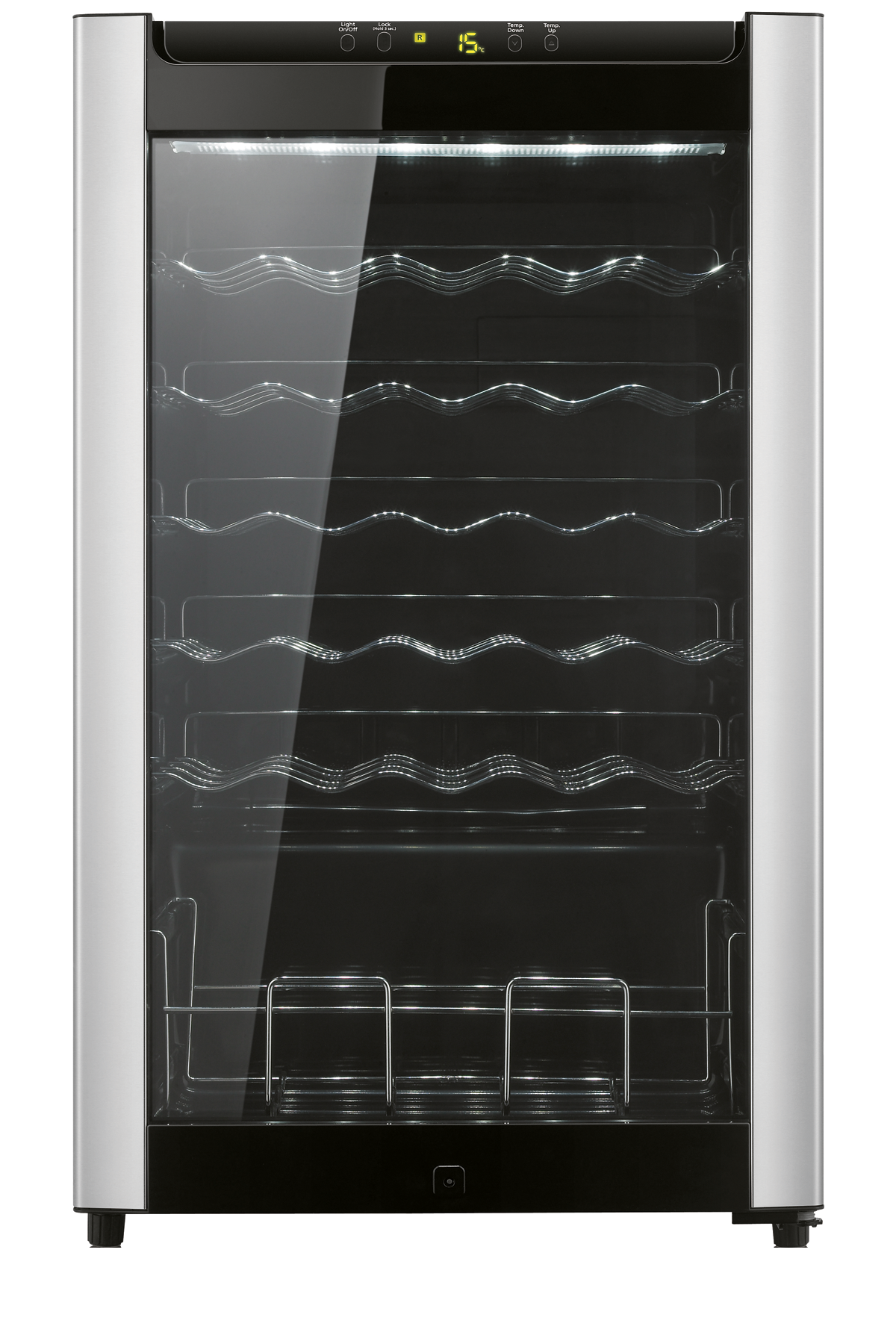 Capacity Total: 148 L
Dimension Net (WxHxD) 550 x 850 x 490mm
Weight 37 kg
Recycling Batteries Responsibly
The European Directive on Batteries and Accumulators aims to minimise the impact of batteries on the environment and encourage the recovery of the materials they contain. In the UK, regulations on the recycling of batteries and accumulators (rechargeable batteries) were Introduced in 2009. The Waste Batteries Regulations aim to significantly increase UK collection and recycling of used portable batteries from 3% in 2007 to 25% by 2012, rising to at least 45% in 2016.

The battery symbol on a product or on its packaging indicates that the product must not be disposed of with general household waste. Instead, it is the consumer's responsibility to dispose of their waste batteries at a designated collection point so that they can be recycled. The separate collection and recycling of batteries at the time of disposal will help to conserve natural resources and ensure that they are recycled in a manner that protects human health and the environment. A comprehensive list of battery recycling centres can be obtained from: www.recycle-more.co.uk

All Samsung products that are subject to the Batteries Directive are compliant with the UK battery and accumulator Requirements. In accordance with national law, SAMSUNG Electronics (UK) Ltd is a member of an approved batteries producer compliance scheme. This scheme collects, treats and disposes of batteries on Samsung's behalf.
RW33 Wine Cellar with Lock & Key, 148 L
Features
Wine and Beverage shelves are provided in this unit to give you the option of using this unit as a wine or beverage cooler
Wine and Beverage shelves are provided in this unit to give you the option of using this unit as a wine or beverage cooler
UV radiation is the main reason why wine spoils
Samsung's wine coolers have a UV protection triple-ply glass door, protecting wine from direct light and UV rays
Electronic control for precise temperature setting
European Style Wine Cellar
Even the best wine will spoil if it is not kept properly. The best temperature for most wine is around 10°C for white wine and 15°C to 18°C for red wine. With Samsung's wine cellar RW13EB, you can adjust the temperature to suit almost any wine at the touch of a button. Your wine will always be at its best and a joy to drink, because it's stored under ideal conditions. Samsung wine cellar has more functions for your wine, including Electronic Control for more precise temperature control, Triple-ply Glass Door, and Lock & Key. You love wine, so why not treat it properly with a dedicated refrigerator for wine from Samsung?
Key Features
Wine selection button - red / white Electronic Control - LCDdisplay Lock & Key Triple-ply Glass Door Hold 29 bottles Reversible Door (option) UV-Protection (option)
tech specs
Physical Specification
Loading Quantity

20/40/40Hft

Dimension

Net (WxHxD)

Net Side Air Clearance

Net Rear Air Clearance

Gross (WxHxD)
General Feature
Tactile, Electronic Control

Adjustable Temperature Control

Display Type

LED Display (yellow green)
Appearance
Colour

Real Stainless Steel Trim and Black
Support
Latest Updates
User Manual(EU Environmental Regulatory Statements)

Download

0.01MB, pdf, ENGLISH, ALBANIAN, BULGARIAN, CROATIAN, CZECH, DANISH, DUTCH, ESTONIAN, FINNISH, FRENCH, GERMAN, GREEK, HUNGARIAN, ITALIAN, LATVIAN, LITHUANIAN, MACEDONIAN, NORWEGIAN, POLISH, PORTUGUESE, ROMANIAN, SERBIAN, SLOVAK, SLOVENIAN, SPANISH, SWEDISH, TURKISHMore

2015.09.30
NEWEST
MOST HELPFUL
HIGHEST RATING
LOWEST RATING