WF1702WEU
WF1702WEU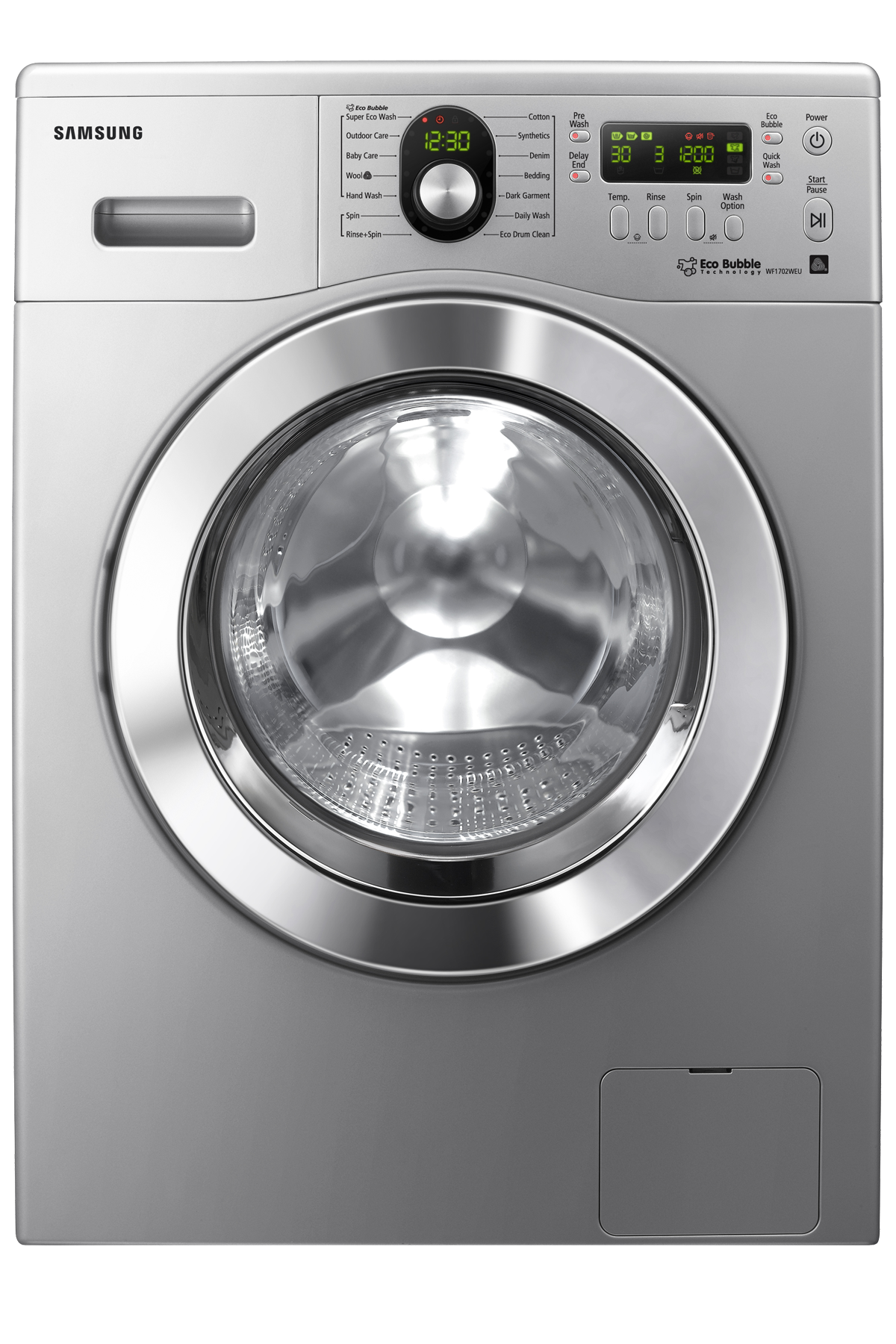 The new Deep foam with ecobubble™ technology is the first washing machine to generate a thick foam that dissolves faster into fabrics and makes cold water wash like hot water so you will save on electricity and time but still gives you a greater washing performance.
Capacity : 7 kg
Progress Indicator : Yes
Dimension : 600 x 850 x 550mm
Recycling Batteries Responsibly
The European Directive on Batteries and Accumulators aims to minimise the impact of batteries on the environment and encourage the recovery of the materials they contain. In the UK, regulations on the recycling of batteries and accumulators (rechargeable batteries) were Introduced in 2009. The Waste Batteries Regulations aim to significantly increase UK collection and recycling of used portable batteries from 3% in 2007 to 25% by 2012, rising to at least 45% in 2016.

The battery symbol on a product or on its packaging indicates that the product must not be disposed of with general household waste. Instead, it is the consumer's responsibility to dispose of their waste batteries at a designated collection point so that they can be recycled. The separate collection and recycling of batteries at the time of disposal will help to conserve natural resources and ensure that they are recycled in a manner that protects human health and the environment. A comprehensive list of battery recycling centres can be obtained from: www.recycle-more.co.uk

All Samsung products that are subject to the Batteries Directive are compliant with the UK battery and accumulator Requirements. In accordance with national law, SAMSUNG Electronics (UK) Ltd is a member of an approved batteries producer compliance scheme. This scheme collects, treats and disposes of batteries on Samsung's behalf.
Features
The unique bubble generating process creates a bubble cushionthat PROTECTS FABRIC
ENHANCES WASHING PERFORMANCE make your CLOTHINGLAST LONGER and look cleaner
The Super Deep foam with ecobubble™ technology function allows you to wash your clothes incold water (15 deg cel.)
SAVING YOU ENERGY and MONEY without reducing washing performance
What is Deep foam with ecobubble™ technology
Samsung's ecobubble™ technology uses a bubble generator to dissolve detergent into the water and then inject air, producing a rich soapy foam cushion. When the ecobubble™ technology is applied, the detergent is better dissolved into the water and faster penetration into clothes is achieved, so less hot water is needed to aid the cleaning process. The Super Eco Wash programme washes at just 15°C, with the results of a 40°C wash, saving up to 70% energy as a result.
* Tested in accordance with IEC 60456 Ed.5/4kg Wash Load/Super Eco Wash cold vs. Cotton 40ºC without bubble (WF906). Individual results may vary.
Volt control
The Solution for Perfect Voltage Protection Samsung's Volt Control guarantees that your washing machine works safely even with voltage deviations of ±25%. This innovative technology safeguards the washing machine from high levels of shock and even lower voltage, providing consistent volt control, which protects the life of the washing machine.
Aqua stop
2-Step Perfect Leakage Protection Protect your machine and home from water damage with Aqua Stop technology.This is especially invaluable for people living in apartments or multi-floor buildings because this sensor design prevents water-related emergencies and damage.
Ceramic heater
Clothing styles may come and go, but the Samsung's durable ceramic heater means that your washer will be around to clean clothes for years to come. Ceramic heaters prevent calcium compound build-up. Calcium build-up absorbs more electricity and requires special detergents to dissolve the calcium compounds. The quick-heating ability of ceramic heaters increases energy efficiency, translating into cost savings on your next electricity bill.
Silver wash
Clean Laundry, Healthy Garments Unless you boil or use anti-bacterial detergents, normal washing methods still leave harmful molds and bacteria in your clothes. Unsurpassed in innovative technology, Samsung's Silver Wash technology keeps clothes completely free of mold and bacteria by using the time-tested tradition of silver.
Diamond drum
The streamlined shape of new Diamond Drum helps your clothes to wash softly by moving along the unique designed drum line. Also the small water exit holes prevent the fabrics from sticking out and consequently being damaged. Now you know even your most delicate clothes are being handled gently with upgraded diamond-shaped drum.
User-friendly display
Conveniently Designed Panel, More Comfortable Operation The user-friendly display panel with jog dial, LED, soft touch buttons, and separate easy-to-read digital displays makes setting the wash program and watching the progress of a cycle easy and less confusing.
Big capacity wild door
Extra-large 460mm Door, Ultra-wide 330mm Hole for Easier Use With an extra large 460mm door, it's easier to load and unload big bulky items and lets you take a closer look inside at all those diamonds just waiting to care for your garments.
tech specs
Performance
Energy Consumption (kWh/year)
Feature
Super Eco Wash

Super Eco Wash

Rinse Time +

Rinse Time +

Safety

Self Cleaning Filter

Self Diagnostic System
Programs
Program

Cotton

Synthetics

Bedding

Wool(Wool mark)

Hand Wash

Hand Wash for Wool

Delicates

Drain

Spin

Special Features

Quick Wash
Physical Specification
Dimension

Net (WxHxD)

Gross (WxHxD)

Loading Quantity

40ft H/C
NEWEST
MOST HELPFUL
HIGHEST RATING
LOWEST RATING