AEGIS Washer with Volt Control, 5 kg
WF8500NHS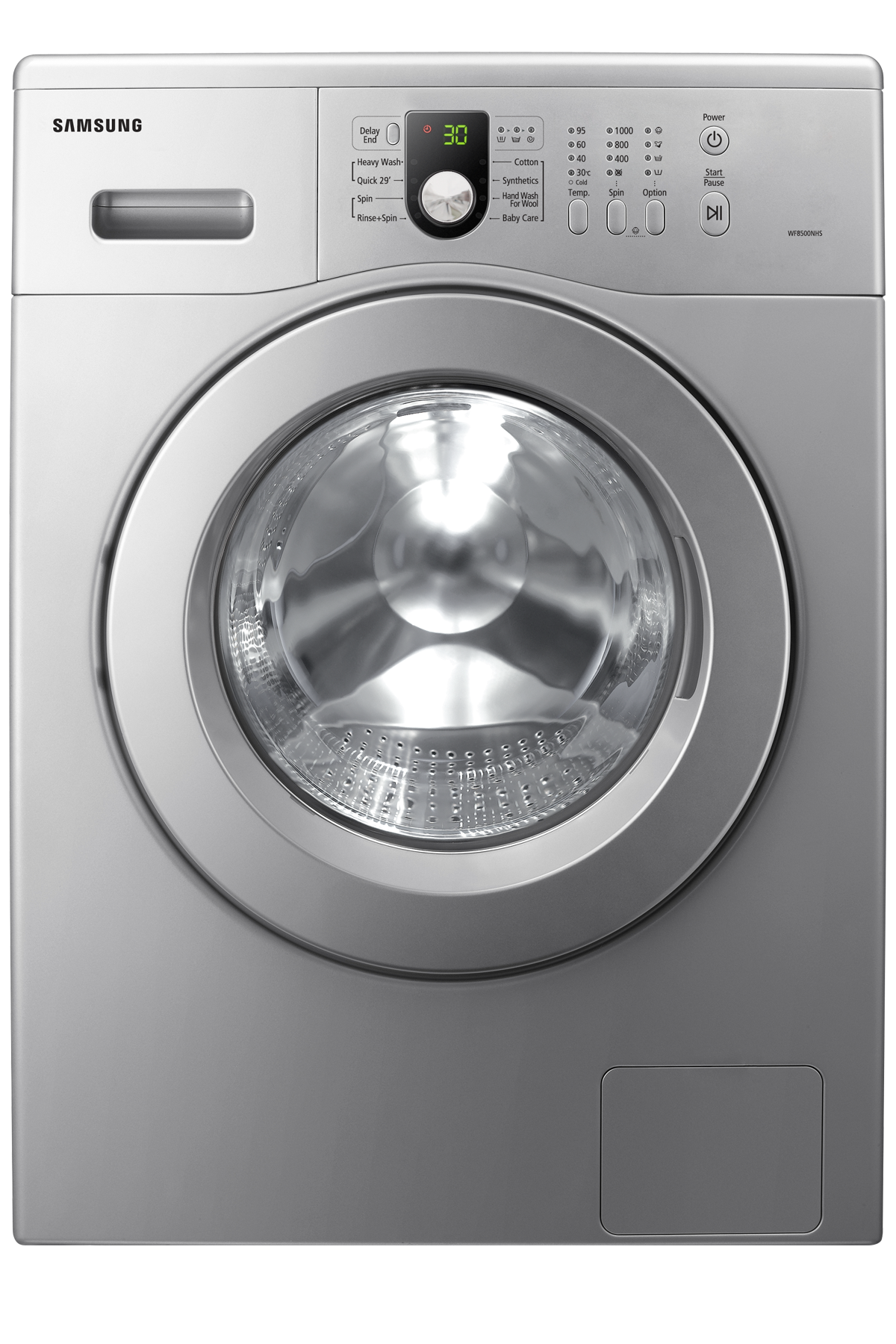 Like a diamond, the Diamond Washing Machine is long lasting, caring and stylish in look. With superior voltage and leakage protection functions, the Diamond washing machine lasts longer. Plus, outstanding fabric care functions of protective diamond shaped embossed drum keep clothes looking new even after extensive washes. Samsung promises diamond protection with the new Diamond Washing Machine.
Capacity : 5 kg
Progress Indicator : Yes
Dimension : 600 x 850 x 450mm
Recycling Batteries Responsibly
The European Directive on Batteries and Accumulators aims to minimise the impact of batteries on the environment and encourage the recovery of the materials they contain. In the UK, regulations on the recycling of batteries and accumulators (rechargeable batteries) were Introduced in 2009. The Waste Batteries Regulations aim to significantly increase UK collection and recycling of used portable batteries from 3% in 2007 to 25% by 2012, rising to at least 45% in 2016.

The battery symbol on a product or on its packaging indicates that the product must not be disposed of with general household waste. Instead, it is the consumer's responsibility to dispose of their waste batteries at a designated collection point so that they can be recycled. The separate collection and recycling of batteries at the time of disposal will help to conserve natural resources and ensure that they are recycled in a manner that protects human health and the environment. A comprehensive list of battery recycling centres can be obtained from: www.recycle-more.co.uk

All Samsung products that are subject to the Batteries Directive are compliant with the UK battery and accumulator Requirements. In accordance with national law, SAMSUNG Electronics (UK) Ltd is a member of an approved batteries producer compliance scheme. This scheme collects, treats and disposes of batteries on Samsung's behalf.
AEGIS Washer with Volt Control, 5 kg
Features
With superior voltage control and leakage
Protection functions your washing machine lasts longer
Plus with the protective diamond shaped drum your clothes are kept looking new, even after repeated washing - fabric care and saving money
5 year motor warranty
Volt Control
The innovative technology safeguards the washing machine from high levels of shock and even lower voltage, providing consistent volt control, which protects the life of the machine. An additional protective measure in the washing machine also protects clothes as it controls the washing cycle even in unforeseen fluctuations and will automatically restart after power outages.
Ceramic heater
Clothing styles may come and go, but the Samsung's durable ceramic heater means that your washer will be around to clean clothes for years to come. Ceramic heaters prevent calcium compound build-up. Calcium build-up absorbs more electricity and requires special detergents to dissolve the calcium compounds. The quick-heating ability of ceramic heaters increases energy efficiency, translating into cost savings on your next electricity bill.
Aqua Stop
2-Step Perfect Leakage Protection Protect your machine and home from water damage with Aqua Stop technology. This is especially invaluable for people living in apartments or multi-floor buildings because this sensor design prevents water-related emergencies and damage.
Diamond Drum
The streamlined shape of new Diamond Drum helps your clothes to wash softly by moving along the unique designed drum line. Also the small water exit holes prevent the fabrics from sticking out and consequently being damaged. Now you know even your most delicate clothes are being handled gently with upgraded diamond-shaped drum.
Wool Setting
Fabric-focused Washing Program, Samsung continues to excel in innovative technology. The new Diamond Washing Machine not only takes the guesswork out of caring for your clothes, but also ensures that clothes stay looking new for longer. It washes woolens softly to maintain their natural look and feel.
Silver Wash
Samsung Silver Wash provides a new option for care of fabrics in cold water without bleach. By selecting the 'Silver Wash' (Silver CareTM) button after setting the cycle and other options, Samsung's unique Silver Wash (Silver CareTM) uses the natural power of ionic silver to get clothes clean and was tested by Global Life science SolutionsTM, LLC and NSF International company. Also Silver Wash (Silver CareTM) is hypoallergenic.
Large capacity, wide door
Extra-large 460mm Door, Ultra-wide 330mm Hole for Easier Use, it's easier to load and unload big bulky items. One is able to take a closer look inside at all those diamonds just waiting to care for your garments.
User friendly display
Conveniently Designed Panel, More Comfortable Operation The user-friendly display panel with jog dial, LED, soft touch buttons, and separate easy-to-read digital displays makes setting the wash program and watching the progress of a cycle easy and less confusing.
tech specs
Feature
Safety

Self Cleaning Filter

Self Diagnostic System
Performance
Noise Level

Wash: dB(A)re 20μPa/dB(A)re1pw

Spin: dB(A)re 20μPa/dB(A)re1pw

Energy Consumption (kWh/year)
Physical Specification
Loading Quantity

20/40/40Hft

Dimension

Net (WxHxD)

Gross (WxHxD)
NEWEST
MOST HELPFUL
HIGHEST RATING
LOWEST RATING