WW3000J Washer with Diamond Drum, 6 kg
WW60J3280HS/NQ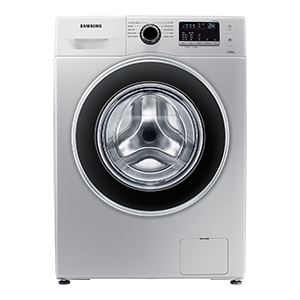 Unique Diamond Drum
Quick wash feature
Recycling Batteries Responsibly
The European Directive on Batteries and Accumulators aims to minimise the impact of batteries on the environment and encourage the recovery of the materials they contain. In the UK, regulations on the recycling of batteries and accumulators (rechargeable batteries) were Introduced in 2009. The Waste Batteries Regulations aim to significantly increase UK collection and recycling of used portable batteries from 3% in 2007 to 25% by 2012, rising to at least 45% in 2016.

The battery symbol on a product or on its packaging indicates that the product must not be disposed of with general household waste. Instead, it is the consumer's responsibility to dispose of their waste batteries at a designated collection point so that they can be recycled. The separate collection and recycling of batteries at the time of disposal will help to conserve natural resources and ensure that they are recycled in a manner that protects human health and the environment. A comprehensive list of battery recycling centres can be obtained from: www.recycle-more.co.uk

All Samsung products that are subject to the Batteries Directive are compliant with the UK battery and accumulator Requirements. In accordance with national law, SAMSUNG Electronics (UK) Ltd is a member of an approved batteries producer compliance scheme. This scheme collects, treats and disposes of batteries on Samsung's behalf.
WW3000J Washer with Diamond Drum, 6 kg
Features
Diamond Drum
The Diamond Drum's unique "soft curl" design with smooth, diamond-shaped ridges is supremely gentle on your clothes. Its small water exit holes also help protect fabric by preventing clothes from becoming trapped.
* Drum image may vary depending on models.
[WW3000J / Non] Main 2 Save Time on Smaller Loads
The Quick Wash programme is the perfect solution for your busy life – cleaning lightly soiled clothes quickly and efficiently, so you can enjoy more time for yourself.
Safeguards Against Volt Fluctuations
The Volt Control safeguards against power surges and voltage drops, so it protects the life of the machine. It will stabilise voltage fluctuations of ±25% and automatically restart the machine after a power outage.
* Tested on WW60H2200EWDLP in accordance with Common / Normal Mode, 1.2 / 50 µs and ±1 kV - ±6 kV.
Preset Wash Cycle Ending Times
The Delay End feature lets you preset a wash cycle's ending time. It can be adjusted and delayed by up to 19 hours, so that damp clothes aren't left in the washing machine for too long.
tech specs
Cycle
Option List

Rinse+, Prewash, Intensive, Soak
NEWEST
MOST HELPFUL
HIGHEST RATING
LOWEST RATING