Galaxy S4 Zoom Flip Cover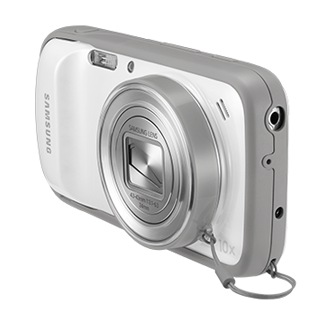 Presenting the Galaxy S4 zoom Flip Cover, a smartphone case that's equal parts sturdy, stylish and convenient. A built-in sensor ensures that the screen comes on automatically when you open the flip case, so you can take a call, snap a picture or change a music track at a moment's notice. A detachable lens cap offers additional protection. Available in two attractive colours, the durable flip cover is thin, lightweight and perfect for your on-the-go lifestyle.
Recycling Batteries Responsibly
The European Directive on Batteries and Accumulators aims to minimise the impact of batteries on the environment and encourage the recovery of the materials they contain. In the UK, regulations on the recycling of batteries and accumulators (rechargeable batteries) were Introduced in 2009. The Waste Batteries Regulations aim to significantly increase UK collection and recycling of used portable batteries from 3% in 2007 to 25% by 2012, rising to at least 45% in 2016.

The battery symbol on a product or on its packaging indicates that the product must not be disposed of with general household waste. Instead, it is the consumer's responsibility to dispose of their waste batteries at a designated collection point so that they can be recycled. The separate collection and recycling of batteries at the time of disposal will help to conserve natural resources and ensure that they are recycled in a manner that protects human health and the environment. A comprehensive list of battery recycling centres can be obtained from: www.recycle-more.co.uk

All Samsung products that are subject to the Batteries Directive are compliant with the UK battery and accumulator Requirements. In accordance with national law, SAMSUNG Electronics (UK) Ltd is a member of an approved batteries producer compliance scheme. This scheme collects, treats and disposes of batteries on Samsung's behalf.
Galaxy S4 Zoom Flip Cover
Features
Get more out of your Galaxy S4 zoom with a case that offers greater protection and functionality
More protective and more convenient
Folded Type Flip Cover Designed to snugly fit your Galaxy S4 zoom, the durable case protects both the 4.3" SAMOLED screen and the back of the smartphone from getting scratched, whether you place it face-down on a kitchen counter or slide it into a pocket with coins and keys. The flip cover also allows for one-handed use—snap away with the Galaxy S4 even when you're carrying shopping bags in the other hand.
Wake up your phone with a flip
Built-in sensor for Auto Screen When it comes to capturing great, spur-of-the-moment images, speed is of the essence. Flip the cover open and the built-in sensor automatically turns on your smartphone's screen. So whether you're attending a wedding or walking down a city street, you'll never miss an impromptu photo opportunity again. To turn the screen off—and save battery life—simply close the cover.
A more stylish way to protect your camera lens
Detachable Lens Cap Toss your Galaxy S4 zoom into a backpack without fear, or place it on your beach towel when you're tanning on the sand. A detachable lens cap that matches the colour of the flip cover protects the protruding 10x zoom lens from scratches and smear marks. The cap securely attaches to the lens so it won't pop off even when it's being jostled about in your pocket.
A case for style and durability
Stylish Design with Colourful Synthetic Leather The flip cover is as durable as it is stylish. Made from synthetic leather treated with polyurethane, the front and back of the case look—and feel—like genuine leather. And dual-injection rubber protects the edges to help keep your Galaxy S4 zoom smartphone looking as sharp as the pictures you take. The flip cover also comes in two eye-pleasing colours, because having options is a beautiful thing.
tech specs
Physical Specification
Exterior Size (W x H x D)
General Feature
Features

Flip Cover, Protective Cover, Book Cover

Function

Enhance usability & funtionality

Package Contents

Flip Cover, Lens Cap, String
NEWEST
MOST HELPFUL
HIGHEST RATING
LOWEST RATING