DVD player DVD-E360
DVD-E360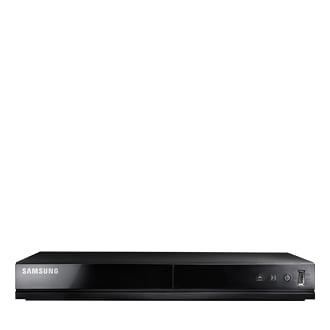 With consumers' increasing demands & preference on hi-picture quality and light in black design, DVD Player will become the graceful entertainment player beyond conventional DVDP.

4

5

4

reviews
Recycling Batteries Responsibly
The European Directive on Batteries and Accumulators aims to minimise the impact of batteries on the environment and encourage the recovery of the materials they contain. In the UK, regulations on the recycling of batteries and accumulators (rechargeable batteries) were Introduced in 2009. The Waste Batteries Regulations aim to significantly increase UK collection and recycling of used portable batteries from 3% in 2007 to 25% by 2012, rising to at least 45% in 2016.

The battery symbol on a product or on its packaging indicates that the product must not be disposed of with general household waste. Instead, it is the consumer's responsibility to dispose of their waste batteries at a designated collection point so that they can be recycled. The separate collection and recycling of batteries at the time of dispo sal will help to conserve natural resources and ensure that they are recycled in a manner that protects human health and the environment. A comprehensive list of battery recycling centres can be obtained from: www.recycle-more.co.uk

All Samsung products that are subject to the Batteries Directive are compliant with the UK battery and accumulator Requirements. In accordance with national law, SAMSUNG Electronics (UK) Ltd is a member of an approved batteries producer compliance scheme. This scheme collects, treats and disposes of batteries on Samsung's behalf.
Features
Save your favourite CD songs directly to your USB device
Triple protector for piece of mind from lightning, surge and humidity
Enjoy movie, picture and music playback through USB
Watch movies from your USB
With ConnectShare Movie, simply plug your USB memory drive or HDD into your Blu-ray player and enjoy the content you love. ConnectShare Movie feature reduces the number of devices needed to view, listen and play your favourite content. Play music directly through the speakers of your Blu-ray player and transfer movies and photos to the big screen. Now, experience a wide variety of content from the comfort of your living room.
See things clearly with Progressive Scan Out
Everything's twice as real with Progressive Scan Out. It takes a conventional HDTV, with its outdated interlacing method of delivering data, two passes to display what Full HD 1080p's Progressive Scan Out delivers in one. That means you get a smoother, cleaner, better picture that's full of vivid detail – perfect for viewing fast-paced sports and action flicks you love so much.
CD Ripping
Take your favourite tracks with you on your MP3 player. In minutes, you can convert your CDs to MP3s with the CD ripping feature. Extract audio tracks from your CDs simply by inserting your CD and pressing the ripping button.
Dust Proof
DVD Playback is smooth and uninterrupted thanks to Samsung's dust-proof feature. It actually removes dust particles off of the lens of the DVD player while the disc is rotating. With the player's dust remover in action, you're ensured enhanced performance and a dramatically clearer picture.
tech specs
General Feature
Control Button

Tact Swich
Playable Disc Type
DVD-Video/DVD±R/DVD±RW

Yes
AV I/O
Optical Digital Audio Output

No

Coaxial Digital Audio Output

Yes

Analog 5.1ch Audio Output

No
Dimension
Product Dimension (WxHxD)

300 x 42 x 208mm

Package Dimension (WxHxD)

340 x 84 x 267mm
Power Specification
Rating Voltage

AC 110 - 240V ~ 50 / 60Hz
REVIEWS
(0)
Owners Overall Ratings
Your opinions about this product can be helpful to us and to anyone thinking about buying one.
Support
User Manual
2.15 MB, pdf, ENGLISH, PORTUGUESE
2012.03.05
User Manual

4.36 MB, pdf, ENGLISH, ARABIC, FRENCH

2012.02.21
Some files may not be available from phones and tablets. Access this page from your desktop computer to be able to download all files.In order to read a PDF file, you must have Adobe Acrobat reader installed on your computer. You can download it at the Adobe website.Download Adobe Acrobat ReaderGoIn order to read DjVu files, you must have the DjVu viewer installed on your computer. Click this banner and install the viewer.Download Djvu ViewerGo
Have a question or need product support? Go to our support sectionGo
NEWEST
MOST HELPFUL
HIGHEST RATING
LOWEST RATING