Wireless Vacuum Tube TV AirTrack HW-F750
HW-F750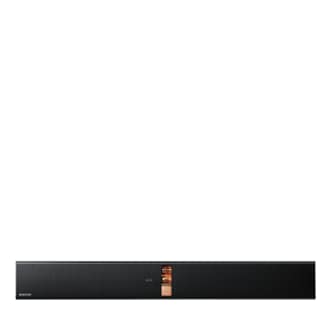 Listen and watch as warm and rich sounds pour out of the sleekly designed Samsung AirTrack.
5

5

3

reviews
Recycling Batteries Responsibly
The European Directive on Batteries and Accumulators aims to minimise the impact of batteries on the environment and encourage the recovery of the materials they contain. In the UK, regulations on the recycling of batteries and accumulators (rechargeable batteries) were Introduced in 2009. The Waste Batteries Regulations aim to significantly increase UK collection and recycling of used portable batteries from 3% in 2007 to 25% by 2012, rising to at least 45% in 2016.

The battery symbol on a product or on its packaging indicates that the product must not be disposed of with general household waste. Instead, it is the consumer's responsibility to dispose of their waste batteries at a designated collection point so that they can be recycled. The separate collection and recycling of batteries at the time of dispo sal will help to conserve natural resources and ensure that they are recycled in a manner that protects human health and the environment. A comprehensive list of battery recycling centres can be obtained from: www.recycle-more.co.uk

All Samsung products that are subject to the Batteries Directive are compliant with the UK battery and accumulator Requirements. In accordance with national law, SAMSUNG Electronics (UK) Ltd is a member of an approved batteries producer compliance scheme. This scheme collects, treats and disposes of batteries on Samsung's behalf.
Wireless Vacuum Tube TV AirTrack HW-F750
Features
Vacuum Tube technology for a richer, fuller and more natural sound experience
Connect Wirelessly to your compatible Samsung TV with SoundShare and boost your TV sound by 310W
Avoid the clutter of cables with the wireless subwoofer
Hi-Fi sound quality that's warm and rich
Fill the room with warm and rich tones produced by the Samsung AirTrack. The vacuum tube filters out unnecessary noise to provide the cleanest and purest of sound. A warm, rich and enveloping sound will radiate through the room while watching your favourite movie, show or while listening to your favourite song. With the AirTrack and its vacuum tube, you'll hear everything perfectly.
Connect and share wirelessly for double the fun
Connect your TV and AirTrack easily through Bluetooth to gain better sound with SoundShare. The absence of trailing wires between the AirTrack and TV allows you to showcase the slim and sleek design of both systems, while maintaining a clean look in your living environment. Easily control the AirTrack and TV from a single TV remote. You can simultaneously turn on and manage the volume of your TV and AirTrack with Bluetooth or HDMI connectivity. * SoundShare is only available for select Samsung 3D TVs. [2013] LED Series 6400 or higher and PDP Series 5500 or higher. [2012] LED Series [ ] or higher and PDP Series 550 or higher. • Local teams please refer below for the 2012 LED TV list and to fill in the blank. . 6500 (USA, Canada) . 6350 (Korea) . 6100 (Europe, CIS, China, Hong Kong, Taiwan) . 6200 (MEA, Africa, SWA, SEA, Australia (AU&NZ), Singapore)
Stylish black design that matches your TV
Listen and watch as warm and rich sounds pour out of the sleekly designed Samsung AirTrack. The black design of the AirTrack unifies your décor and perfectly complements a Samsung TV. It will add a touch of sophistication and modern flare to your entertainment components. Watch as the VT Amp illuminates as the music intensifies. With a wireless frame, the AirTrack is easy to setup and creates a clean and elegant look while producing amazing sound.
Save time and effort with easy installation
Maximise space by mounting the AirTrack on the wall or place it in front of the TV as a centrepiece. The built-in installation sensor automatically detects the speaker's position and calibrates the sound for maximum output and optimal sound quality. This intelligent sound system is sure to match your style and the highest quality of sound wherever it's placed.
All-encompassing sound from every angle
The Samsung AirTrack brings a cinematic experience to your home. 3D Sound Plus synchronises the sound to match the motion and depth of the image, while new Vertical Surround Sound fills the room from floor to ceiling with powerful realistic sound. The top and front speaker of the AirTrack sends sound that falls from the ceiling and rises from the floor, so you can hear and feel the crackle of a firework as it raises and glistens in the sky. Perfectly depict movies scenes and shows with Vertical Surround Sound of the AirTrack.
tech specs
Audio Feature
Auto Sound Calibration (ASC)

Number of Sound Modes (DSP)
Connectivity
ARC (Audio Return Channel)
Special Feature
Installation Position Sensor
Dimension
Spk (Main) Net Dimension (WxHxD)

Spk (Sub Woofer) Net Dimension (WxHxD)

Gross Dimension (WxHxD): One Packing
Weight
Spk (Sub Woofer) Net Weight

Gross Weight: One Packing
Power
Stand-by Power Consumption (Main)

Stand-by Power Consumption (Subwoofer)

Operating Power Consumption (Main)

Operating Power Consumption (Subwoofer)
REVIEWS
(0)
Owners Overall Ratings
Your opinions about this product can be helpful to us and to anyone thinking about buying one.
Support
User Manual
25.3 MB, pdf, ENGLISH, PORTUGUESE(European)
2014.07.22
Upgrade File(USB type)

All OS, 1.48 MB, zip, ENGLISH

Version : 1005.0

2013.08.22

MICOM

All OS, 0.06 MB, zip, ENGLISH

Version : 1005.0

2013.08.22

Upgrade guide

All OS, 0.11 MB, pdf, ENGLISH

Version : 1.0

2013.08.07
Some files may not be available from phones and tablets. Access this page from your desktop computer to be able to download all files.In order to read a PDF file, you must have Adobe Acrobat reader installed on your computer. You can download it at the Adobe website.Download Adobe Acrobat ReaderGoIn order to read DjVu files, you must have the DjVu viewer installed on your computer. Click this banner and install the viewer.Download Djvu ViewerGo
Have a question or need product support? Go to our support sectionGo
NEWEST
MOST HELPFUL
HIGHEST RATING
LOWEST RATING