Evolution Kit
SEK-1000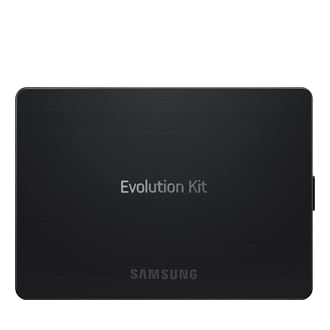 Samsung Samrt TV is an Evolutionary TV
Recycling Batteries Responsibly
The European Directive on Batteries and Accumulators aims to minimise the impact of batteries on the environment and encourage the recovery of the materials they contain. In the UK, regulations on the recycling of batteries and accumulators (rechargeable batteries) were Introduced in 2009. The Waste Batteries Regulations aim to significantly increase UK collection and recycling of used portable batteries from 3% in 2007 to 25% by 2012, rising to at least 45% in 2016.

The battery symbol on a product or on its packaging indicates that the product must not be disposed of with general household waste. Instead, it is the consumer's responsibility to dispose of their waste batteries at a designated collection point so that they can be recycled. The separate collection and recycling of batteries at the time of disposal will help to conserve natural resources and ensure that they are recycled in a manner that protects human health and the environment. A comprehensive list of battery recycling centres can be obtained from: www.recycle-more.co.uk

All Samsung products that are subject to the Batteries Directive are compliant with the UK battery and accumulator Requirements. In accordance with national law, SAMSUNG Electronics (UK) Ltd is a member of an approved batteries producer compliance scheme. This scheme collects, treats and disposes of batteries on Samsung's behalf.
Features
Quad Core processor
Smart Hub6
Enable Voice and Motion Controls
* LED ES7000 and up (Excluding ES7100), Plasma E8000
Timeless TV Performance and Content
With the Evolution Kit, you are guaranteed better entertainment. Upgrading to Smart Hub 2013 and get access to more content than you can imagine. From newer apps to music and photos, you will enter a world of entertainment like never before. Plus with its newer and more accessible layout, the Evolution Kit is the way to go and will keep your Smart TV up-to-date. * screen image picture is a representation and may not reflect actual user interface. * content, TV services and capabilities may not be available in all region and territories. * Evolution Kit may not support certain apps and functions previously installed or available on your TV.   Please check www.samsung.com support menu for more details before installing Evolution Kit
Better features, better Smart TVs
Upgrade your Samsung Smart TV to get more advanced and interactive capabilities with the Evolution Kit. Make your life easier and more enjoyable with the cutting-edge functions like voice control and gesture pose commands, along with two-hand motion control. So when you want to relax, and you can't find the remote, all you need to say is "Hi TV" or wave your hand and your Smart TV will let you perform a variety of commands like change the channel and raise or lower the volume.
Boost processing speed of your Smart TV
Get a smoother, faster and powerful performance with the Evolution Kit, which will boost the processing speed of your Smart TV from Dual core to Quad core. You can also get faster access to Smart Hub and enhanced multi-tasking capabilities. Your Smart TV will be the most enjoyable device there is. * Evolution Kit, sold separately. * Evolution Kit improvement levels are limited to year of launch and application availability. * Actual performance may vary and subject to model specs and hardware limitations. * Evolution Kit pictured is a representation. Does not reflect actual appearance.
tech specs
H/W
Memory

DDR3 memory (1.5GB) 4GB Flash Memory
Compatibility
Samsung SMART TV

LED ES7000 series and ES7500 above PDP E7000, E8000 series
Weight
Set (Including Batteries) (g)
Accessory
Accessory

Smart Control (TM1360), Battery (AAA 2EA), Slim Gender Cable, User Manual
Feature
SI 2.0

Voice Control

Motion control

Face Recognition

Smart Convergence

AllShare (Content Sharing) - Indoor/Outdoor content sharing

AllShare (Screen Mirroring) - Mobile to TV

Smart View (TV to Mobile)

Multimedia picture quality

HEVC codec

Web Content-Picture Enhancement
NEWEST
MOST HELPFUL
HIGHEST RATING
LOWEST RATING