SSG-P2100T
SSG-P2100T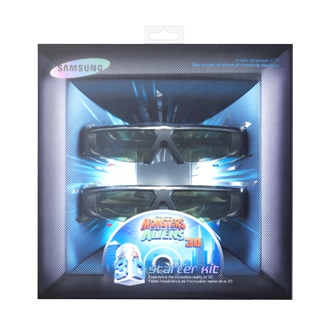 2 lenses. 3 dimensions. 1 unforgettable experience. Comfortable glasses. Unbelievable action.
Recycling Batteries Responsibly
The European Directive on Batteries and Accumulators aims to minimise the impact of batteries on the environment and encourage the recovery of the materials they contain. In the UK, regulations on the recycling of batteries and accumulators (rechargeable batteries) were Introduced in 2009. The Waste Batteries Regulations aim to significantly increase UK collection and recycling of used portable batteries from 3% in 2007 to 25% by 2012, rising to at least 45% in 2016.

The battery symbol on a product or on its packaging indicates that the product must not be disposed of with general household waste. Instead, it is the consumer's responsibility to dispose of their waste batteries at a designated collection point so that they can be recycled. The separate collection and recycling of batteries at the time of disposal will help to conserve natural resources and ensure that they are recycled in a manner that protects human health and the environment. A comprehensive list of battery recycling centres can be obtained from: www.recycle-more.co.uk

All Samsung products that are subject to the Batteries Directive are compliant with the UK battery and accumulator Requirements. In accordance with national law, SAMSUNG Electronics (UK) Ltd is a member of an approved batteries producer compliance scheme. This scheme collects, treats and disposes of batteries on Samsung's behalf.
Features
2 lenses. 3 dimensions. 1 unforgettable experience
Comfortable glasses. Unbelievable action
2 lenses. 3 dimensions. 1 unforgettable experience.
There's only one way to experience 3D when you're not in a theater. And that's by slipping a pair of Samsung's 3D glasses on. Built so that the left lens and right lens focus on different images, both sides work together to generate 3D images. The effect is explosive — put them on and they pull you into the action.
Comfortable glasses. Unbelievable action.
You simply won't believe your eyes with Samsung's Active LCD shutter glasses. They take your movie viewing experience to a whole new dimension, dramatically converting your everyday 2D picture into out-of-this-world 3D imagery. Both the battery-operated and rechargeable versions are designed to fit both adults and children comfortably – these lightweight, user-friendly specs are completely unobtrusive.
tech specs
Dimension (WxHxD)
Set

176.5 x 41.1 x 152.0 (mm)
Weight
Set

66.8g [33.4g x 2ea] (Without Battery) 71.8g [35.9g x 2ea] (With Battery)
NEWEST
MOST HELPFUL
HIGHEST RATING
LOWEST RATING