Mini Audio System F630
MX-F630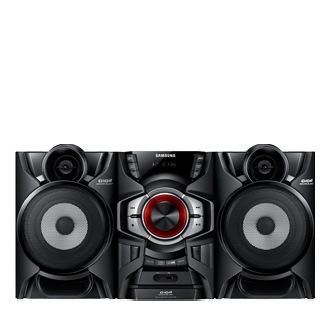 Sound guaranteed to move you
Recycling Batteries Responsibly
The European Directive on Batteries and Accumulators aims to minimise the impact of batteries on the environment and encourage the recovery of the materials they contain. In the UK, regulations on the recycling of batteries and accumulators (rechargeable batteries) were Introduced in 2009. The Waste Batteries Regulations aim to significantly increase UK collection and recycling of used portable batteries from 3% in 2007 to 25% by 2012, rising to at least 45% in 2016.

The battery symbol on a product or on its packaging indicates that the product must not be disposed of with general household waste. Instead, it is the consumer's responsibility to dispose of their waste batteries at a designated collection point so that they can be recycled. The separate collection and recycling of batteries at the time of disposal will help to conserve natural resources and ensure that they are recycled in a manner that protects human health and the environment. A comprehensive list of battery recycling centres can be obtained from: www.recycle-more.co.uk

All Samsung products that are subject to the Batteries Directive are compliant with the UK battery and accumulator Requirements. In accordance with national law, SAMSUNG Electronics (UK) Ltd is a member of an approved batteries producer compliance scheme. This scheme collects, treats and disposes of batteries on Samsung's behalf.
Features
Enjoy 220W of crystal clear sound power
Play your music and movies from your USB directly
Record music from your favorite CD directly to your USB
Sound guaranteed to move you.
Upgrade your sound system with Samsung's Giga Sound Blast. With Giga Sound Blast, you will experience first-hand the superior performance aimed at delivering sound that will bring you to your feet. The enhanced low-frequency bass levels and revamped quick high-frequency levels produce twice the sound volume and quality, making it the perfect party guest.
Transform your living room to a stadium
The Samsung Mini Component System comes with a feature that is sure to make you feel that you're in the midst of a cheering crowd at a football game. The new Caster EQ enhances the clarity of each commentator while the Stadium EQ lets you experience all the shouts and cheers of the game from your living room. Enjoy the game without the hassle of going there.
Experience karaoke night in your living room
With the Samsung Mini Component, you can experience a whole new dimension of fun – there's no need to go out for a karaoke night. Instead, call your friends over and have your own little music night with the My Karaoke and MIC mixing function. The mixing function removes the vocals from your favourite songs and leaves only the background music so that people can sing to it. Even better, record both vocals with the background music on the spot.
Make your music into MP3s easily
Enjoy fast and flexible MP3 creation from a range of audio sources. With the built-in EZ MP3 Maker, you can use your audio system to make high-quality MP3 files via CD ripping or recording from FM radio and AUX input. With a suitable cable, you can even connect a turntable and transfer vinyl records into digital media. It's easy to convert your music collection into this convenient modern format.
Don't miss your favourite radio program even when you are away.
Enjoy your favourite radio program once you have Samsung Audio System's Radio Recording Timer feature. By letting your audio start recording at a particular time that you've set and record only for a certain length of time as you like, Samsung Audio System allows you not to miss any single radio program that you like. Be flexible with your schedule, not being restricted by the fixed time of your favourite radio program.
tech specs
AMP
Front Speaker Driver Size (Woofer, Tweeter)
Basic Feature
Speaker Type (Open/Grille)
Audio Feature
Number of Sound Modes (DSP)
Karaoke
Mic + Music USB REC (CDDA/MP3)
Dimension&Weight
Set Net Dimension (WxHxD)

Front Speaker Net Dimension (1-Piece) (WxHxD)

Set Package Dimension (WxHxD)
Power
Stand-by Power Consumption

Operating Power Consumption
NEWEST
MOST HELPFUL
HIGHEST RATING
LOWEST RATING