MX-JS9000
MX-JS9000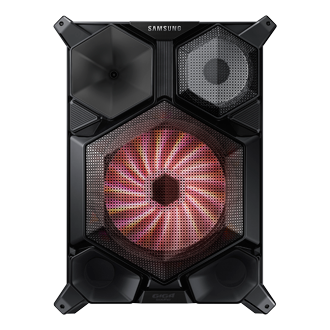 Recycling Batteries Responsibly
The European Directive on Batteries and Accumulators aims to minimise the impact of batteries on the environment and encourage the recovery of the materials they contain. In the UK, regulations on the recycling of batteries and accumulators (rechargeable batteries) were Introduced in 2009. The Waste Batteries Regulations aim to significantly increase UK collection and recycling of used portable batteries from 3% in 2007 to 25% by 2012, rising to at least 45% in 2016.

The battery symbol on a product or on its packaging indicates that the product must not be disposed of with general household waste. Instead, it is the consumer's responsibility to dispose of their waste batteries at a designated collection point so that they can be recycled. The separate collection and recycling of batteries at the time of disposal will help to conserve natural resources and ensure that they are recycled in a manner that protects human health and the environment. A comprehensive list of battery recycling centres can be obtained from: www.recycle-more.co.uk

All Samsung products that are subject to the Batteries Directive are compliant with the UK battery and accumulator Requirements. In accordance with national law, SAMSUNG Electronics (UK) Ltd is a member of an approved batteries producer compliance scheme. This scheme collects, treats and disposes of batteries on Samsung's behalf.
Features
Muscular design matched with earthshaking sound
Dare to stand out with the new Samsung GIGA Sound Premium Hi-Fi Component Audio System. This year's design now features sharper masculine styling, intensified by a new hexagonal speaker design for an overall stronger and more powerful image. Impress your guests at the next party or your friends and family at the next get together with the tough look and sound of the Samsung GIGA.
Get ready to party with powerful sound and bass
The Samsung GIGA 9000 can make a big difference at your party. It delivers 3400W of sound that you can really hear and feel—a sound experience so intense, it's like you're standing next to a helicopter. The rich bass comes with increased sound pressure level (SPL) made possible with a cloth wave edge unit that is boosted by the built-in 15" subwoofer.
Mix lighting effects with music to take your party to the next level
An awesome light show can be the difference between a great and a mediocre party. The Samsung GIGA mixes vibrant lighting effects with your music so there's no need for any additional equipment to create a rockin' atmosphere. In addition to having its own built-in lighting effects, the GIGA also features Samsung's enhanced Beat Waving II that lets you choose from a great range of electrifying patterns that pulse to the beat of the music. Are you ready to become the life of the party?
You can be the DJ and rock the party
Make sure everyone remembers your party. Anyone can be the DJ with the new Samsung GIGA. Use common audio effects like chorus, phaser, flanger, tremolo, and slapback delay, and even filter and spatial effects like wah-wah, fuzz, and panning. You can even apply up to two audio effects simultaneously for more amazing sound possibilities. Control the tempo with the DJ jog dial and remove breaks between tracks with Non-Stop Music Relay to play your music seamlessly.
Put the fun of the party at your fingertips
Your mobile device can exhilarate your party even more. With just a quick free downloadable application*, you can customise your party experience from the palm of your hand. The app provides basic controls like power, volume, and custom EQ for every model. Change the colour of the speaker lighting from your phone on models from the J6500 series and up. Make instrument effects, mix DJ effects, and adjust song tempo on your phone on models from the JS8000 series. It's time to party.
* Available on mobile devices running Android OS 2.3.3 or higher.
Maximise every party with your own customised beats
Create your own popping beats to your party music. GIGA Beat lets you add your own percussion effects to the music at your party by simply tapping on the built-in beat pads. 7 different instrumental sound effects are at your fingertips so you can mix percussions any way you want to the music that will rock your party. Whether it's a bongo, conga, or acoustic drum effect, surprise your guests with a unique tempo and rhythm they'll never forget.
tech specs
General Feature
Speaker Type (Open/Grille)

Front Speaker Driver Size
Lighting
Number of Lighting Pattern
Karaoke
Mic + Music USB REC (CDDA/MP3)
Connectivity
Analog Audio Input (Rear)
Dimension
Front Speaker Size (WxHxD)

Speaker Package Size (WxHxD)

1,115.0 x 811.0 x 630.0 mm

Package Size (WxHxD)

1,115.0 x 1,100.0 x 630.0 mm
Power
Stand-by Power Consumption

Operating Power Consumption
NEWEST
MOST HELPFUL
HIGHEST RATING
LOWEST RATING