48" HD Flat TV RM48 Series 4
RM48D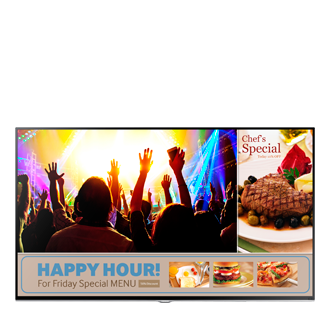 Ready to make a big impact? With Samsung SMART Signage TV, you can dazzle your customers with digital messaging and TV in a single, reliable solution. SMART Signage TV offers a simple, easy commercial display in a single, hassle-free package that eliminates the need for any additional devices. Watch your revenue increase with professional features like portrait mode and a split screen for advertising. You can create compelling advertising and promotions to inform and motivate your customers, even if you have no experience in creating digital signage content. And, unlike conventional TVs that overheat and have other issues with long-term operation, you can operate durable SMART Signage TV for up to 16 hours per day.
Recycling Batteries Responsibly
The European Directive on Batteries and Accumulators aims to minimise the impact of batteries on the environment and encourage the recovery of the materials they contain. In the UK, regulations on the recycling of batteries and accumulators (rechargeable batteries) were Introduced in 2009. The Waste Batteries Regulations aim to significantly increase UK collection and recycling of used portable batteries from 3% in 2007 to 25% by 2012, rising to at least 45% in 2016.

The battery symbol on a product or on its packaging indicates that the product must not be disposed of with general household waste. Instead, it is the consumer's responsibility to dispose of their waste batteries at a designated collection point so that they can be recycled. The separate collection and recycling of batteries at the time of disposal will help to conserve natural resources and ensure that they are recycled in a manner that protects human health and the environment. A comprehensive list of battery recycling centres can be obtained from: www.recycle-more.co.uk

All Samsung products that are subject to the Batteries Directive are compliant with the UK battery and accumulator Requirements. In accordance with national law, SAMSUNG Electronics (UK) Ltd is a member of an approved batteries producer compliance scheme. This scheme collects, treats and disposes of batteries on Samsung's behalf.
48" HD Flat TV RM48 Series 4
Features
SMART Signage TV for the smart business
A reliable and durable display that keeps up with your business
SMART Signage TV combines Samsung's world-class picture quality with commercial-grade technologies for dependable and continuous usage. More durable than conventional household TVs, which are designed to operate only 8 hours a day, SMART Signage TV displays can run up to 16 hours per day, even in harsh conditions like high temperatures or high humidity. And, this reliability is backed by a 3-year warranty that far outlasts typical consumer TV warranties that extend less than a year when used commercially.
Create and update custom content directly on your PC with no hassle
Think it's hard to create and present professional-looking content? Think again. SMART Signage TV provides easy-to-use tools for simple content creation, editing, scheduling and deployment. Just select the desired template from over 200 samples, customise the layout to your needs and then set the schedule for a convenient way to deliver your promotional content. With Samsung's easy content management solution, MagicInfo Express, you can easily create content with your PC.
Easy mobile content management for on-the-go business
SMART Signage TV allows you to manage and deploy content from your mobile device for greater flexibility. Unlike other TV products that require you to plug in a separate Wi-Fi dongle, SMART Signage TV has an embedded Wi-Fi solution for hassle-free connectivity. With SMART Signage TV, small business owners can simply download the MagicInfo Express mobile application and conveniently edit promotional content on a mobile device screen. Simply upload your mobile content directly to Signage TV, and then instantly play the uploaded content on the TV screen.
Easy setup with everything you need in one box
SMART Signage TV's simple installation steps will have your display up and running in a snap. All the components you need to install and use the solution, including a mini wall mount and stand, are conveniently packaged in a single box. And, SMART Signage TV offers portrait-mode installation so you can design your business messaging to suit your unique needs.
A perfect combination of TV and digital signage to boost your business
Increase sales by enhancing the customers' in-store experience with amusing and entertaining content displayed through live channels. With improved traffic and customer attention to displayed content, SMART Signage TV delivers your business information more effectively and ultimately boosts revenue. Plus, the solution's ample flash memory provides high content playing performance to dazzle your viewers.
tech specs
Display
Active Display Size (HxV)

1,054.08 (H) x 592.92 (V)

Display Color

16.7 M (True Display), 1.07 B (Dithered 10bit)
Power
Power Supply

AC 100 - 240 V ~ (+ / - 10%), 50 / 60 Hz

Power Consumption (On Mode)

Max:114, Typical: 68.5, BTU (Max):388.74

Power Consumption (Stand-by)
Dimension
Set Dimension (WxHxD)

1,075.1 x 627.6 x 65.5 mm

Package Dimension (WxHxD)
General Feature
Special

MagicInfo E, Built in Speaker(10 W + 10 W), USB Storage (1)
Certification and Compliance
EMC

CE (Europe):EN55022:2006+A1:2007, EN55024:1998+A1:2001+A2:2003

Safety

CB (Europe):IEC60950-1 / EN60950-1
Accessory
Included

Stand, Mini Wallmount, Quick Setup Guide, Warranty Card, Power Cord, Remote Controller, Batteries, Read-Only USB
Support
Latest Updates
Install Guide(MagicInfo Express 2 Setup for Windows)

Download

All Windows, 380.57 MB, exe, KOREAN, ENGLISH, CHINESE, FRENCH, FRENCH(FRANCE), GERMAN, ITALIAN, POLISH, PORTUGUESE, RUSSIAN, SPANISH, SWEDISH, THAI, UKRAINIANMore

Version : 2.5 1007.3

2016.12.12
NEWEST
MOST HELPFUL
HIGHEST RATING
LOWEST RATING