75" Full HD Flat Smart TV ES9000 Series 9
UA75ES9000R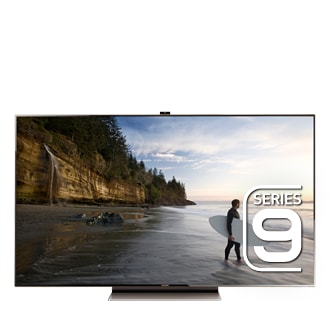 Enjoy the ultimate Samsung viewing experience with the Samsung Slim LED1 TV ES9000, delivering an amazing 75-inch screen for your enjoyment. Immerse in your favourite films and TV programmes, and discover exceptional entertainment. The awesome screen size is matched by an equally impressive design, which stands out with a stunning rose gold metallic touch. The ES9000 also boasts intuitive Smart Interaction2, which allows for voice and motion controls. There is also Smart Content3, which has three signature services; 'Kids' for entertaining and educating children, 'Fitness' for keeping in shape at home, and 'Family Story' for saving and sharing precious moments
Recycling Batteries Responsibly
The European Directive on Batteries and Accumulators aims to minimise the impact of batteries on the environment and encourage the recovery of the materials they contain. In the UK, regulations on the recycling of batteries and accumulators (rechargeable batteries) were Introduced in 2009. The Waste Batteries Regulations aim to significantly increase UK collection and recycling of used portable batteries from 3% in 2007 to 25% by 2012, rising to at least 45% in 2016.

The battery symbol on a product or on its packaging indicates that the product must not be disposed of with general household waste. Instead, it is the consumer's responsibility to dispose of their waste batteries at a designated collection point so that they can be recycled. The separate collection and recycling of batteries at the time of disposal will help to conserve natural resources and ensure that they are recycled in a manner that protects human health and the environment. A comprehensive list of battery recycling centres can be obtained from: www.recycle-more.co.uk

All Samsung products that are subject to the Batteries Directive are compliant with the UK battery and accumulator Requirements. In accordance with national law, SAMSUNG Electronics (UK) Ltd is a member of an approved batteries producer compliance scheme. This scheme collects, treats and disposes of batteries on Samsung's behalf.
75" Full HD Flat Smart TV ES9000 Series 9
Features
Enjoy great viewing pleasure with outstanding picture quality for a realistic and vivid entertainment experience
Clear Motion Rate delivers smooth motion, so you can enjoy fast-moving images with awesome clarity
The minimal yet chic style is instantly noticeable and gives your home entertainment system a glamorous look and feel
Extreme size sets new standard in luxury
The Samsung Slim LED TV ES9000 boasts an outstanding 75-inch screen and is ready to handle all of your home entertainment. From your favourite TV shows to Skyping with friends and family, the massive screen size allows for a more comfortable, enjoyable and realistic viewing experience. The ES9000 also delivers never-seen-before luxury into your home and will captivate anyone who sees it. So, if you were looking for a centrepiece for your home entertainment system, look no further - this Big Size LED TV will simply steal the show.
Discover the luxurious detail of the rose gold metallic design
The Samsung Slim LED TV ES9000 is complemented by stunning design, which features the brilliant rose gold metallic touch. It frames the picture perfectly without detracting from the imagery and will grab attention even when it isn't in use. Unlike any other TV, the minimal yet chic style is instantly noticeable and gives your home entertainment system a glamorous look and feel. So, enhance your TV experience, as well as your home décor, with the luxurious and premium rose gold metallic touch.
Intiitive interaction with voice and motion control
New sophisticated Smart Interaction technology enables you to operate your TV without pushing a button. You can easily control functions such as turning on / off your TV, changing channels, accessing apps and navigating the web using simple voice commands and motions. Built-in camera with face recognition technology lets you log on to Smart Hub and your personal accounts with no need to type your ID or password. Experience a whole new way to interact with your TV. * We recommend using the Smart touch Control for the voice control function. * Voice interaction is not available in all languages, dialects and regions. * Actual performance may vary depending on the language spoken. * Certain features within Smart Interaction may require Internet access. * Smart Interaction may not be available in all languages/dialects and regions. * Facial Recognition does not provide as high a level of security as logging in with an ID and password.
Enjoy smarter viewing with enhanced content and features
Enter a world of online entertainment with the new enhanced content made available through Samsung's latest three new signature services – Kids, Fitness and Family Story. The Samsung Kids application brings together home entertainment with fun and beneficial educational programmes, Samsung Fitness lets you maintain your exercise routines in the comfort of your own home, and Samsung Family Story ensures that your precious family moments are not only saved but easily shared on your Smart TV. Experience breathtaking Full HD 3D contents at home with the 3D explore feature. These amazing new Samsung TV Smart Hub features will enrich your living and be your lifestyle partner. * Content available via Smart Hub may vary among product categories, models, and territories. See Samsung.com for more details. * Certain Smart TV features may require firmware upgrades. * Fitness Service may not be available in all regions.
Renew your TV, every year
Keep your TV up-to-date with the latest technology is now a reality. Samsung's Smart Evolution completely reengineers your TV without having to replace the whole set. Simply insert the Samsung Smart Evolution Kit and let it work its magic. Transform your TV's dual core CPU to the faster generation of quad core technology. Heighten your viewing experience by shifting your VOD resolution HD TV to the wondrous picture quality Full HD has to offer. Add more functions and reinvent your television with more contents. Access a whole new world of interactive contents and new features, your TV will never be the same again. Smart Evolution Technology truly gives you a new TV every year. * Smart Evolution Kit, sold separately, will be available in 2013. * Actual performance may vary and subject to model specs and hardware limitations. * Smart Evolution Kit improvement levels are based on year of purchase. * Smart Evolution kit image may change when launched.
Complete your viewing experience with ultimate picture quality
Boost your viewing pleasure with superior picture quality for a more realistic and vivid entertainment experience. Clear Motion Rate delivers smoother motion, so you can enjoy fast-moving images with awesome clarity. You'll be able to see spectacular 3D imagery in Full HD 1080p, with advanced Samsung 3D glasses. With Micro Dimming Ultimate's sophisticated algorithm, which enhances contrast, colour and sharpness, you'll hardly believe what you're seeing.
Share, store and enjoy content – it's easier than ever
Enjoy a more intuitive and convenient viewing experience thanks to smarter connectivity. You can stream and share music, photos, movies and other multimedia directly to your TV with Samsung Link, and enjoy it on a bigger screen. Built-in Wi-Fi allows access to a range of nearby compatible devices, including mobile devices. With cloud based technology, you can also make the most of your content away from home. Share and enjoy your multimedia easily with better connections. * Web storage requires separate registration with a third-party storage provider.
tech specs
Video
Wide Color Enhancer

Wide Colour Enhancer Plus
Audio
Dolby

Dolby Digital Plus / Dolby Pulse
Connectivity
Composite In (AV)

2 (Common Use for Component Y)

Digital Audio Out (Optical)

RF In (Terrestrial/Cable Input)
Power
Power Consumption (Stand-by)
Dimension (WxHxD)
Set with Stand

1,678.1 x 1,035.8 x 327.8mm
Accessory
3D Active Glasses (Included)

Samsung Smart Touch Control (Included)

Samsung IR Blaster (Included)

Battery (for Remote Control)

Ultra Slim Wall Mount Support
Smart Convenience
Personal Video Recorder Ready

Smart Phone Remote supported

Wirelss LAN Adapter Ready
Smart Convergence
Allshare (Powered by DLNA)
Smart Interaction
Samsung TV Apps supported
Tuner/Broadcasting
Teletext (TTX) (1,000 pages)
NEWEST
MOST HELPFUL
HIGHEST RATING
LOWEST RATING