PS50B550
PS50B550T2R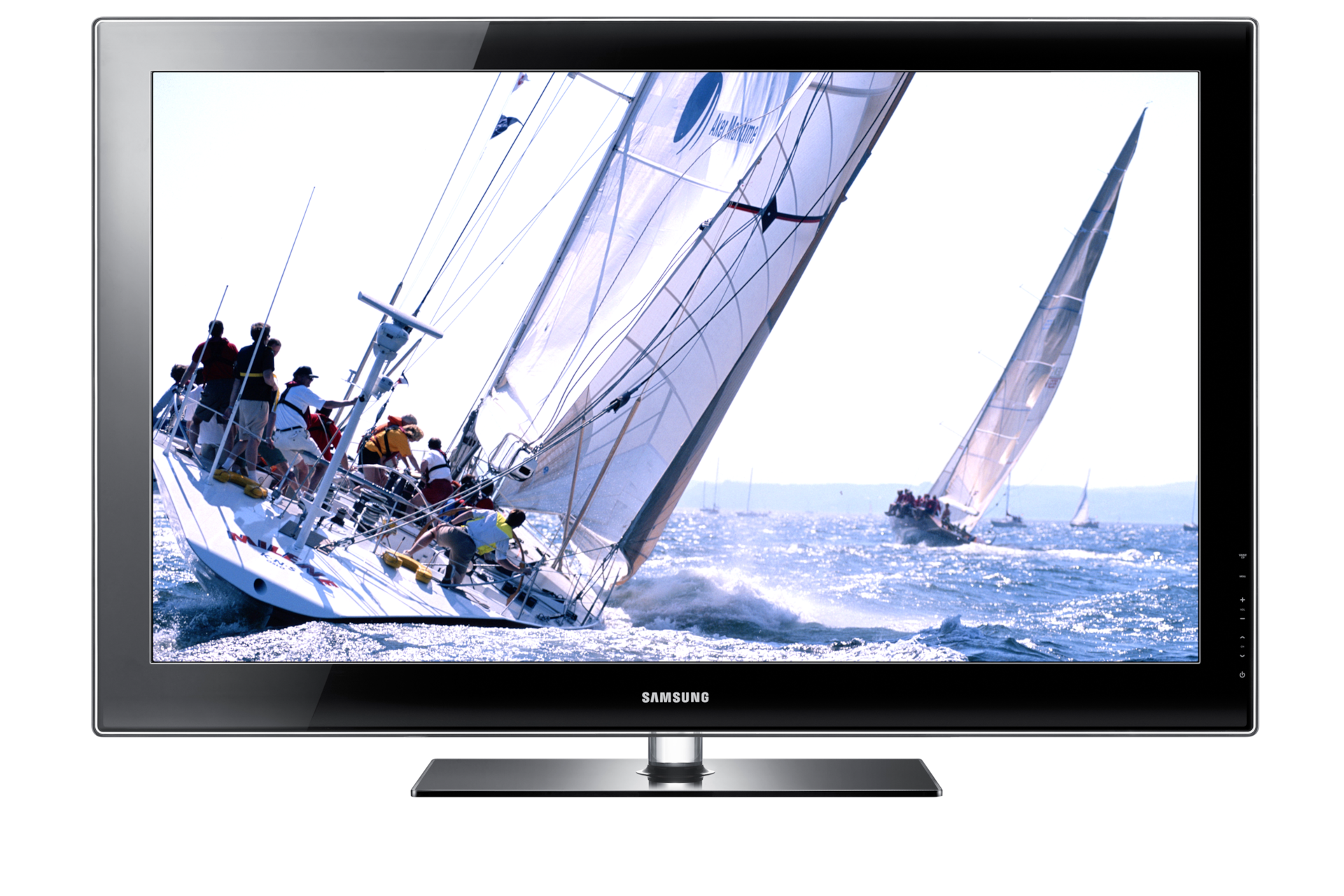 A round swivel stand allows for the best possible viewing from any angle.
Recycling Batteries Responsibly
The European Directive on Batteries and Accumulators aims to minimise the impact of batteries on the environment and encourage the recovery of the materials they contain. In the UK, regulations on the recycling of batteries and accumulators (rechargeable batteries) were Introduced in 2009. The Waste Batteries Regulations aim to significantly increase UK collection and recycling of used portable batteries from 3% in 2007 to 25% by 2012, rising to at least 45% in 2016.

The battery symbol on a product or on its packaging indicates that the product must not be disposed of with general household waste. Instead, it is the consumer's responsibility to dispose of their waste batteries at a designated collection point so that they can be recycled. The separate collection and recycling of batteries at the time of disposal will help to conserve natural resources and ensure that they are recycled in a manner that protects human health and the environment. A comprehensive list of battery recycling centres can be obtained from: www.recycle-more.co.uk

All Samsung products that are subject to the Batteries Directive are compliant with the UK battery and accumulator Requirements. In accordance with national law, SAMSUNG Electronics (UK) Ltd is a member of an approved batteries producer compliance scheme. This scheme collects, treats and disposes of batteries on Samsung's behalf.
Features
FilterBright = super black panel
FilterBright makes the deeper black images. With Samsung's FilterBright, viewers can see the black in detail images whether in a dark environment, a bright room or even in the daylight. Our technology is simple, when two complementary colours, such as blue and burgundy, overlap each other, it produces the super black panel that can also function as a light-absorbing panel.
Full HD 1080p
Full HD, or 1080p, contains 1.5 times more scanning lines than conventional HD TVs. More scanning lines mean more pixels, more details and a better picture. The new Samsung LCD TV with resolution that is approximately 2 times greater than conventional HD TVs, creating the most perfect picture imaginable.
mega dynamic contrast ratio
The Mega Dynamic Contrast Ratio provides better clarity than you ever thought possible. It provides you deeper, richer dark colours and bright, more vibrant light colours.
wide colour enhancer 2
Samsung's Wide Colour Enhancer extended to display the natural green and blue. Additionally, Wide Colour Enhancer 2 technology is upgraded to reproduce the red area also.
600Hz subfields
600Hz subfields manages to show 10 subfields per frame which eliminates flicker in 24p mode.
18bit (262,144 gradation)
Samsung PDP TV's 18-bit processing capacity broadens the color palette to deliver unbelievably natural & true colours.
4 HDMI
With 4 HDMI (High Definition Multimedia Interface) inputs, Samsung LCD TVs are equipped to become high-speed, multimedia hubs. Able to connect to up to 4 AV devices simultaneously, they enable the creation of a seamless cinematic environment.
swivel stand
A round swivel stand allows for the best possible viewing from any angle.
tech specs
Video
Number of Colours (Expressed)

Natural true colour (18bit)
Audio
Sound Effect system

SRS TruSurround HD & Dolby digital plus
Input&Output (Back)
RS232C (for Service only)

Digital Audio Out (Optical)
Power
Power Consumption (Stand-by)

Operation (Max) Power Consumption
NEWEST
MOST HELPFUL
HIGHEST RATING
LOWEST RATING