85" UHD 4K Flat Smart TV JU7000 Series 7
UA85JU7000T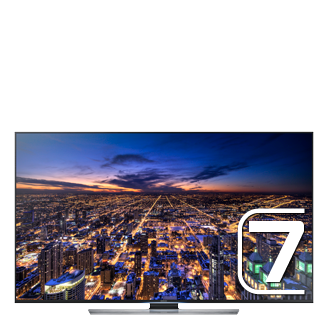 Recycling Batteries Responsibly
The European Directive on Batteries and Accumulators aims to minimise the impact of batteries on the environment and encourage the recovery of the materials they contain. In the UK, regulations on the recycling of batteries and accumulators (rechargeable batteries) were Introduced in 2009. The Waste Batteries Regulations aim to significantly increase UK collection and recycling of used portable batteries from 3% in 2007 to 25% by 2012, rising to at least 45% in 2016.

The battery symbol on a product or on its packaging indicates that the product must not be disposed of with general household waste. Instead, it is the consumer's responsibility to dispose of their waste batteries at a designated collection point so that they can be recycled. The separate collection and recycling of batteries at the time of disposal will help to conserve natural resources and ensure that they are recycled in a manner that protects human health and the environment. A comprehensive list of battery recycling centres can be obtained from: www.recycle-more.co.uk

All Samsung products that are subject to the Batteries Directive are compliant with the UK battery and accumulator Requirements. In accordance with national law, SAMSUNG Electronics (UK) Ltd is a member of an approved batteries producer compliance scheme. This scheme collects, treats and disposes of batteries on Samsung's behalf.
85" UHD 4K Flat Smart TV JU7000 Series 7
Features
Experience more accurate and natural colours
Samsung developed a special colour technology for our UHD TV called PurColour, which expresses a wider range of colours and shades that are as close to real life as it gets, bringing you closer to what nature intended. With all the 8 million pixels that come with a UHD display—four times more than a Full HD display—you need more colour adjustment points to create detailed images. Conventional UHD TVs have about 27 colour adjustment points, but PurColour dramatically increases that by more than 7 times, resulting in colours and shades that are much richer and more refined.
See amazing brightness in the darkest scenes
Peak Illuminator heightens luminosity by boosting the LED backlights in bright areas of the screen. So when light appears in dark areas, like streetlights illuminating a cityscape, the moment is even more enchanting.
Precision Black
Precision Black technology enhances contrast by optimising light emission, making everything you see more vivid and dramatic. With a PQI 2x that of conventional Samsung models, you get deeper black and purer white shades with more definition.
*PQI (Picture Quality Index)
Contrast Enhancer
Flat images come to life with Samsung's Contrast Enhancer. Your TV intelligently applies varying levels of contrast enhancement to different areas and objects on the screen creating a dramatic 3D-like effect. It's the most realistic viewing experience possible on a flat screen TV.
4 times the Full HD resolution
Ultra HD viewing means you can see every intricate detail on the screen clearer than ever. Your Samsung UHD TV offers a resolution four times higher than Full HD, with accurate true-to-life colour. Enjoy a picture that's optimised for even greater clarity and detail than you've ever seen before.
A smarter TV that gets you right to your content instantly
Your gateway to the all-new, smarter TV experience is right at the bottom of the screen, so you never lose sight of your current entertainment. The fun-to-use Smart TV menu bar gives you faster, smoother and truly intuitive access to all the content you love. There's no need to fumble around searching for the content you want—it remembers your history, placing your most frequently used content right before your eyes on the menu bar so it's easier than ever to find your favourite content. You can even explore exciting new kinds of content, because Samsung Smart TV continuously recommends new featured content that you may enjoy. Discover the most seamless Smart TV experience yet.
*Requires Internet access. May not be available in all languages and areas. **Screen image seen here is a representation only. Actual user interface may differ. ***Content, TV services and capabilities pictured may not be available in all regions and territories.
Your TV and mobile devices in perfect sync
Samsung Easy Sharing makes it easy to share content between your TV and mobile effortlessly. Whether it's a fun video on your smartphone you want to share with family, or that must-see TV show you were watching on the way home that just has to get on the big screen so you can free your hands. Samsung Smart TV picks up the signal when your device is close and seamlessly plays the content in the optimal resolution for the big screen. It works the other way around, too, letting you go mobile right away so you can freely move about your house while viewing your favourite content on your device. Perfectly seamless and perfectly in sync.
*Function compatibility limited to certain television models and mobile devices. Please speak to a sales representative for details.
Get your TV to brief you every morning
Do you reach for your smartphone every morning to check the time and your schedule, and then turn your TV on to check the weather and news? Now, you can start the day with a personalised daily brief on your Samsung TV that takes care of all of them, on a big screen. Working in sync with the alarm set on your smartphone, your Samsung TV will automatically turn on and give you all the information you need to get your day started fresh. Meeting? Umbrella? Anniversary? Check, check and check.
* Screen image seen here is a representation only. Actual user interface may differ. ** Content, TV services and capabilities pictured may not be available in all regions and territories. *** Your TV will display the last channel viewed ****Function compatibility limited to certain television models and mobile devices.
Creates deeper blacks, purer whites, and enhanced colour and detail in every image
Samsung raises the bar even higher with a special technology called UHD Dimming. UHD's higher resolution also means that the picture needs more processing for reproducing all the details. For that, this amazing picture technology separates the screen into sections and then calculates all the precise contrast, colour, and detail levels needed for each part to perfect the image overall.
UHD upscaling enhances the quality of all of your viewing
Thanks to the Samsung UHD Picture Engine, you can enjoy various kinds of content with near UHD-level picture quality, even if it's not from a UHD source. Samsung's innovative 4-step Super Resolution Scaling technology enhances broadcast TV shows and movies as well as video on demand and more.
*Upscaling will vary by source resolution.
Instantly switch back and play right from where you left off
What's the point of having all those apps and features on a smart TV if they are hard to use? With Samsung Smart TVs, switching between various kinds of content is now as easy as changing your TV channel. Instantly and seamlessly switch to live TV while watching a video online, and the other way around.
* Screen image pictured is a representation and may not reflect actual user interface. * Content, TV services and capabilities pictured may not be available in all regions and territories.
Experience life-enriching apps on your Smart TV
Content is everything, and Samsung Smart TV has you fully covered. Enjoy tons of amazing apps and surf the web to your heart's content in the most seamless, intuitive way possible. Simply swipe left or right to view customised app recommendations, new featured apps and more, all at a glance. It even has an improved web browser app that gives you quick access to popular websites in your region all with a single click of a button, and without having to type in the URL.
Powerful Quad Core processor for faster performance
Thanks to a powerful Quad Core processor, your Samsung Smart TV offers enhanced performance. You'll notice the difference straight away, with faster multitasking and switching between content and web browsing, as well as smoother interaction. With this extra power, your entertainment experience will be so much more enjoyable, with less waiting and more viewing.
More vibrant colours for better images
Using an advanced picture quality improvement algorithm, Samsung's Wide Colour Enhancer drastically improves the quality of any image and uncovers hidden details. Now see colours as they were meant to be seen with Wide Colour Enhancer.
Tons of sensational games to keep you at the edge of your seat
Samsung Smart TV takes gaming to the next level with a much wider selection of sensational, dynamic games and support for all your devices. From family-friendly to racing and even action packed shooters, you can now enjoy titles that cater to all your gaming tastes.
* Screen image seen here is a representation only and may not reflect actual user interface. ** Content, TV services and capabilities pictured may not be available in all regions and territories.
Immersive realism with Samsung Full HD 3D technology
Prepare to see entertainment in a whole new way. Samsung's sophisticated Full HD 3D technology means you can even enjoy 3D movies and TV shows at stunning Full HD resolution. It also enhances your 3D picture quality and cuts out ghost images to give you clearer and more immersive viewing. With such a high level of realism, you've never experience 3D like this before.
Bringing a full multimedia experience into your living room
With High Definition Multimedia Interface (HDMI) inputs, the Samsung TV will transform your living room into a multimedia entertainment centre. HDMI provides high-speed transmission of high definition digital data from multiple devices straight into your TV.
Watch movies from your USB
With ConnectShare Movie, simply plug your USB memory drive or HDD into the TV and instantaneously enjoy movies, photos or music. Now, you can experience a wide variety of content in the comfort of your living room on your TV.
*Supported formats include AVI, ASF, MP3, JPEG and others. See manual for full list of formats supported
Access the Internet without wires
With Wireless LAN Built-in, streamline your TV's connectivity capabilities without adding more external devices and maintain its attractive design.
tech specs
Video
Precision Black (Local Dimming)
Audio
Speaker Type

Front Firing + New Waveguide
Convergence
Mobile to TV - Mirroring, DLNA

Wireless TV On - Samsung WOL
Connectivity
Digital Audio Out (Optical)

RF In (Terrestrial / Cable input)

HDMI A / Return Ch. Support
Design
Design

Flat T-shape (HU8500 디자인)
Power
Yearly Power Consumption (EU standard)
Dimension
Set Size with Stand (WxHxD)

Set Size without Stand (WxHxD)
Accessory
Batteries (for Remote Control)

Samsung Smart Control (Included)
NEWEST
MOST HELPFUL
HIGHEST RATING
LOWEST RATING