What Are The Chrome OS Shortcuts ?
Last Update date : 2017.02.15
What Are The Chrome OS Shortcuts ?
Keyboard shortcuts are a combination of keys that allow you to quickly perform specific actions. In the Chrome OS you can easily see all of the available keyboard shortcuts using the steps below.

1. Press the Ctrl + Alt + / keys. The keyboard window appears.


2. When you hold down the Ctrl, Alt, or Shift key, the keyboard will display all shortcuts associated with that key.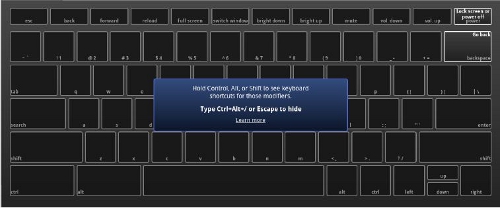 3. To exit out of the keyboard window, press Esc.
Contents Satisfaction Survey
Q1. Is this content helpful?
Q2. How satisfied were you with this content?
Q3. Tell us what you think. What could we have done to answer your question better?
If you have additional questions or require further assistance, please chat with our experienced technical team online. Live Chat
※ Our operation hours are 10:00 am to 8:00 pm from Monday to Friday.