Supported File Types
This is a general list of files supported. For an exact list of files supported please check your TVs user manual.
IMPORTANT:
Certain files, depending on how they were encoded, may not play on the TV.
Picture Files

Music Files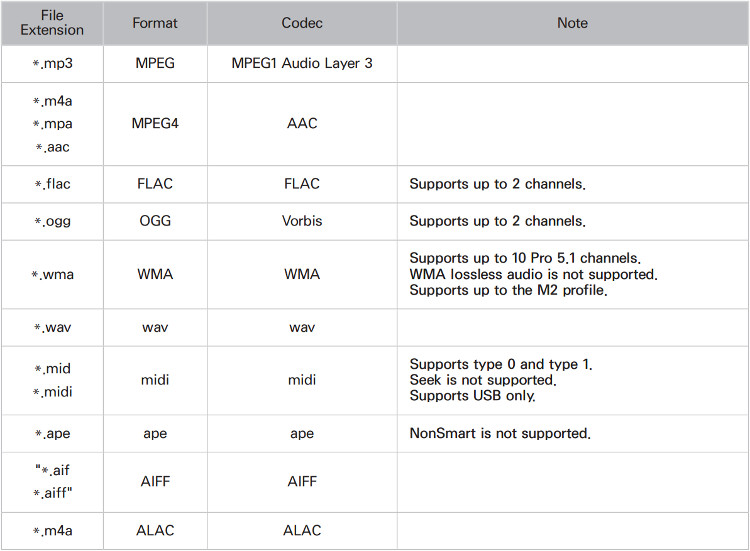 NOTE:
•If there are problems with the contents of a codec, the codec will not be supported.
•If the information for a Container is incorrect and the file is in error, the Container will not be able to play correctly.
•Sound or video may not work if the contents have a standard bitrate/frame rate above the compatible Frame/sec listed in the table above.
•If the Index Table is in error, the Seek (Jump) function is not supported.
•When playing video over a network connection, the video may not play smoothly because of data transmission speeds.
•Some USB/digital camera devices may not be compatible with the TV.
•HEVC codec is only available in MKV / MP4 / TS containers.
Contents Satisfaction Survey
Q1. Is this content helpful?
Q2. How satisfied were you with this content?
Q3. Tell us what you think. What could we have done to answer your question better?
If you have additional questions or require further assistance, please chat with our experienced technical team online. Live Chat
※ Our operation hours are 10:00 am to 8:00 pm from Monday to Friday.