How To Set The Home Page In The Web Browser (2014 Models)
Last Update date : 2017.02.15
Setting the Home Page in the Web Browser App
Setting the homepage in the web browser app is very similar to how you would set the homepage on your computers web browser.
Setting the Homepage
1. Select the
Settings
icon in the web browser.

2. Select the
Web Browser Settings
section.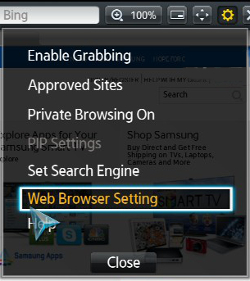 3. Set as homepage will be selected by default, select what
homepage
you would like.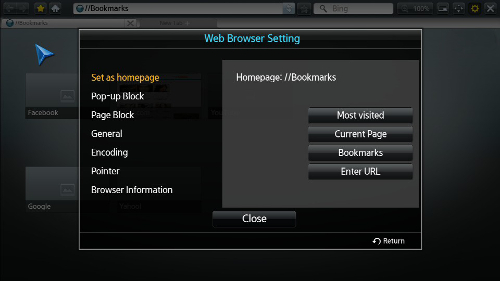 •
Most Visited
: The site that is visited most will be set as the homepage. The homepage can change depending on which site becomes the most visited.
•
Current Page
: Set the current URL to be your new homepage.
•
Bookmarks
: Allows you to select your homepage from your saved bookmarks.
•
Enter URL
: Allows you to manually enter in the desired URL for your homepage.
Contents Satisfaction Survey
Q1. Is this content helpful?
Q2. How satisfied were you with this content?
Q3. Tell us what you think. What could we have done to answer your question better?
If you have additional questions or require further assistance, please chat with our experienced technical team online. Live Chat
※ Our operation hours are 10:00 am to 8:00 pm from Monday to Friday.