Which Samsung Gas Ranges Can Be Converted To Liquid Propane ?
Last Update date : 2017.02.15
LP (Liquid Propane) Conversion
All Samsung Gas Ranges can be converted to use Liquid Propane. Additionally, all Samsung Gas Ranges come with the LP Conversion Kit shown below. It includes LP Orificies and instructions for installation/conversion.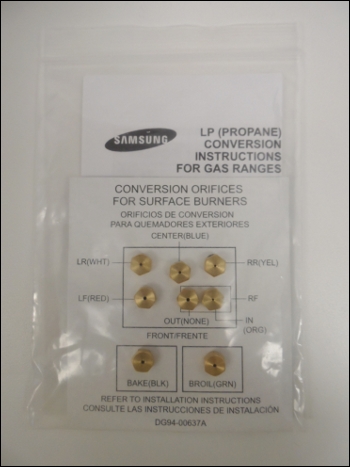 WARNING: This conversion must be performed by a qualified installer or gas supplier in accordance with the manufacturer's instructions and all codes and requirements of the authority having jurisdiction. Failure to follow ALL instructions could result in serious injury or property damage. The qualified agency performing this work assumes responsibility for the conversion.
Contents Satisfaction Survey
Q1. Is this content helpful?
Q2. How satisfied were you with this content?
Q3. Tell us what you think. What could we have done to answer your question better?
If you have additional questions or require further assistance, please chat with our experienced technical team online. Live Chat
※ Our operation hours are 10:00 am to 8:00 pm from Monday to Friday.