Note : Insert the SIM or USIM card provided by the mobile telephone service provider.
• Only Nano-SIM cards work with the device.
• Some LTE services may not be available depending on the service provider.
For more information about service availability, contact your service provider.
1. Insert the ejection pin into the hole on the SIM card tray to loosen the tray.
Note : Ensure that the ejection pin is perpendicular to the hole.
Otherwise, the device may be damaged.
2. Pull out the SIM card tray gently from the SIM card tray slot.
3. Place the SIM or USIM card on the SIM card tray with the gold-coloured contacts
facing downwards.
Note : Use caution not to lose or let others use the SIM or USIM card.
Samsung is not responsible for any damages or inconveniences caused by lost or stolen cards.
4. Insert the SIM card tray back into the SIM card tray slot.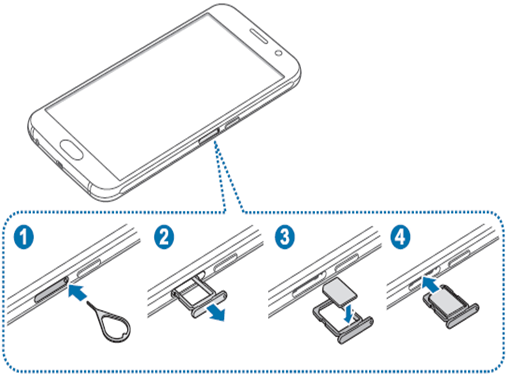 Contents Satisfaction Survey
Q1. Is this content helpful?
Q2. How satisfied were you with this content?
Q3. Tell us what you think. What could we have done to answer your question better?
If you have additional questions or require further assistance, please chat with our experienced technical team online. Live Chat
※ Our operation hours are 10:00 am to 8:00 pm from Monday to Friday.