I want to close / exit "Kids Mode" but cannot terminate the app because I forgot my PIN code to close "Kids Mode". What should I do?
Last Update date : 2015.03.30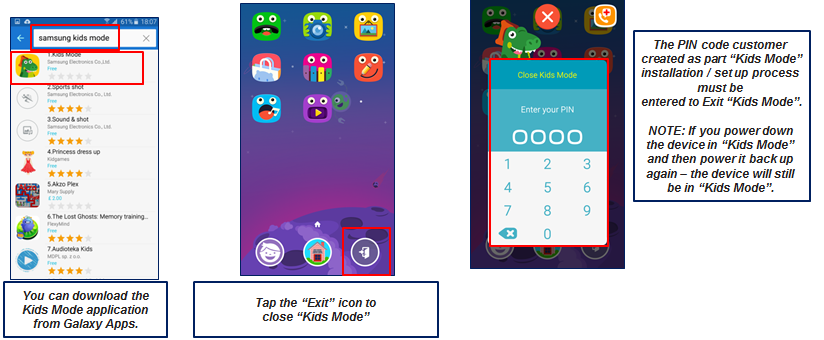 A:If you have forgotten the PIN required to close "Kids Mode" you can change it via a
Samsung or Google account. You can use your already existing Samsung/Google account
if you have set one up on your device or create new Samsung / Google account if you do
not have one set up on the device. If you don't yet have a Samsung/Google account
and don't want to create one, you can still set a new PIN after deleting the "Kids Mode's"
existing data in the device "Application Manager".
Please see the attached document for more information on how to exit/close Kids Mode.
Contents Satisfaction Survey
Q1. Is this content helpful?
Q2. How satisfied were you with this content?
Q3. Tell us what you think. What could we have done to answer your question better?
If you have additional questions or require further assistance, please chat with our experienced technical team online. Live Chat
※ Our operation hours are 10:00 am to 8:00 pm from Monday to Friday.