[Solution]
To access network service or upgrade the current firmware, you must make one of the following connections.
By connecting to a network, you can access the BD-LIVE, and software upgrades from Samsung's update server.
Case 1 : Connecting a Direct LAN Cable to your Modem
1. Using the Direct LAN Cable (UTP cable, not included.)
Connect the LAN terminal of the Blu-ray Disc Player to the LAN terminal of your modem.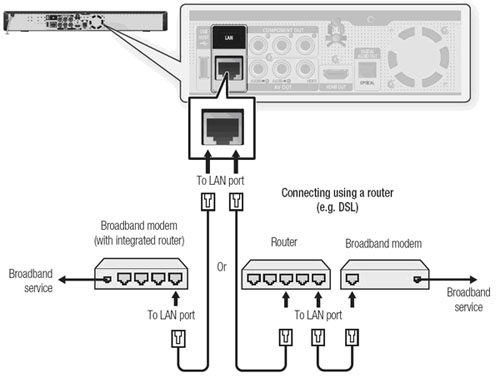 Important: Internet access to Samsung's update server may not be allowed, depending on the router you use or the ISP's policy. For more information, contact your ISP (Internet Service Provider.) For DSL users, please use a router to make a network connection.
Case 2 : Connecting to a Wireless IP sharer
You can connect to network with a Wireless IP sharer. See you for Wireless Network Setup (Within your user manual.)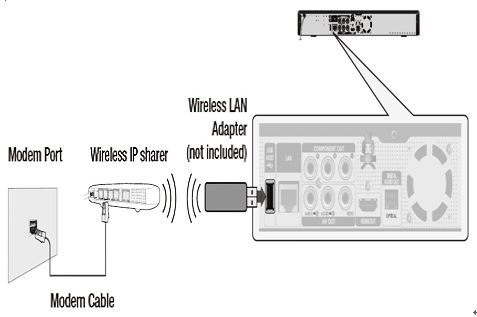 Important:
This unit is compatible with only Samsung Wireless LAN Adapter (not included.) (Model name: WIS09ABGN.)
- The Samsung Wireless LAN Adapter is sold separately.

- Contact a Samsung Electronics agent or service center for purchasing.
You must use a wireless IP sharer that supports IEEE 802.11 a/b/g/n (n is recommended for stable operation of the wireless network.)
Wireless LAN, in its nature, may cause interference, depending on the use condition (AP performance, distance, obstacle, interference by other radio devices, etc.)
Set the wireless IP sharer to Infrastructure mode. Ad-hoc mode is not supported.
When applying the security key for the AP (wireless IP sharer), only the following is supported.
- Authentication Mode : WEP, WPAPSK, WPA2PSK

- Encryption Type : WEP, TKIP, AES
Contents Satisfaction Survey
Q1. Is this content helpful?
Q2. How satisfied were you with this content?
Q3. Tell us what you think. What could we have done to answer your question better?
If you have additional questions or require further assistance, please chat with our experienced technical team online. Live Chat
※ Our operation hours are 10:00 am to 8:00 pm from Monday to Friday.