How to select the subtitle language
Last Update date : 2011.01.16
[Solution]
You can select a desired subtitle quickly and easily with the SUBTITLE button.
1. Using the SUBTITLE button
1) Press the SUBTITLE button. The subtitle changes when the button is pressed repeatedly. The subtitle languages are represented by abbreviations.
2) To remove the Subtitle bar, press the CANCEL or RETURN button.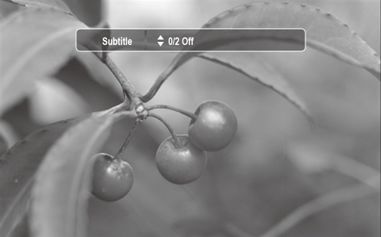 2. Using the INFO button
1) During playback, press the INFO button on the remote control.
2) Press the ▲▼ buttons to select subtitle.
3) Press the ◀ ▶buttons on the remote control to select the desired subtitle language.
Important:
Depending on the Blu-ray Disc / DVD, you may be able to change the desired subtitle in the Disc Menu. Press the DISC MENU button.
This function depends on what subtitles are encoded on the disc and may not be available on all Blu-ray Discs / DVDs.
A Blu-ray Disc can contain up to 255 subtitle languages and a DVD up to 32.
Information about the primary / secondary mode will be also displayed if the Blu-ray Disc has a BONUSVIEW section.
This function changes both the primary and secondary subtitles at the same time.
The total number of subtitles is the sum of the primary and secondary ones.
Contents Satisfaction Survey
Q1. Is this content helpful?
Q2. How satisfied were you with this content?
Q3. Tell us what you think. What could we have done to answer your question better?
If you have additional questions or require further assistance, please chat with our experienced technical team online. Live Chat
※ Our operation hours are 10:00 am to 8:00 pm from Monday to Friday.