News & Alert
Support Alert
Fraud warning for Samsung Customers
# Mobile Device
Aug 22, 2017
Samsung has noticed an increase in frequency of scam/hoax/phishing incidents involving consumers. These fraudulent correspondences generally carry Samsung's name and logo and appear (at face value) to be authorised communications from Samsung Electronics.

In light of the frequency of these incidents, Samsung would like to spread awareness about the variety of ways that fraudulent third parties representing themselves as Samsung may attempt to gain your personal or financial information, or exploit you for financial gain. Generally consumers should be vigilant when dealing with third parties over email/internet/phone/mail/SMS. Here are some guidelines to assist you to ensure that you are dealing with a genuine Samsung representative.

Samsung Australia's customer service team might get in contact with you through by email, social media or phone to arrange for resolution to the issues that have been escalated by you or your representative (e.g. service centres, retailers, Samsung brand shops and their service affiliates). However please be advised that Samsung Australia will never ask you to send cash or deposit money into any personal bank account or request your personal details through email. In specific cases where customer requests a product upgrade, Samsung Australia customer service might request a cheque to be sent to Samsung head office (Samsung Electronics Australia, 3 Murray Rose Avenue, Sydney Olympic Park NSW 2127). Such cheques should only be payable to "Samsung Electronics Australia Pty Ltd" and not to third parties or individuals.

Email communications sent by a Samsung Australia representative will always carry the "samsung.com" domain address and any call back requests should be done through our authorised customer contact centre number (1300 362 603). Please make sure to recheck the email or website address when replying to emails or completing online forms. If you have been contacted through any of the above media and you are suspicious, please contact our customer contact centre (1300 362 603) to confirm the authenticity of the message.

As a general precaution do not give or send your name, bank account details, or any other personal details to anyone if you are sure as to whether they are an authorised representative of Samsung Australia. Use common sense when dealing with online sources and maintain your awareness through consulting government websites (such as www.staysmartonline.gov.au) which contain numerous helpful tips.

For a list of most recent scam alerts please visit Australian Competition and Consumer Commission's "Scam Watch" website at www.scamwatch.gov.au.

Below are some examples of the scam cases that consumers have recently reported to Samsung Australia:
• Certificate received from samsungmobilepromo4@gmail.com purporting to award money to a customer in respect of Samsung products: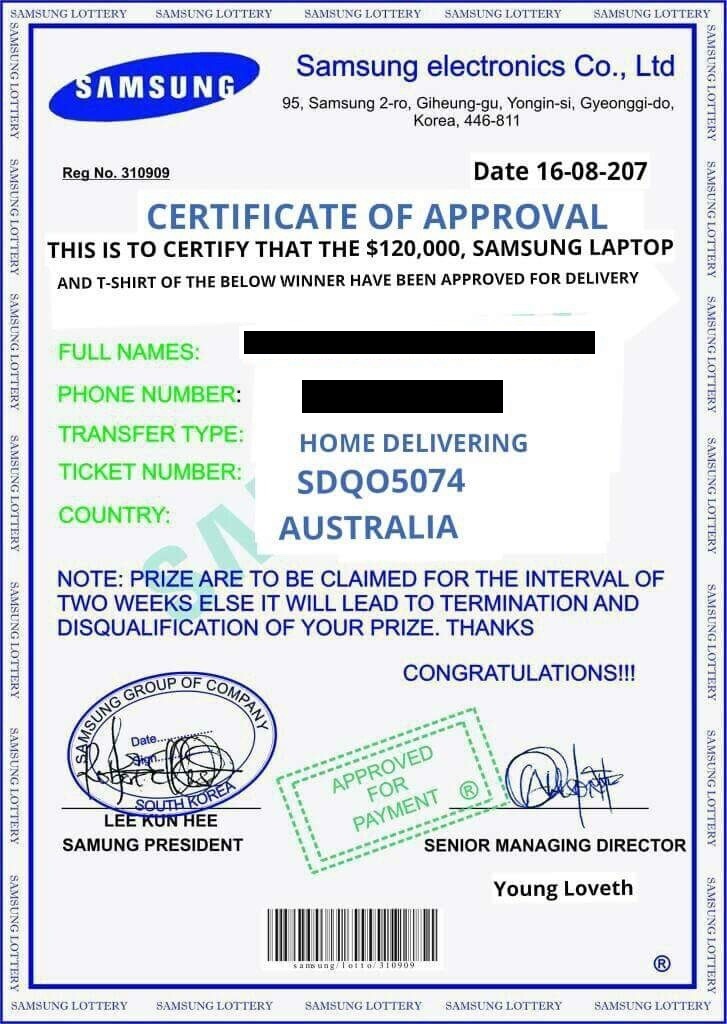 If you believe that you have received a scam message from an entity purporting to be Samsung Australia, please report it to:
• us at vocnsw@samsung.com; and
• SCAMwatch online report form at www.scamwatch.gov.au/content/index.phtml/tag/reportascam.