Smart machines you can rely on.
Laundry time has never been easier with Samsung's range of washing machines. Our innovative machines have a range of handy features like AddWash™, to help you add missed items after the cycle begins and BubbleWash™, for pre-mixed bubble action. Stay on top of your laundry with large capacity and experience the outstanding performance of our machines.
Forgotten Something?
Simply Add Items During Wash.
Exclusive only to Samsung machines, AddWash
TM
is an innovative feature, never before seen in the laundry category. With AddWash
TM
you can add items during the wash without having to wait for the drum to drain*.
With the handy Add Door, you can:
Add forgotten items
Add fabric softener
Add hand-washed items just for the rinse cycle
Pre-mixed Bubble Action.
Outstanding Performance.
BubbleWash gives your clothes a powerful but gentle clean. Pre-mixed bubble action mixes detergent with water and air in a separate 'bubble-generator', before reaching clothes.
The Diamond Drum's innovative design means water can escape through tiny diamond shaped depressions which collect water and help to prevent clothes from getting damaged.
Household size
Capacity range
S
6 to 7.5Kg
M
8 to 9.5Kg
L
10 to 11.5Kg
XL
12 to 14.5Kg
XXL
15Kg+
Less Loads,
More Life.
Our machines come in a range of sizes to suit every kind of family. With our extra-large capacity machines, that hold up to 16Kg, you can wash more clothes in a single load and spend less time in the laundry. This table will help you find the perfect machine for your household.

Laundry's never looked so good.
You can claim up to $250 back on a selection of washing machines with our helpful cash back offer. The offer makes buying a washing machine with Samsung even more rewarding. The larger the machine you buy, the more cash back you can claim. The cash back offer applies to selected new Samsung front load and top load washing machine models, purchased from participating retailers between 9:00am (AEST) on 27 July and 11.59pm (AEDT) on 3 October 2017
#
.

13-16Kg
WD13J7825KP
WA13M8700GV
WA13M8700GW
WD16J9845KG
WF16J9800KV


10-11Kg
WA10J7750GW1
WW11K8412OW
WA11M8700GV
WA11M8700GW



8.5Kg
WD85K6410OW
WW85K5410WW
WW85K6410QX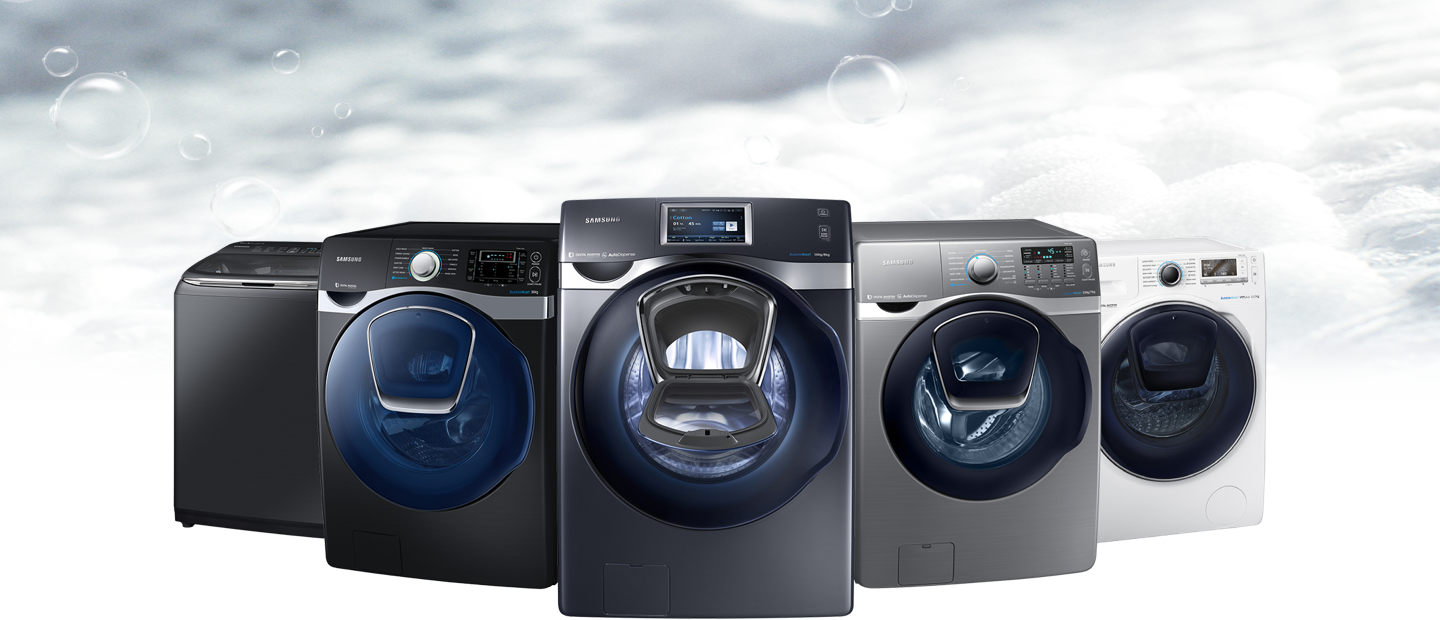 Explore the range.
Our innovative range of washing machines is designed to make your laundry time feel like a breeze. From adding a missed sock after the cycle has begun to fitting all the kids' uniforms in one load, the helpful features of our machines were designed with you in mind.
*Add Door can be opened at any time if the temperature inside the drum is below 50° and the drum has stopped spinning.

#T&Cs apply. See www.samsung.com.au/offer for full terms and conditions.