How To Use The Smart Interaction Voice Commands (2014 Models)
How To Use The Smart Interaction Voice Commands (2014 Models)
Last Update Date :
Apr 09. 2018
Smart Interaction Voice Commands
It's faster than typing, the new way to use your Smart TV is Voice Interaction (Voice Control) which allows you to interact with the TV by using voice commands to control the TV or using your voice to find content.
Voice Control has two modes,
Interactive Voice Control
and
Imperative Voice Control
:
Imperative Voice Control
requires you to use pre-defined commands to control the TV.
Some examples are:
• "View Commands"
• "Help"
• "Exit"
• "Volume Up"
IMPORTANT
: Imperative Voice commands do not require an internet connection.
Interactive Voice Control
lets you give "conversational" instructions to the TV.
Some examples are:
• "What's the weather like in (place)"
• "Anything interesting on tonight"
• "Watch (TV program)"
• "Search google for (anything)"
IMPORTANT
: To use Interactive Voice commands you must first set up Smart Hub (agree to the EULAs), set the clock, and have the TV connected to the internet. If you try and use Interactive voice commands without completing the requirements the TV will display a notification pop-up that states you have to set the previous features up to use Voice Commands.
2014 Smart TVs include the Smart Control remote that has a microphone built into it.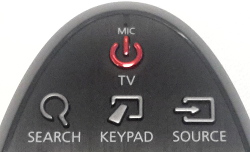 Using Voice Commands with Remote Microphone
1. Confirm that voice commands are
enabled
. (This setting can be changed in the tools menu, Status menu, or Main Menu)
2. Press and release
Voice
.

3. Wait for the Voice Control indicator to appear at the top of the TV, then say your command.

TIP
: The natural speech function with 2014 Smart interaction allows you to use phrases such as but not limited to:
• Find me a (genre) on (broadcast network).
• Find me a (movie, TV show) with (actors name) in it.
• Find me a (movie, TV show) by (directors name).
From your phrases Smart Interaction will pull out the key words and search for your desired content or make recommendations based on your past preferences.
4. Say the
command
into the microphone on the remote you would like the TV to perform.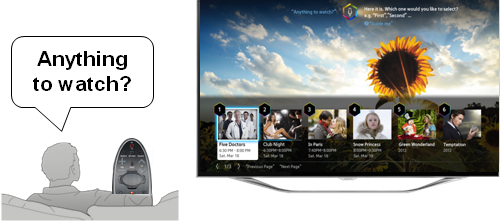 TIP
:
• If you would like to see all available commands say "Help"
• Speak in a moderately loud voice but do not shout.
• Speak slowly and clearly.
Not finding what you're looking for? We're here to help.
Call

1-800-726-78641-800-SAMSUNG
Mon - Sun : 8:30 AM -12 AM (EST)
7 days a week, 365 days a year
Monday to Sunday (Including Public Holidays)
8:00am - 8:00pm
* For any printer related enquiries please visit the HP website .
Contact Us