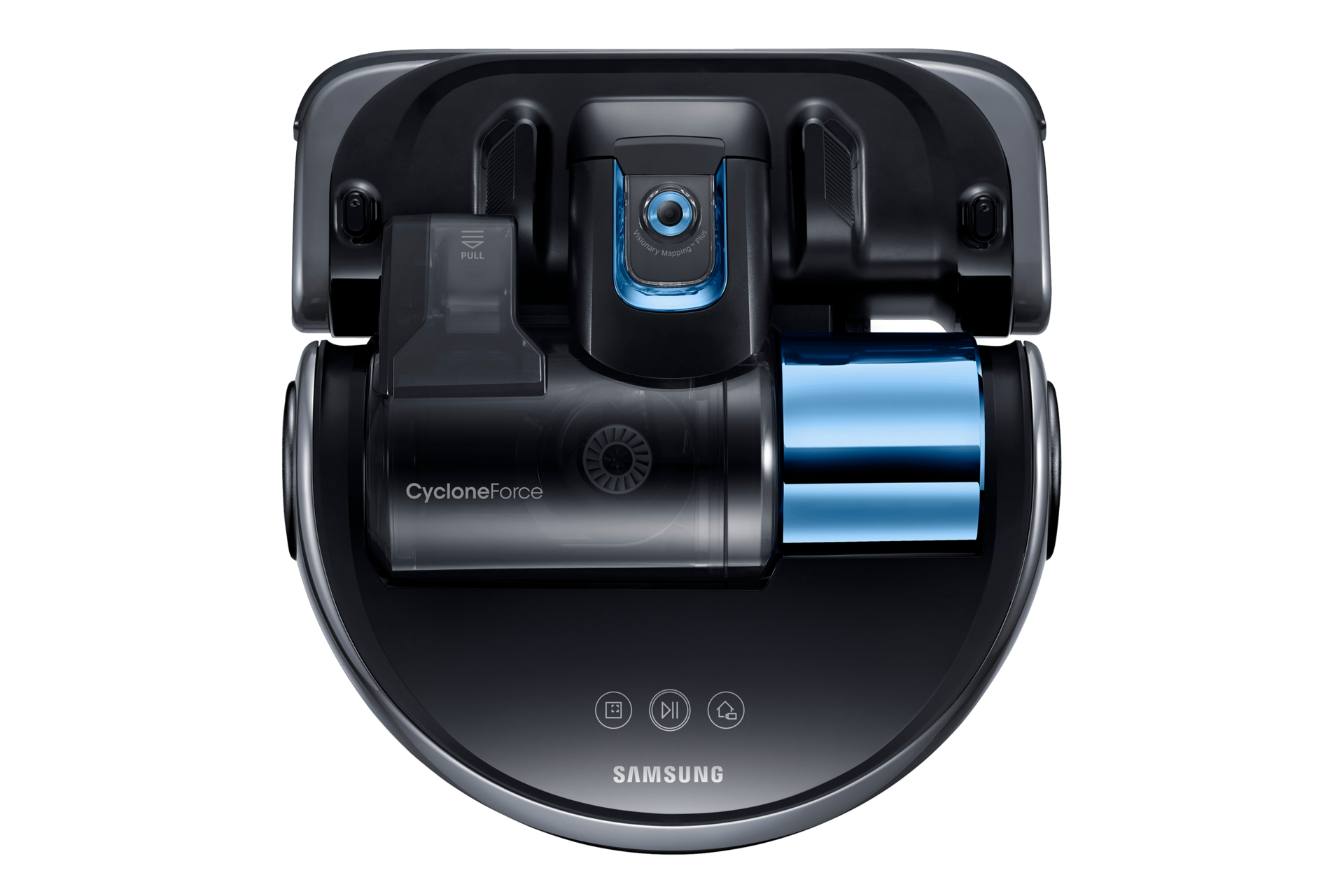 VR2AJ9040WG/AC
VR2AJ9040W POWERbot Essential + with Wi-Fi, 50 W
10x more powerful suction*
Control it with your smartphone*
Prevents the filter from clogging*
CycloneForce™
Powerful Suction
Visionary Mapping
Powerbot
10x more powerful suction*
With high suction generated from a powerful motor, Samsung POWERbot Essential Wi-Fi picks up dust and dirt on carpets and hard floors and even dust that's hidden deep inside the pile of carpets.
*Tested internally on Samsung POWERbot Essential Wi-Fi and Samsung conventional VR10F71UCAC. (For global)
Control it with your smartphone*
Wi-Fi Control lets you remotely control the machine using a smartphone app.* With a simple touch you can start or stop the machine and schedule cleaning times while you're away from home.
*Samsung Smart Home Apps are compatible with selected Samsung Galaxy S and Note series devices. Supports Android™ 4.0 (since Galaxy S2) or higher and iOS7 or higher.
Prevents the filter from clogging*
CycloneForce ensures extreme suction power for a long time*. It generates a strong centrifugal force that extracts dirt and debris from the air into an outer chamber. So it keeps the filter clean with less clogging.
*Tested internally on Samsung POWERbot Essential Wi-Fi and Samsung conventional VR10BTATBB.
Thorough scan and corner clean
High-performance FullView Sensor™ 2.0 detects even small obstacles* across a wide area and sense corners to clean three times.
*Tested on Samsung POWERbot Essential Wi-Fi and Samsung conventional VR10BTATBB. Based on internal testing. Based on internal testing.
Fast, efficient cleaning
A Visionary Mapping™ Plus System creates the optimal path for fast-track cleaning. Using high performance sensors and an onboard digital camera it maps your house and calculates the most efficient cleaning path.
Cleans a wider area fast
The Widest Brush cleans larger areas fast and efficiently. It has a width of 311 mm, which is around 107 mm larger than conventional 204 mm brushes, providing an efficient cleaning performance.
*The brush length was measured on Samsung POWERbot Essential Wi-Fi and leading robot vacuum brands. Based on internal data.
Wheels that smoothly move over
Easy Pass™ wheels easily overcome most obstacles, so it will keep working while you're not there. Its wheels have a large 105 mm diameter, and the height of its body from the floor has also been raised from 10 mm to 15 mm, so it's much less likely to get caught on anything.
Clean how you like
Various cleaning modes let you choose the best way to clean in different situations. POWERbot has 2 suction controls, 3 styles of cleaning modes and 2 scheduling modes.
Always charged
When the battery gets low it automatically moves to the docking station to recharge itself. Once it's fully recharged it goes back to its last location and resumes cleaning.
0.7 ℓ

Dust Capacity

4.5 kg

Set Weight

378 x 135 x 362 mm

Set Dimension (WxHxD)
How It Stacks Up
* Key feature may different from Key Spec