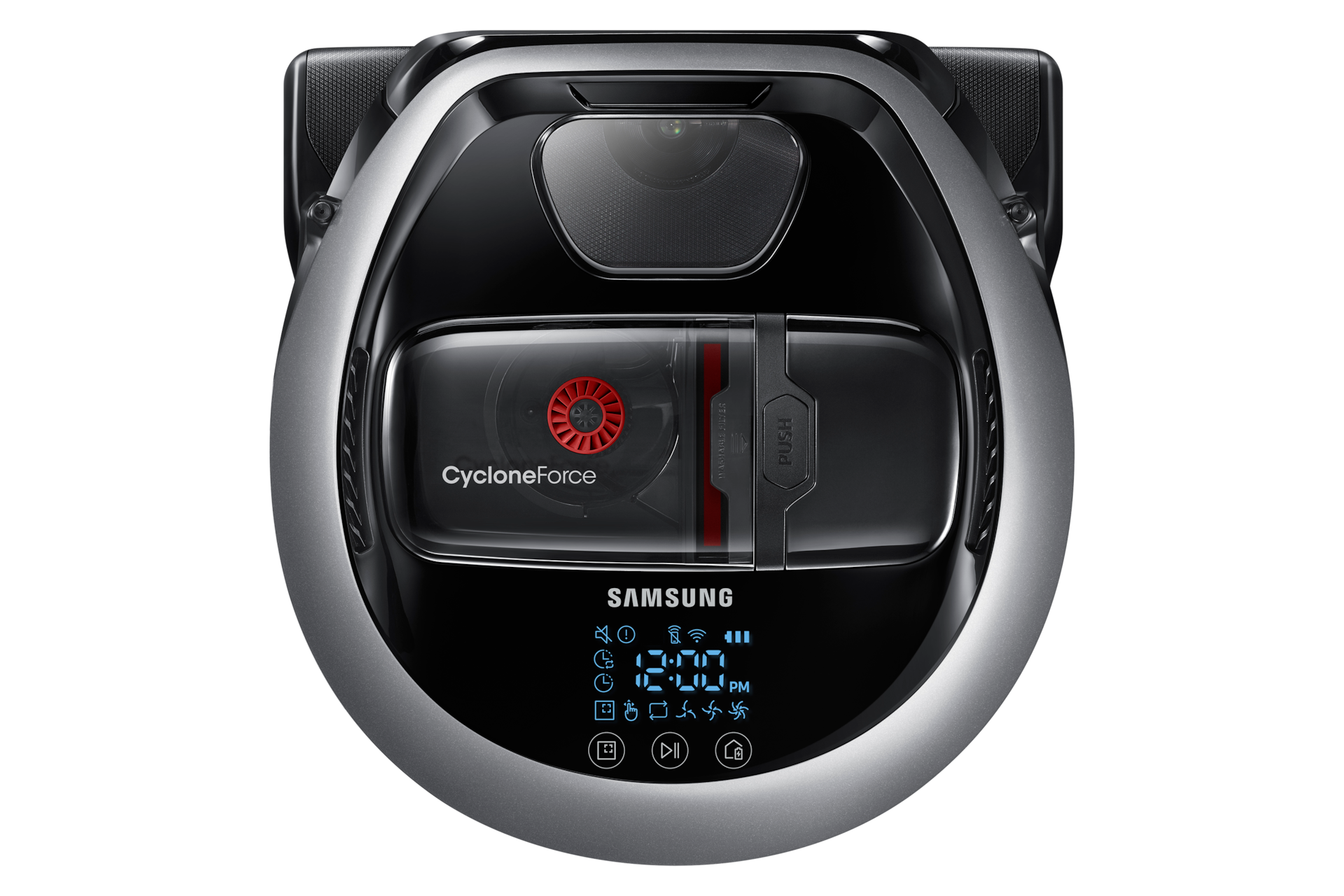 VR2AM7070WS/AC
POWERbot VR7000M Robot VC with Wi-Fi Connectivity, 130 W

Powerfully cleans hard-to-reach places
Scans the space, detects obstacles
Cleans well even along wall edges
Extra slim, extra powerful
FullView Sensor™ 2.0
CycloneForce™
Easy Pass Wheels™
Powerfully cleans hard-to-reach places
Extra slim, extra powerful
Designed with a slimmer body without compromising its powerful suction. It generates 40x more suction power*, to suck up dust and dirt on carpet and underneath low furniture.
*Based on internal testing compared with conventional Samsung VR10BTATBB. **Compared with Samsung POWERbot VR9000.
Scans the space, detects obstacles
FullView Sensor™ 2.0
An upgraded, high-performance FullView Sensor™ 2.0 scans and detects very narrow or small obstacles across a wide area. In addition, it senses room corners and cleans them three times with 10%‡ more suction power*.
*Generates 10%‡ more suction than Normal and Quite Mode respectively.
Cleans well even along wall edges
Edge Clean Master
Edge Clean Master cleans edges and corners more effectively with a bristle brush that is very close to the front. When it touches a wall the Auto Shutter drops down to create a barrier that helps collect more dust.
Less dust & hair clogging up the brush
Self-cleaning Brush
The unique Self-cleaning Brush significantly reduces the amount of dust and hair that gets trapped on the brush's bristles. It collects it in the centre of the brush, so it can easily be sucked up into the dustbin.
Always optimum power
Power Control
An Intelligent Power Control detects the type of surface and generates the optimum suction power. When it goes onto carpets and rugs the motor generates more suction power to suck up embedded dust.
Prevents the filter from clogging
CycloneForce
CycloneForce ensures extreme suction power for a long time*. It generates a strong centrifugal force that extracts dirt and debris from the air into an outer chamber. So it keeps the filter clean with less clogging.
* Bamsed on internal testing compared with conventional Samsung VR10BTATBB
Cleans a wider area fast and efficiently
Wide Brush
The wide brush cleans larger areas faster and more efficiently. It has a width of 290 mm, which is over 42% larger than conventional 204 mm brushes, so it cleans a greater area with less movement in less time.
Control it remotely
Wi-Fi Control
Wi-Fi Control lets you remotely control the machine using a smartphone App*. With a simple touch you can start or stop the machine, schedule cleaning times and check the cleaning history when you're away from home.
* Available on iOS and Android devices. A Wi-Fi connection is required.
Maps & finds the best cleaning path
Visionary Mapping™ +
A Visionary Mapping™ Plus System finds and leads it around the optimal route for fast-track cleaning. Using high performance sensors and a digital camera it maps your house and calculates the most efficient path.
* Based on internal testing compared with conventional Samsung VR10BTATBB.
Large Wheels
Easy Pass™
Upgraded Easy Pass™ wheels easily overcome most obstacles, like door frames, so it will keep working while you're out. Its body is also now 15 mm off the ground, so it's much less likely to get caught on anything.
Choose the best way
Various Cleaning Modes
With various cleaning modes, you can choose the best way to clean in different situations. It has 3 styles of cleaning mode*, 3 types of suction, scheduling modes which you can preset for up to 7 times a week.
Always charged
Automatic Charge
An Automatic Charge function means that when the battery runs low it automatically moves to the docking station to recharge itself. Once it's fully recharged it goes back to its last location and resumes cleaning.
130 W

Max Consumption Power

0.3 ℓ

Dust Capacity

340 x 97 x 348 mm

Set Dimension (WxHxD)

4.3 kg

Set Weight
Smart Simulator
User manual & Downloads
How It Stacks Up
* Key feature may different from Key Spec