Mobiiliratkaisut - Knox
Samsung Knox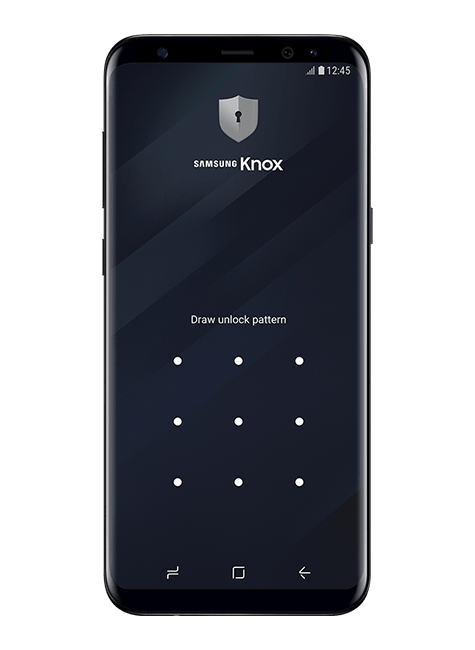 Easy Device Management
Samsung Knox is designed with non-IT administrators in mind, offering reduced complexity for total ease of use.
Instantly effective
Samsung Knox is ready as soon as you sign up, allowing you to instantly configure, deploy and secure your Android and iOS devices with simple cloud-based tools.
Bulk device enrollment
Samsung Knox automates device deployment with a simple process, making bulk enrollment quick and easy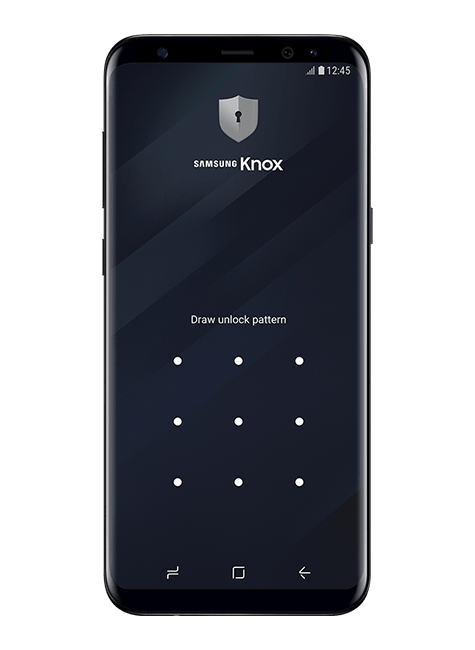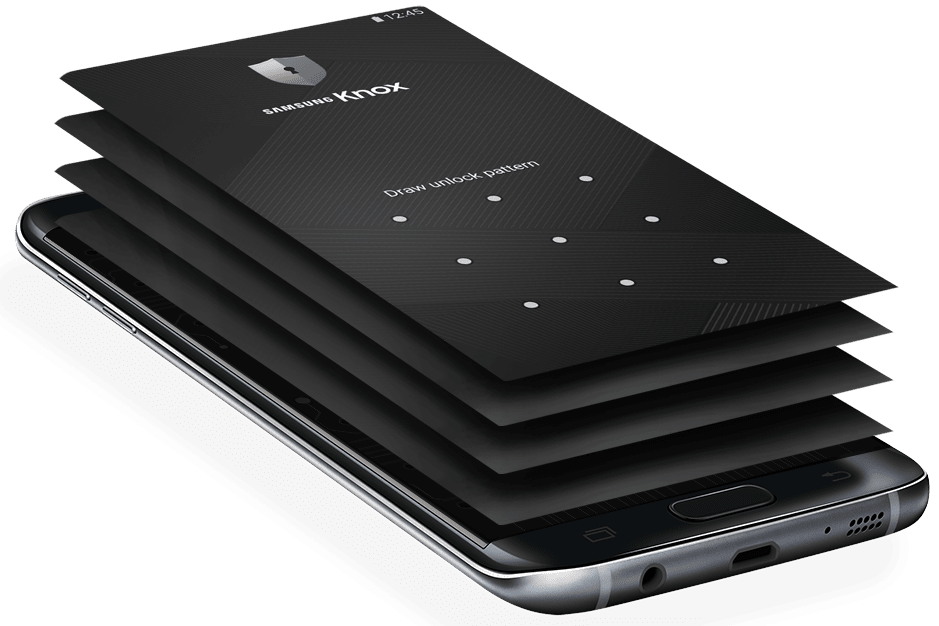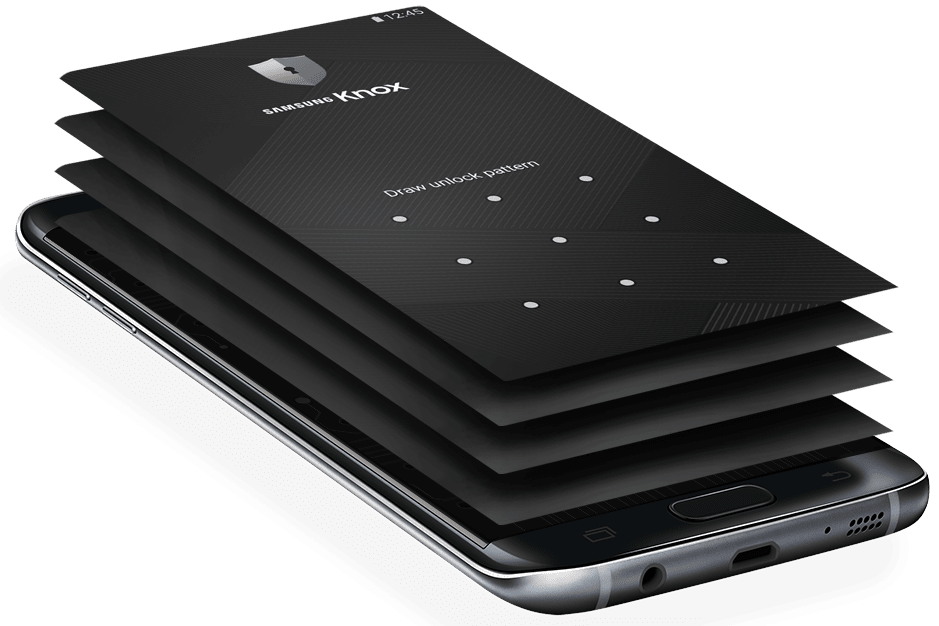 Multi-layered security
Samsung Knox multi-layered security platform is built into both hardware and software for robust data protection.
Enterprise and personal data protection
Samsung Knox encrypts and protects data. It offers enhanced protection through monthly updates, including the latest patches from Samsung and Google.
Integrity protection
Samsung Knox separates user and corporate data, protecting private data, apps and photos while preventing accidental sharing of sensitive information.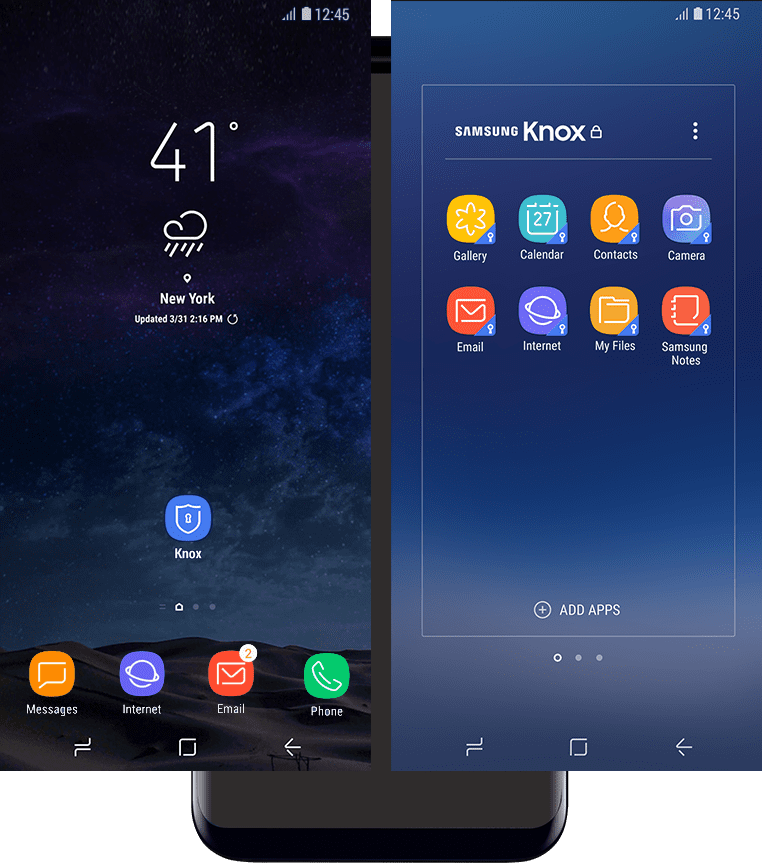 Personal space
Samsung Knox gives users a private space for personal apps, data and photos. So they can work securely and live freely.
Access data everywhere
Samsung Knox makes it easy for users to access data whenever and wherever they need it, making them more responsive and more productive.
Seamlessly smooth
Samsung Knox settings, apps and accounts are automatically configured, leaving users free to get on with their lives, and reducing demand for IT support.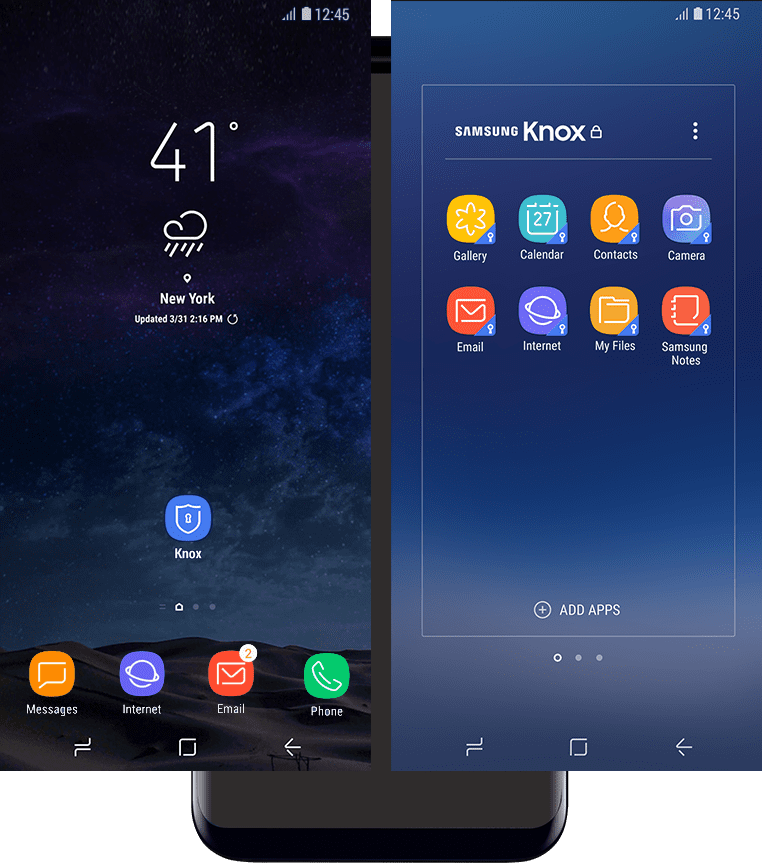 Configure. Automate. Empower. For an open world
Configure profiles, settings and apps using Samsung's cloud based tools. Automate over-the-air deployment and empower users to get on with work while reducing demand for IT support.
Knox Solutions Suite
Discover a suite of enterprise mobility management solutions built on the award-winning, defense-grade Knox platform.
Knox Workspace

Enterprise work container which isolates work applications and data from the rest of the device. Backed by the device chipset and Knox platform.

Defense-grade security

Supports any Android app without wrapping

Compatible with your existing MDM

Secure Folder

Consumer security solution that leverages the Knox Security Platform to create a private encrypted space on a Samsung Galaxy Smartphone

Easy setup

Separate environment for private apps and data

Cloud-based backup and restore

Knox Premium

Cloud-based device management

EMM solution combined with secure container.

Streamlined bulk configuration

Settings survive even after factory reset

Frictionless, out-of-the-box setup

Deployment and Customization

Knox Mobile Enrollment

EMM installation and enrollment

Cloud-based tool to help install an EMM agent and enroll to EMM automatically.

Automatically install MDM software on activation

Enroll to EMM with personalized login

Reinstalls MDM software after factory reset

Knox Configure

Bulk device configuration and deployment

Cloud-based service that allows businesses to remotely configure a large number of Samsung devices and tailor them to specific needs.

Streamlined bulk configuration

Settings survive even after factory reset

Frictionless out-of-the-box setup

Knox Customization

Customize Samsung Devices

Custom device software solutions to meet industry needs.

Create tailored experiences with standard hardware

Leverage deeper device modifications

Includes SDK and configuration tools

Knox-Enabled apps

Added security for Android apps

Invisible container to safeguard individual apps by isolating it and its data from the rest of the device.

Advanced encryption to protect app data

No MDM client required

Invisible to end users
Security and Management
Deployment and Customization
Developer tools