MD230X3
MD230X3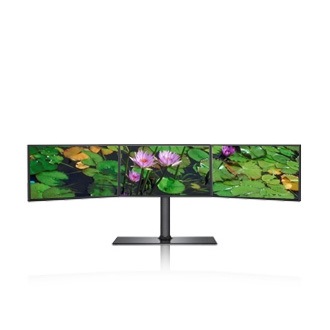 The Samsung SyncMaster™ MD Series enables to you to enjoy an expansive visual experience. Up to 3 monitors can be set up on one stand, creating a seamless multi-display environment that allows you to appreciate a truly panoramic point of view. So, if only the best visual experience is good enough for you, then the MD230X3 is ready to show you exactly that.
Recycling Batteries Responsibly
The European Directive on Batteries and Accumulators aims to minimise the impact of batteries on the environment and encourage the recovery of the materials they contain. In the UK, regulations on the recycling of batteries and accumulators (rechargeable batteries) were Introduced in 2009. The Waste Batteries Regulations aim to significantly increase UK collection and recycling of used portable batteries from 3% in 2007 to 25% by 2012, rising to at least 45% in 2016.

The battery symbol on a product or on its packaging indicates that the product must not be disposed of with general household waste. Instead, it is the consumer's responsibility to dispose of their waste batteries at a designated collection point so that they can be recycled. The separate collection and recycling of batteries at the time of dispo sal will help to conserve natural resources and ensure that they are recycled in a manner that protects human health and the environment. A comprehensive list of battery recycling centers can be obtained from: www.recycle-more.co.uk

All Samsung products that are subject to the Batteries Directive are compliant with the UK battery and accumulator Requirements. In accordance with national law, SAMSUNG Electronics (UK) Ltd is a member of an approved batteries producer compliance scheme. This scheme collects, treats and disposes of batteries on Samsung's behalf.
Need more Info?
Request information about Samsung business products, solutions and services. We will contact you shortly.
Email Us
eb.contact@samsung.com
Features
The ultimate multi-display for ultimate multi-tasking
A commanding view is right before your eyes
A customized, multi-display set in a box
Flexible, customizable multi-display solution
The ultimate multi-display for ultimate multi-tasking
With the Samsung MD series you can increase your productivity—just like Bill Gates did: "On my desk I have three screens, synchronized to form a single desktop…Once you have that large display area, you'll never go back, because it has a direct impact on productivity." (Fortune, April 2006). And since the Samsung MD series is easy to set up you won't have to waste money on costly monitors, graphic cards, PCs, and cables. It's also available in bundles of three and six and includes a unique stand you can customize. Experience the ultimate all-encompassing view whether you're a power gamer or power player.
A commanding view is right before your eyes
The Samsung MD series guarantees your view is seamless with a bezel that's seriously super-thin. In fact, the total width is only slightly more than 15.2 mm while the total top to bottom width is only 17.6 mm. The displays are easy to connect and with a slim frame, your view isn't obstructed by a bezel. That means you'll see a smooth picture across multiple screens—and a spectacular view right in front of your eyes.
A customized, multi-display set in a box
With three MD series packages to choose from it's easy to select the multi-display that's right for you. Not sure which one is right for you? The MD230 single screen is available. Ready to multi-task with a multi-display? The MD230X3 includes three screens and the option to easily switch between landscape and portrait. Interested in the ultimate multi-display unit? The MD230X6 comes with six high-performance screens.
Flexible, customizable multi-display solution

Each MD series display includes an ergonomic, custom stand which gives you total flexibility to play games, watch movies or design graphics just the way you want. It's height adjustable up to 100mm and includes a hinge that tilts inward at 30°. The stand even lets you assemble your multi-display in landscape or portrait form. How's that for a design that adapts to your needs?
Brilliant picture quality everywhere you look
Complete your multi-display experience with the highest picture quality you can get—full HD. The MD series offers a stunningly clear picture thanks to an incredible 3000:1 static contrast ratio and a 150,000:1 dynamic contrast ratio. And with a wide angle view of 178°/178°, the picture looks razor-sharp from every direction.
Enjoy multi-control with a single controller
Take multitasking to new levels with this multi-control pad which lets you control up to six monitors. You can adjust the picture's brightness and contrast, and even optimize the picture settings for editing a document, surfing the Internet, playing games, watching sports or movies.
Connect every monitor—with only one outlet
Worried you won't have enough outlets to hook up every display? No problem—the MD series features a simple power connection. A daisy chain connects every monitor so you'll only have one power cord to plug in.
tech specs
Resolution

1920 x 1080(each), Landscape: 5760 x 1080(set of 3), Portrait: 3240 x 1920(set of 3)

Contrast Ratio

DC 150,000:1(Static 3,000:1)

Viewing Angle(Horizontal/Vertical)

Special Features

Multi Control Pad, DVI-D cable(2m), DP(Display Port)Cable(2.5m), USB Cable(1m, Daisy chain), Control Keypad(1m), Power cable(1.5m), Power in/out cable(0.7m), Manual
Set Dimension with Stand (W x H x D)

Shipment Dimension(W x H x D)
Support
User Manual

1.6 MB, pdf, CHINESE(Traditional)

2012.03.26
Device(Install)

Win 98/ME/2K/XP/X64/Vista/Vista 64/Win7/Win7 64, 7.91 MB, exe, MULTI LANGUAGE

Version : 1.0

2010.05.06

Close tooltip pop-up

1. Title
Monitor Driver
2. Applicable Model
SyncMaster MD230
3. Carrier or Corporate Customer
Open Market
4. Description
If you have trouble for setting up the Monitor under Windows 98/Me/2000/XP/X64/Vista/Vista64, this program will help you to install Windows Monitor Driver. You can install the most suitable Windows driver for your monitor.

System Requirements : Windows 98/Me/2000/XP/X64/Vista/Vista64 /Windows7(32bit/64bit)
Some files may not be available from phones and tablets. Access this page from your desktop computer to be able to download all files.In order to read a PDF file, you must have Adobe Acrobat reader installed on your computer. You can download it at the Adobe website.Download Adobe Acrobat ReaderGoIn order to read DjVu files, you must have the DjVu viewer installed on your computer. Click this banner and install the viewer.Download Djvu ViewerGo
Have a question or need product support? Go to our support sectionGo
NEWEST
MOST HELPFUL
HIGHEST RATING
LOWEST RATING