RB29FERNC 2 door Refrigerator 286L Snow White / Charcoal Inox
RB29FERNC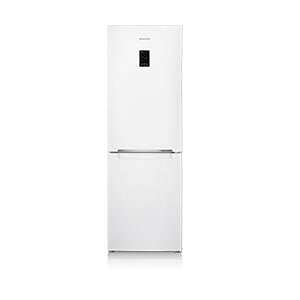 The Samsung new refrigerator has been smartly designed to make efficient use of space. Features like the Easy Slide Shelf, Full Open Box and the Grab†n Go Basket help you reduce the time to store, organize and remove grocery items. The CoolSelect Zone optimizes food quality-and all features are flexible and exceptionally designed to give you convenience for many years to come, thanks to an energy-saving Digital Inverter Compressor so durable that it†s backed by a ten-year warranty.
10-Year Warranty for Digital Inverter Compressor
Easy Slide Designed for Better Storage Capacity
SRP: $6,390 (Snow White) / $6,490 (Charcoal Inox)
Recycling Batteries Responsibly
The European Directive on Batteries and Accumulators aims to minimise the impact of batteries on the environment and encourage the recovery of the materials they contain. In the UK, regulations on the recycling of batteries and accumulators (rechargeable batteries) were Introduced in 2009. The Waste Batteries Regulations aim to significantly increase UK collection and recycling of used portable batteries from 3% in 2007 to 25% by 2012, rising to at least 45% in 2016.

The battery symbol on a product or on its packaging indicates that the product must not be disposed of with general household waste. Instead, it is the consumer's responsibility to dispose of their waste batteries at a designated collection point so that they can be recycled. The separate collection and recycling of batteries at the time of disposal will help to conserve natural resources and ensure that they are recycled in a manner that protects human health and the environment. A comprehensive list of battery recycling centers can be obtained from: www.recycle-more.co.uk

All Samsung products that are subject to the Batteries Directive are compliant with the UK battery and accumulator Requirements. In accordance with national law, SAMSUNG Electronics (UK) Ltd is a member of an approved batteries producer compliance scheme. This scheme collects, treats and disposes of batteries on Samsung's behalf.
RB29FERNC 2 door Refrigerator 286L Snow White / Charcoal Inox
SRP: $6,390 (Snow White) / $6,490 (Charcoal Inox)
Features
- 10-Year Warranty for Digital Inverter Compressor
- Easy Slide Designed for Better Storage Capacity
- Energy-saving Top LED
- Special Freezer for Better Freshness
Energy Efficiency
RB29FERNC refrigerator boast incomparable energy efficiency at annual power consumption rates of 285kwh;45.5%lower than the minimum standard of Energy Efficiency Label Grade 1.
Exceptional Freezing Capacity
With Samsung refrigerator's exceptional freezing capacity, you can now store more foods, keep them fresh for longer period of time and enjoy life more conveniently!
Energy Efficiency Standard ISO A++
Environmental protection has long been a core insight of Samsung Electronics. With the devotion of research and development on innovative technology, a range of Samsung products now meets the Energy Efficiency Standard of ISO A++. In addition to the protection of our environment, it saves both energy and money for our users.
Blue LED Display
The blue LED display graces the exterior of the refrigerator door with its state-of-the-art look. It allows you to control the temperature and refrigerator modes, without even having to open the fridge door.
Openable at 90°Door Opening
MoistFresh Zone can fully extend out when the door is open only at 90°. This convenient feature allows to place the refrigerator in a small space or at the right corner where you can open the door only 90 °.
Brilliant Color
RB29FERNC comes with charcoal inox or snow white color that fit your style and keep your kitchen as stylish as the rest of your home.
10-Year Compressor Warranty
Samsung provides 10-Year Warranty guaranteeing long-life durability of Digital Inverter Compressor. For 10-Year Warranty, improvement of component quality and optimal design were conducted.

This enhanced Samsung technology extends durability without utilization of expensive components.
Energy Efficient
Excellent Freshness - food waste reduction
Effective RPM adjustment improves humidity preservation and prolongs quality and freshness of food. It reduces a large amount of food waste.
Minimal Noise
Digital Inverter Compressor reduces perceptible noise by 4.5dB compared to conventional AC and attains incredible 38.5dB. Amazingly, the reduction of 4.5dB will change disturbing sound to peaceful and stress-free sound.

* Figures are base on laboratory evaluation
Multi Flow
With the Multi Flow feature, a stream of cool air flows through a series of vents located on every shelf level to create an evenly cooled environment.
No Frost
Samsung's no frost models will not build up any frost, so users never have to worry about defrosting their re-frigerator again.
CoolSelect Zone™
Samsung's CoolSelect Zone™ provides you with another freezer in the refrigerator compartment which sets the temperature low enough to allow medium-term storage for meat and other perishables.
Top LED
The energy efficient Top LED brilliantly illuminates the entire refrigerator interior to help you clearly see your food. So you can find items easier and don't have to keep the door open as long – saving both time and energy.
Easy Slide
This specially designed shelf that can slide out enables a more efficient organization where one can easily store and takeout food, while reducing unused space inside.
Big Guard
Ideal for the thirsty household, the Big Guard is deeper than shelves found in conventional refrigerators. So you can store big containers of milk and juice in the door, along with two rows of beverage cans and bottles. The Big Guard is also great for chilling tall drinks bottles.
Tempered Glass Shelves
These shelves not only provide strong support, but offer a clear view of the items stored.
tech specs
Capacity
Net Capacity

Total

Freezer

Refrigerator
Exterior Features
Color

Snow White / Charcoal Inox
Others
Energy Efficiency Standard

Refrigerant

100% Environmental Friendly Refrigerant
Design
Dimension (W x H x D)

595 x 1780 x 664mm (23.4 x 70.1 x 26.1")
NEWEST
MOST HELPFUL
HIGHEST RATING
LOWEST RATING