WF1802XEC/XSH Front Loader Washing Machine 8kg White
WF1802XEC/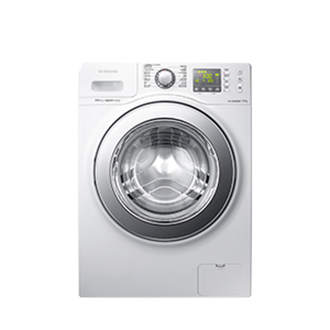 Enjoy an exceptional wash performance from a machine built with a Digital Inverter Motor, designed for energy saving and quiet operation, with a 10-year extended warranty to support its long lifespan. Ecobubble Technology from Samsung creates lots of rich bubbles by dissolving detergent for quick penetration into the fabrics for a superior wash. Rest assured that it'll take great care of your clothes while saving energy and water for you.
10 years warranty Digital Inerter Brushless Motor
Eco Bubble Wash
Silm & Big
Recycling Batteries Responsibly
The European Directive on Batteries and Accumulators aims to minimise the impact of batteries on the environment and encourage the recovery of the materials they contain. In the UK, regulations on the recycling of batteries and accumulators (rechargeable batteries) were Introduced in 2009. The Waste Batteries Regulations aim to significantly increase UK collection and recycling of used portable batteries from 3% in 2007 to 25% by 2012, rising to at least 45% in 2016.

The battery symbol on a product or on its packaging indicates that the product must not be disposed of with general household waste. Instead, it is the consumer's responsibility to dispose of their waste batteries at a designated collection point so that they can be recycled. The separate collection and recycling of batteries at the time of disposal will help to conserve natural resources and ensure that they are recycled in a manner that protects human health and the environment. A comprehensive list of battery recycling centers can be obtained from: www.recycle-more.co.uk

All Samsung products that are subject to the Batteries Directive are compliant with the UK battery and accumulator Requirements. In accordance with national law, SAMSUNG Electronics (UK) Ltd is a member of an approved batteries producer compliance scheme. This scheme collects, treats and disposes of batteries on Samsung's behalf.
WF1802XEC/XSH Front Loader Washing Machine 8kg White
SRP HK$6,990
Features
- Excellent durability with an extra long warranty
- A cool way to clean your clothes
- Enjoy peaceful washing with VRT Plus™
- Keep fabrics at their best
Energy Efficiency
The Digital Inverter Motor works without brush, providing higher efficiency and durability while delivering powerful performance. Digital Inverter Motor was designed to optimize energy efficiency.
Excellent Durability with 10 Year Warranty
Digital Inverter Motor extends its durability by reducing abrasion through the rushless structure. Samsung guarantees a 10-year warranty and ensure the washing machine lasts longer.
Grade 1 Energy Efficiency Label
Samsung has always been supportive in energy-saving. All Samsung washing machines are in line with Grade 1 Energy Label to reduce energy consumption and financial cost, helping to build a greener world.
Minimal Noise
Brushless Motor reduces noise and vibration, ensuring a quiet and peaceful environment.
What is ecobubble Technology?
Samsung's ecobubble technology produces rich and fine bubbles by mixing water, detergent and air, allowing detergent to be distributed evenly and penetrated deeply into fabric, saving your time and money. At the same time, maximizing the performance of washing machines like you've never experienced before!
Milder Washing Temperatures, Protect Your Clothes
Pre-washing or washing in hot temperatures offer better cleaning results, but could add extra tumbling time or heat demage to fabrics, which is especially harsh for your favorite delicates like silk, wool and outdoor garments. The bubble generator creates a detergent infused bubble cushion during the washing cycle which dissolves deep into fabrics more quickly than normal, aiding wash performance in milder washing temperatures.
Save Time, Detergents Penetrate Fabrics Faster Than Normal
The special bubbles penetrate deeper and dissolve faster from the beginning of the cycle. With ecobubble™, the entire washing process can be shortened to 48min while delivering same cleaning performance.
Eco Drum Clean
With Samsung's Eco Drum Clean one touch function, all the detergent residue and dirt in the tub, diaphragm and door glass will be removed by rapidly spinning 70ºC hot water without using special chemical detergent.
Less Noise and Vibration
With Samsung's VRT Plus™, you don't need to bother neighbors or wake up your children by washing at night. Feel free to do your laundry anytime anywhere.
Making Daily Laundry Quietly
The sensor of VRT Plus™ makes specific adjustment for perfect balancing even at high speed. Customers will not know the washing machine is working as it is worked with extreme low noise and virbation.
Diamond Drum™ Washing with Gentle
The design of the Diamond Drum is embossed with holes that are located deep within each diamond-shaped depression. Fabrics don't catch in the cubic drum and are subsequently not damaged. The water collected in the embossed pattern creates the perfect environment for gentle but effective washing of cloths.
Baby Care, Protect Your Beloved One
Samsung washing machine offers a easy way of boil wash and removes all harmful germs efficiency. Your precious one always deserves to be protected.
Slim but Big
With Samsung's 8kg load capacity washing machine in depth of just 450mm, you can
- Reduce number of washing, save energy and time
- Reduce wearout of washing machine
Unlike conventional 5kg washing machine, which washes only 7 bath towels in a single load, Samsung 8kg washing machine can wash up to 12 bath towels at once.
(* Based on 24" x 44" bath towel)

* Reduces number of washing compared conventional 5kg
Ceramic Heater
Samsung washing machines have incorporated a double ceramic coating heater. Unlike conventional heaters, double ceramic coating heater are less porous and susceptible to hard water scale build-up.
Stylish Control Panel with
Divine LED display & soft touch jog dial offer easy monitoring and control of functions.
Quick Timed Wash
With this great wash program, you can freely select the wash cycle from 15 to 60 minutes.
Delay End
You can pre-set the end time as long as 19 hours later and the washing machine will determine start time base on the washing program selected.
My Cycle Records Your Washing Habit
Everyone has their own individual style of washing. With Samsung's My Cycle function, you'll be free from frequently reset functions as you need them. The washing machine memorizes your favorite cycles including temperature, spin, soil level, and any other of your favorite options so you can recall your settings by simply pressing the My Cycle button.
tech specs
Features
Grade 1 Energy Efficency Label
Functions
Tempature (°c)

Cold Water / 30 / 40 / 60 / 95
Washing Program
Express Wash / Quick Wash
Dimensions
Width x Height x Depth (Include door frame thickness)

Width x Height x Depth (Exclude door frame thickness)

600 x 850 x 450 mm

* Depth does not include the dimension of water hose
NEWEST
MOST HELPFUL
HIGHEST RATING
LOWEST RATING