Samsung recommends Windows.
900X3A-A04
NP900X3A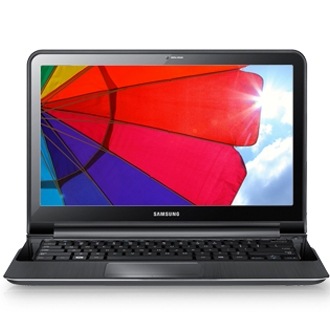 Get the right look with Samsung Notebook 900X3A, which is simply oozing with sophistication. Its stunning slim design with flowing curves features the premium and specialised Duralumin, which is the same material used to build aircrafts and twice as strong as aluminium. Within this slim and lightweight design is a huge mobile performance. The SuperBright Plus LED screen delivers 16 million colours and a market-leading 400nit brightness viewing experience that is 100% brighter than a normal 13" notebook. Use your Series 9 in day or at night with a beautiful backlit keyboard. Adding to the outstanding performance and the improved Solid-State Drive, Samsung Notebook 900X3A is definitely the one to watch.
Recycling Batteries Responsibly
The European Directive on Batteries and Accumulators aims to minimise the impact of batteries on the environment and encourage the recovery of the materials they contain. In the UK, regulations on the recycling of batteries and accumulators (rechargeable batteries) were Introduced in 2009. The Waste Batteries Regulations aim to significantly increase UK collection and recycling of used portable batteries from 3% in 2007 to 25% by 2012, rising to at least 45% in 2016.

The battery symbol on a product or on its packaging indicates that the product must not be disposed of with general household waste. Instead, it is the consumer's responsibility to dispose of their waste batteries at a designated collection point so that they can be recycled. The separate collection and recycling of batteries at the time of dispo sal will help to conserve natural resources and ensure that they are recycled in a manner that protects human health and the environment. A comprehensive list of battery recycling centers can be obtained from: www.recycle-more.co.uk

All Samsung products that are subject to the Batteries Directive are compliant with the UK battery and accumulator Requirements. In accordance with national law, SAMSUNG Electronics (UK) Ltd is a member of an approved batteries producer compliance scheme. This scheme collects, treats and disposes of batteries on Samsung's behalf.
Features
Duralumin, The New Definition of Lightweight.
See vivid SuperBright Plus content wherever you go
Less Energy. More Speed.
Slim Intel® Processor packs power that lasts
Duralumin, The New Definition of Lightweight.
Samsung Notebook 900X3A utilises the lightweight yet strong material Duralumin to create a slim and aerodynamic design. Used in the building of military aircrafts and other highly-specialised equipment, Duralumin offer twice the strength of aluminum despite being light in weight. This allows for a design that is like no other, with premium finishes and a lightweight arching curved design that is beautiful from every angle. Other stylish features include a backlit keyboard that is always easy to see regardless of the environment. It's a minimalist look that is both simple and sophisticated.
See vivid SuperBright Plus content wherever you go
If you live for the latest HD movies and games, then Samsung's SuperBright Plus screens, with 400nit brightness, will transform your mobile experience. With 16 million colours and the vivid SuperBright Plus clarity, Samsung Notebook 900X3A is 100% brighter that the standard 13" notebook display. You can enjoy HD movies, games, and other favourite multimedia even when viewing in direct sunlight, and there are no more annoying reflections that tire your eyes. From high-energy, action-packed sequences to angelic scenes that enrich the soul, the true-to-life picture quality with Super Contrast ratio (1,300:1) will blow your mind. With such powerful mobile performance, your home entertainment system is now able to join you on your travels…brilliant!
Less Energy. More Speed.
A 128/256GB solid state drive (SSD) provides plenty of storage, and with no moving parts it boots 60% faster than a hard disk drive (HDD). Additionally, SSD reduces energy consumption by a remarkable 86%, therefore significantly lowering operating and maintenance costs. With Eco-innovative SSD, Samsung doesn't compromise performance, which is why they are the leader in green memory technology.
Slim Intel® Processor packs power that lasts
The Intel® CPU with Genuine Windows® 7 Professional, which boosts performance to handle more demanding tasks with its 8GB memory, stands out with intelligent processing while on the go. The slim and stylish design packs in loads of powers with a 30% improvement and features the Intel® HD Graphics 3000 for a brilliant visual experience – with twice the graphics performance of the previous generation. The Intel Silicon battery also provides 500mW of power savings for longer life, ensuring a powerful and mobile performance.
Work faster with Fast Start technology
Make the most every moment with Samsung's Fast Start technology. A 15 second* boot-up, which is 60% faster than HDD models, and an impressive 3 second Fast Start from sleep mode ensures that you're ready to go in minimal time. And while in the advanced sleep mode, you can rest assured knowing that your content is safe and secure with the Auto Data saving function. Furthermore, once your Samsung Notebook 900X3A is up and running, you will also benefit from quick internet browsing – it's almost too good to be true. * Microsoft Velocity Test Suite result
Superior touch controls…hands down!
Samsung's new large multi-touch clickpad is stylish and convenient. Featuring a new glass coating and image sensor, users can enjoy enhanced multi-touch awareness and better palm rejection. This means no more cursors disappearing or frustratingly jumping place. The new intelligent multi-touch gesture pad, which is now centered for usability, also features 21 types of gesture support (such as pinch, swipe, and rotate) with advanced 3D image sensing for sophisticated and intuitive navigation.
Experience more with longer battery life and life span.
Samsung Notebook 900X3A from Samsung delivers perfect mobility and freedom with its power efficient performance and extensive battery life of up to 7 hours** - plenty of time to get things accomplished or to be entertained without the added stress of worrying about how much battery life is left. Its advanced Lithium-Polymer battery and Samsung's innovative charging technology also make the battery lifespan last up to three times longer than a typical notebook battery, so you can keep on going – anywhere. ** Battery life based on Battery Mark test scores that will vary based on configuration.
Premium connectivity with Bluetooth 3.0 High Speed.
Enjoy wireless transfer of media and other data between your electronic devices – audio, video, print data and more, with and upgraded Bluetooth 3.0 High Speed delivering higher data transmission speeds (24 Mbps), 8x faster than Bluetooth 2.1 (3 Mbps) and enhanced power control for extended battery life. Bluetooth 3.0
tech specs
Operation System
Operation System

Genuine Windows® 7 Professional 64-bit
(ENG, CHT or CHS)
Memory
System Memory

8GB(DDR3/4GB x 2)
Display
LCD

13.3" HD LED (1366 x 7683) 16:9 Super Bright, Anti-Reflective (400nit contrast)
Graphic
Graphic Memory

Shared Memory(Int. Grahpic)

Graphic Processor

Intel® GMA HD 3000(Int. Graphic)
Multimedia
Sound

HD(High Definition) Audio

Sound Effect

SRS 3D Sound Effect

Speaker

3W Stereo Speaker(1.5 W x 2)

Integrated Camera

1.3 Mega-pixel HD Web Camera
Network
Wired Ethernet LAN

Gigabit LAN

Wireless LAN

802.11bg/n 2x2(MIMO)

Bluetooth

Bluetooth 3.0 High Speed
I/O Port
USB

1 x USB 3.0 + 1 x USB 2.0(Chargable USB included)
Input Device
Touch Pad, Touch Screen

Touch Pad(Scroll Scope, Flat Type, Gesture UI)
Security
Virus

Norton Internet Security(60-day Trial)

Recovery Solution

Samsung Recovery Solution

Security

BIOS Boot Up Password, HDD Password
Power
AC Adapter

40Watt(wallmount type)
Design
Dimension (WxDxH)

328.5 x 227 x 15.9 - 16.3mm
Warranty
Warranty

1-Year International Warrenty(include China)
Software
Installed S/W

Samsung Update Plus
Easy Display Manger
Easy Battery Manager
Easy Network Manager
Easy SpeedUp Manager
Adobe Acrobat Reader
Samsung Support Center
Support
Update Software

Windows 7, 2.11 MB, exe, MULTI LANGUAGE

2011.07.28

Close tooltip pop-up

This is the program that help you update the BIOS.

[How to update the BIOS]
1. Please click the attached file and select the ''download''. Save the file in a folder and double click it.
2. After activating the file, you can see the Windows messages. Please follow the steps and the BIOS update process will start.
3. After BIOS update, the System will restart automatically. During the POST, please press F2 to enter the System Setup menu, click F9(Load Setup Default), and then press F10(Save and Exit).

CAUTION : MAKE SURE NEVER TURN OFF(OR RESET) YOUR SYSTEM DURING THE BIOS UPDATE.

Thank you.
Using the SW Update function, you can easily download and install Windows 8 device drivers and software.
Some files may not be available from phones and tablets. Access this page from your desktop computer to be able to download all files.In order to read a PDF file, you must have Adobe Acrobat reader installed on your computer. You can download it at the Adobe website.Download Adobe Acrobat ReaderGoIn order to read DjVu files, you must have the DjVu viewer installed on your computer. Click this banner and install the viewer.Download Djvu ViewerGo
Have a question or need product support? Go to our support sectionGo
NEWEST
MOST HELPFUL
HIGHEST RATING
LOWEST RATING