ML-D4550B
ML-D4550B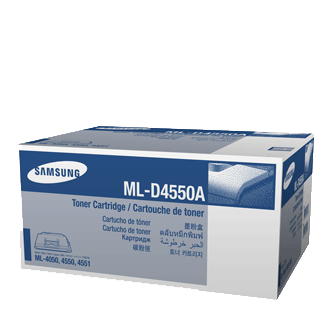 Recycling Batteries Responsibly
The European Directive on Batteries and Accumulators aims to minimise the impact of batteries on the environment and encourage the recovery of the materials they contain. In the UK, regulations on the recycling of batteries and accumulators (rechargeable batteries) were Introduced in 2009. The Waste Batteries Regulations aim to significantly increase UK collection and recycling of used portable batteries from 3% in 2007 to 25% by 2012, rising to at least 45% in 2016.

The battery symbol on a product or on its packaging indicates that the product must not be disposed of with general household waste. Instead, it is the consumer's responsibility to dispose of their waste batteries at a designated collection point so that they can be recycled. The separate collection and recycling of batteries at the time of disposal will help to conserve natural resources and ensure that they are recycled in a manner that protects human health and the environment. A comprehensive list of battery recycling centers can be obtained from: www.recycle-more.co.uk

All Samsung products that are subject to the Batteries Directive are compliant with the UK battery and accumulator Requirements. In accordance with national law, SAMSUNG Electronics (UK) Ltd is a member of an approved batteries producer compliance scheme. This scheme collects, treats and disposes of batteries on Samsung's behalf.
Features
Security Label
Take three easy steps to identify genuine Samsung supplies!
1. When the label is tilted, the color changes from clear to green.
2. The embossed characters change color when viewed from different angles.
3. Verification of the embossed character is possible by feeling the texture.
Original quality
Genuine Samsung toner cartridges are always made with brand new components to ensure reliability and performance every time. Many "Non-genuine" toners reuse old cartridges whose parts may be worn out and can fail at any time. Or they use low-quality parts that can leak toner and damage the printer.
Samsung original supplies enable consistent printing without quality defects.
Standardize cartridge
Samsung implements ISO standard.It is a trusted test method for determining the page yield of toner cartridges for printers.Samsung has tested all current cartridges in accordance with the ISO/IEC 19752 standard, giving customers more confidence and reliability when basing purchase decisions on toner yields.
Automatic Toner Monitoring System
Notifies customers when the toner is low or out, giving them worry-free control over printing.
Greater Choice for customers
Provides double printer yield options - Standard yield toner and High yield toner, giving users more choice. Standard yield cartridges ensure excellent print value for low-volume users. High yield cartridges are the ideal choice for the high volume user. High yield cartridges ensure maximum printer production and minimum user intervention.
Easy toner change
Samsung printer cartridges are easy to change by following 3 steps. Customers can change toner
conveniently without special know how.
1. Open the front cabinet.
2. Change cartridges.
3. Close cabinet.
tech specs
General Feature
Packing Dimension (WxDxH)

Page Yield

- BLACK, ML-D4550A/SEE: Average 10,000 standard pages
- BLACK, ML-D4550B/SEE: Average 20,000 standard pages
NEWEST
MOST HELPFUL
HIGHEST RATING
LOWEST RATING