ST72
SAMSUNG ST72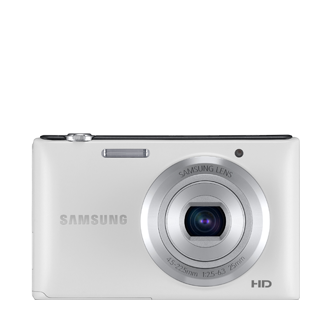 Take great pictures anytime, anywhere. Featuring a bright F2.5 lens and 16.2 megapixels, the stylish, highly portable Samsung ST72 brilliantly captures details even in dimly-lit rooms, or outside on a cloudy night. You won't have to take a step back or forward to get the picture you want, thanks to 25mm wide-angle lens and 5x optical zoom—and the large 3.0"(75mm) LCD helps you perfectly frame your shot, or a scene of your 720p HD video.
Recycling Batteries Responsibly
The European Directive on Batteries and Accumulators aims to minimise the impact of batteries on the environment and encourage the recovery of the materials they contain. In the UK, regulations on the recycling of batteries and accumulators (rechargeable batteries) were Introduced in 2009. The Waste Batteries Regulations aim to significantly increase UK collection and recycling of used portable batteries from 3% in 2007 to 25% by 2012, rising to at least 45% in 2016.

The battery symbol on a product or on its packaging indicates that the product must not be disposed of with general household waste. Instead, it is the consumer's responsibility to dispose of their waste batteries at a designated collection point so that they can be recycled. The separate collection and recycling of batteries at the time of disposal will help to conserve natural resources and ensure that they are recycled in a manner that protects human health and the environment. A comprehensive list of battery recycling centers can be obtained from: www.recycle-more.co.uk

All Samsung products that are subject to the Batteries Directive are compliant with the UK battery and accumulator Requirements. In accordance with national law, SAMSUNG Electronics (UK) Ltd is a member of an approved batteries producer compliance scheme. This scheme collects, treats and disposes of batteries on Samsung's behalf.
Features
Great photography in any setting
Presenting the slim ST72 with a bright F2.5 lens, 25mm wide-angle, and 16.2 megapixels for stunning images, wherever you go.
Closer, wider, brighter
F2.5, 25mm, 5X Zoom Lens / 16.2 Mega Pixels When you're taking pictures at a performance, make every seat the best seat in the house. The 5x optical zoom gives you great close-ups, even from the back row. Up front? The 25mm wide-angle lens captures all the action on stage. And the combination of 16.2 megapixels and F2.5 lens give you high quality images — even in dim lights.


When it comes to brightness, it's brilliant : 3.0"(75mm) Intelligent LCD
Its 3.0"(75mm) Intelligent LCD provides for improved contrast and color reproduction, which allows you to enjoy a wider and clearer image. And its Intelligent LCD brightness automatically detects environmental illumination and adjusts the LCD brightness for optimal image viewing. It does the thinking for you, which makes the SMART CAMERA a smart choice.
HD movies in the palm of your hand
HD Movie Recording (720p, 30fps, MPEG) Inside this stylish, yet powerful camera, capture 720p HD-quality MPEG video at 30 frames per second —clearer than the average compact digital camera video. From the concert hall to birthday parties get HD-quality videos wherever you are.
See what you are going to get
Live Panorama With Live Panorama, you can capture a seemingly endless procession of gondolas gliding past a magnificent Venetian palace with an astounding 180º panoramic image. And you can preview the image on the LCD before you even snap it. Just hold the shutter button, sweep across the scene and see what you're going to get before you get it.
The simple way to go pro
Smart Auto The Samsung SMART CAMERA's Smart Auto automatically analyzes the shooting environment and then chooses the appropriate scene mode for the best possible results. Smart Auto analyzes key elements in the composition and automatically adjusts its 16 photo modes and 4 movie modes to capture the best shot.
Add action to your still photos
Motion Photo With Motion Photo, you can freeze time around a moving subject to create enchanting images. Capture a friend dancing while everyone else around him is still as a statue—just like in a Hollywood blockbuster. Simply shoot the footage, and then rub the area on the display where you want action. The photo around it will freeze—it's that easy.
Magic Frame
Make a portrait look like an antique, or put your face on the moon — Magic Frame's 12 background templates offer lots of picture-taking enjoyment. You can also put images on a 1950's TV set or a movie. There are so many possibilities for fun — especially when you share the poster-quality results!
Smart Filter
Boost creative fun with the Smart Filter –right on the display! Cartoon filter makes any photo look like an animated film scene while Cross Filter makes light sources appear to have several points of light, like stars. There's also Ink Painting, Half-tone Dot and more ways for you to express your creative side.
tech specs
Lens
Focal Length

Samsung Lens f = 4.5-22.5 mm

Digital Zoom

Still Image Mode: 1.0X ~ 5.0X
Play Mode: 1.0X ~ 14.4X (Depends on Image Size)
Image Stabilization
Mode

DIS (Digital Image Stabilization)
Focusing
Range

Normal: 80cm ~ Infinity (Wide), 250cm ~ Infinity (Tele)
Macro: 5cm~80cm (Wide), 100cm ~ 250cm (Tele)
Auto Macro: 5cm~Infinity (Wide), 100cm~Infinity (Tele)
Shutter Speed
Shutter Speed

Smart Auto: 1/8 ~ 1/2,000 sec.
Program: 1 ~ 1/2000 sec.
Night: 16 ~ 1/2,000 sec.
Fireworks: 2 sec.
Exposure
Metering System

Multi, Spot, Center-weighted, Face Detection AE

ISO Equivalent

Auto, 80, 100, 200, 400, 800, 1600, 3200
Flash
Mode

Auto, Auto & Red-eye, Fill-in flash, Slow sync, Flash Off, Red-eye fix

Range

Wide: 0.2m ~ 4.0m
Tele: 0.5m ~ 1.6m (ISO Auto)
White Balance
Mode

Auto WB, Daylight, Cloudy, Fluorescent_H, Fluorescent_L, Tungsten, Custom
Shooting
Mode

Smart Auto, Program, Scene, Photo Filter, Split Shot, Motion Photo, Beauty Shot, Close up, Magic Frame, Live Panorama, Wigshot (only for SSA), Night Shot
Image Play
Image Play

Single image, Thumbnails, Advanced Slide Show, Movie Clip, Smart Album
Movie Clip
Video Recording

Mode: Movie, Smart Movie
Movie Size (Frame Rate): 1280x720 (30fps), 640x480 (30fps), 320x240 (30fps), For Sharing (30fps)
*Format: MP4 (Max. recording time: 20 min.)
*Sound Alive On/Off/Mute

Effect

Smart Movie Filter: Miniature, Vignetting, Half Tone Dot, Sketch, Fish-eye, Classic, Retro, Palette Effect 1, Palette Effect 2, Palette Effect 3, Palette Effect 4

Edit

Still Image Capture, Time Trimming
Storage
Media

External Memory(Optional): Micro SD™ (up to 2GB guaranteed), Micro SDHC™ (up to 32GB guaranteed), Micro SDXC (up to 64GB guaranteed)

File Format

Still Image: JPEG (DCF), EXIF 2.21, GIF*
Movie Clip: MP4 (H.264), Audio : AAC

Image Size

16 M: 4608 x 3456
14 MP: 4608 x 3072
12 MW: 4608 x 2592
10 M: 3648 x 2736
5 M: 2592 x 1944
3 M: 1984 x 1488
2 MW: 1920 x 1080
1 M: 1024 x 768
Interface
Audio

Microphone: Mono
Internal Speaker: Mono

Video output

AV: NTSC / PAL (User Selectable)
Power
Power Source

Technology

- Rechargeable Battery: BP-70A/3.7V
- DC power input Connector: 5 pin
* Included battery may vary depending on sales region
Design
Dimension

Dimension (W x H x D)

Weight

114g (without battery and memory card media)

Operating Temperature (℃)
S/W and PC OS
Bundle PC S/W

Built-in PC Software included

Compatible OS

Windows XP SP2 / Vista / Windows 7
NEWEST
MOST HELPFUL
HIGHEST RATING
LOWEST RATING