NX11 (18-55mm)
NX11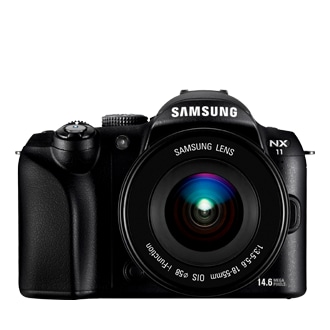 Achieve professional-quality images no matter who you are. The NX11 is fully compatible with Samsung's innovative i-Function lens, which means that cameras can be easily controlled without having to understand all the complex camera settings. The user interface makes it all easy to understand, whether you're a novice or a professional. NX11 comes with a load of new features, including Panorama mode, Smart Filter, Sound Picture and compatibility with GPS module (optional). With its super large APS-C size sensor and fast speed AF (Auto Focus), NX11 lets you photograph that perfect shot in breathtaking detail.

14.6 MP APS-C CMOS sensor
i-function for instant setting
Lens Priority Mode (lens recognition setting)
Recycling Batteries Responsibly
The European Directive on Batteries and Accumulators aims to minimise the impact of batteries on the environment and encourage the recovery of the materials they contain. In the UK, regulations on the recycling of batteries and accumulators (rechargeable batteries) were Introduced in 2009. The Waste Batteries Regulations aim to significantly increase UK collection and recycling of used portable batteries from 3% in 2007 to 25% by 2012, rising to at least 45% in 2016.

The battery symbol on a product or on its packaging indicates that the product must not be disposed of with general household waste. Instead, it is the consumer's responsibility to dispose of their waste batteries at a designated collection point so that they can be recycled. The separate collection and recycling of batteries at the time of disposal will help to conserve natural resources and ensure that they are recycled in a manner that protects human health and the environment. A comprehensive list of battery recycling centers can be obtained from: www.recycle-more.co.uk

All Samsung products that are subject to the Batteries Directive are compliant with the UK battery and accumulator Requirements. In accordance with national law, SAMSUNG Electronics (UK) Ltd is a member of an approved batteries producer compliance scheme. This scheme collects, treats and disposes of batteries on Samsung's behalf.
Features
- Super large image sensor offers utmost image quality and rich natural colors
- Every precious moment is in your hands
- Lens Priority Mode (lens recognition setting)
- Take in the entire view with Panorama Mode
Super large image sensor offers utmost image quality and rich natural colors
Samsung NX11, equipped with super large APS-C size CMOS sensor, reproduces rich and natural colors and expresses clear images. Particularly, Samsung NX11 image sensor minimizes noise, which degrade the quality of a photo and expresses crisp and clear images, and allows us to use high ISO in a low light environment with low noise.
Every precious moment is in your hands
i-Function is a new concept in cameras which maximizes the camera's usability and enables you to take fast and easy shots. The camera market has seen much advancement with the emergence of various concept cameras and enhanced technology. The i-Function provides 2-way-usability satisfying both the beginner and professional photographer with epoch making technology. An expert can adjust various settings – shutter speed, exposure, ISO-related to photo quality manually in the P/A/S/M modes. For a beginner, the Lens Priority Mode built into the NX11 helps a beginner use different lenses without any hassle.
Lens Priority Mode (lens recognition setting)
Under the Lens Priority Mode, the camera recognizes the attached lens and provides optimized settings for that particular lens. When the lens is changed, the settings automatically readjust for optimal shooting. With NX's revolutionary lens technology, there is no need to worry about how to set your camera. Just push the i-Function button and rotate the lens, and let the camera do the rest.
Take in the entire view with Panorama Mode
Don't be limited to landscapes or group portraits when taking panoramic shots with simply aim the camera with the shutter pressed fully down and then follow through once you're ready to take the shot. Once the shots have been taken, Samsung's proprietary panoramic technology automatically searches for motion borders of the two images are stitched together as seamlessly as possible. Panorama: Capture panoramic images by moving your camera or right and left while pressing the shutter fully down.
Fast AF that captures life in an instant
Innovatively designed, the Samsung NX11 is the perfect size and weight with an improved ergonomic grip. Without a mirror box and pentaprism, it's small and light enough to carry around everywhere you go. Its quick and accurate contrast AF function lets you capture fleeting moments instantly before they pass you by. Now you can capture even the most spontaneous moments in astonishing detail, and turn unexpected, had-to-be there moments into memories of a lifetime.
3.0" AMOLED display provides clear photo information at anytime, anywhere.
AMOLED (Active-Matrix Organic Light-Emitting Diode), so called a dream display because it's thinner, brighter, faster in response time, and is excellent in color reproduction. AMOLED produces incredibly clear can be viewed even in bright sunlight. AMOLED is also 3,000 times faster in its response rate than LCD, expresses sharp pictures with bright colors evenly lit with no side or backlighting, and allows us to view display at any angle. In addition, its dynamic 10,000:1 contrast ratio provides clearer images in true colors.
What you see is what you get.
Unlike optical viewfinder which only shows images reflected from the mirror with limited information, electronic viewfinder of Samsung NX11 can convey additional OSD (on-screen display) information on screen. Since camera settings can be applied to the preview image instantly, what you see in the electronic viewfinder will be identical to the picture you take.
tech specs
Lens
Usable Lens

Samsung Lenses for Samsung NX Mount
Focusing
Mode

Single AF, Continuous AF, MF
Shutter Speed
Technology

Electronically controlled vertical-run focal plane shutter

Speed

Auto: 1/4000sec ~ 30sec.
Manual: 1/4000sec ~ 30sec(1/3EV step)
Bulb(Limit time: 8min)
Exposure
Metering System

TTL 247(19x13) Block segment
Metering : Multi, Center-weighted, Spot
Metering range : EV 0 - 18 (ISO100‧30mm F2.0)

Compensation

±3 EV (1/2EV, 1/3EV step)

ISO Equivalent

Auto, 100, 200, 400, 800, 1600, 3200 (1EV or 1/3EV step)
* Auto ISO upper level is selectable. (Up to ISO 1600)
Flash
External Flash

Samsung External Flash available (SEF42A, SEF20A, SEF15A: Optional)
White Balance
Mode

Auto, Daylight, Cloudy, Fluorescent (W, N, D), Tungsten, Flash, Custom, K(Manual)
Picture Wizard
Picture Wizard

Standard, Vivid, Portrait, Landscape, Forest, Retro, Cool, Calm, Classic, Custom (1-3)
Shooting
Mode

SmartAuto, Lens Priority, Program, Shutter Priority AE, Aperture Priority AE, Manual, Sound Picture, Panorama, Scene, Movie

Scene Mode

Beauty shot, Children, Close Up, Text, Sunset, Dawn, Backlight, Fireworks, Beach & Snow, Night, Portrait, Landscape, Sports

Sound Picture

JPEG Only
Sound Recording Time (Before and after shooting each 5 or 10sec.)

Image Size

JPEG (3:2) : 14M (4592x3056), 10M (3872x2592), 6M (3008x2000), 2M (1920x1280), 1.4M (1472x976): Burst mode only
JPEG (16:9): 12M (4592x2584), 8M (3872x2176), 5M (3008x1688), 2M (1920x1080)
JPEG (1:1) : 9M (3056x3056), 6.7M (2592x2592), 4M (2000x2000), 1.6M (1280x1280)
RAW: 14M (4592x3056)

Quality

Super fine , Fine, Normal
Storage
File Format

RAW (SRW), JPEG (EXIF 2.21), DCF, DPOF 1.1, PictBridge 1.0

Image Size

14M : RAW 34
14M (3:2) : Super Fine 141, Fine 282, Normal 423
10M (3:2) : Super Fine 195, Fine 391, Normal 587
6M (3:2) : Super Fine 320, Fine 640, Normal 961
2M (3:2) : Super Fine 732, Fine 1465, Normal 2198
Burst (1.4M) : Super Fine 1161, Fine 2322, Normal 3484
12M (16:9) : Super Fine 166, Fine 332, Normal 499
8M (16:9) : Super Fine 232, Fine 464, Normal 696
5M (16:9) : Super Fine 376, Fine 752, Normal 1129
2M (16:9) : Super Fine 850, Fine 1703, Normal 2550
9M (1:1) : Super Fine 210, Fine 420, Normal 630
6.7M (1:1) : Super Fine 288, Fine 576, Normal 864
4M (1:1) : Super Fine 470, Fine 940, Normal 1411
1.6M (1:1) : Super Fine 1041, Fine 2083, Normal 3121
Movie : 1280x720 : High Quality 15min., Normal 22min.
640x480 : High Quality 44min., Normal 66min.
320x240 : High Quality 145min., Normal 210min.
*These figures are measured under the Samsung standard
Image Play
Technology

Single image, Thumbnails (3/9/20 images), Slide show, Movie

Editing

Red eye fix, Back light comp., Photo Style Selector, Resize, Rotate, Face Retouch, Smart Filter
Power Source
Dedicated battery

Rechargeable battery : BP1310(1300mAh)
Charger: BC1310
AC Adaptor : AD9NX01(Optional)

Battery Life

Approx. 200min/400shots(CIPA Standard)
Design
Dimensions

123 × 87 × 39.8mm (excluding the projecting parts of the camera)

Weight

353g(without battery and memory card)

Operating Temperature (℃)
Software
Camera Driver

Intelli-studio 3.0
Samsung RAW Converter 4
Adobe Reader
System Requirement in General
For Windows

Windows XP/Vista/7
Intel Pentium, AMD Athlon Processor(Intel Pentium 4, AMD Athlon XP or later recommended)
1GB or more RAM recommended
Minimum 100MB of available hard disk space
1,024 x 768 pixels, Full Color(24-bit or higher) color display compatible

For Machintosh

Mac OS X v10.6/v10.5/v10.4
Power PC/Intel Processor-based or compatible computer(Core 2 Quad or later recommended)
1GB or more RAM recommended
Minimum 100MB of available hard disk space
1,024 x 768 pixels, 24-bit color display compatible monitor
Support
Latest Updates
Samsung RAW Converter(-)

Download

Mac OS 10.3 ~ 10.7, 67.27 MB, dmg, KOREAN, ENGLISH, CHINESE, CHINESE, FRENCH, GERMAN, RUSSIAN, SPANISHMore

Version : 4.0.4.0

2012.07.30
NEWEST
MOST HELPFUL
HIGHEST RATING
LOWEST RATING