NX300 (18-55mm)
NX300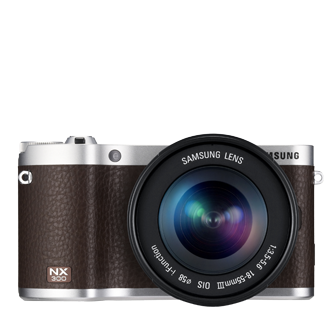 High performance made portable—the on-the-go photographer never had it this good. The Samsung SMART CAMERA NX300 features a brand new 20.3MP APS-C CMOS sensor and Hybrid Auto Focus system for delivering detailed images that obliterate the line between professional and enthusiast. And the maximum shutter speed of 1/6000s makes shooting faster than ever before when every second counts.
Shoot with Speed and Accuracy
Speed for Capturing Motion
Movies with 3D Recording
Recycling Batteries Responsibly
The European Directive on Batteries and Accumulators aims to minimise the impact of batteries on the environment and encourage the recovery of the materials they contain. In the UK, regulations on the recycling of batteries and accumulators (rechargeable batteries) were Introduced in 2009. The Waste Batteries Regulations aim to significantly increase UK collection and recycling of used portable batteries from 3% in 2007 to 25% by 2012, rising to at least 45% in 2016.

The battery symbol on a product or on its packaging indicates that the product must not be disposed of with general household waste. Instead, it is the consumer's responsibility to dispose of their waste batteries at a designated collection point so that they can be recycled. The separate collection and recycling of batteries at the time of disposal will help to conserve natural resources and ensure that they are recycled in a manner that protects human health and the environment. A comprehensive list of battery recycling centers can be obtained from: www.recycle-more.co.uk

All Samsung products that are subject to the Batteries Directive are compliant with the UK battery and accumulator Requirements. In accordance with national law, SAMSUNG Electronics (UK) Ltd is a member of an approved batteries producer compliance scheme. This scheme collects, treats and disposes of batteries on Samsung's behalf.
NX300 (18-55mm)
SRP: $4,990
Features
- Shoot with Speed and Accuracy
- Speed for Capturing Motion
- Add Pop to Movies with 3D Recording
- Send Images to Mobile Devices as You Shoot
Taking the sensor to the next level
Advanced 20.3M APS-C CMOS Sensor
Worthy of professional photographers, but made for the enthusiast, the 20.3MP APS-C CMOS sensor—now with Phase detection AF—delivers high-quality images and lifelike colors with the highest resolution in its class. It's also ideal for out-focusing photography, thanks to a sensor that's the largest used in a mirrorless camera. The sensor, which measures 23.5mm x 15.7mm, collects the most light so you can create beautiful images without noise, even in low-lit situations.
Capture with greater clarity and speed
Advanced Hybrid AF System
The hybrid AF (autofocus) system combines Phase detection AF and contrast AF for faster and more accurate autofocusing. Phase detection AF nearly instantaneously determines the distance of your subject, while contrast AF fine-tunes the focus for maximum contrast. Enabled by an incredibly short shutter lag, the hybrid AF System allows you to shoot accurate, sharply detailed images faster.
Capture the moments within a moment
8.6fps Continuous Shooting
When you're shooting fast-moving action such as a tennis player stretching for a shot at the net, effortlessly capture the entire sequence with a series of brilliantly clear stills. TheSamsung SMART CAMERA NX300 lets you shoot continuously at an ultra-fast rate of 8.6 frames per second to ensure you get the shot you want. The advanced autofocus system brings crystal clarity to fast-moving subjects, and a short shutter release lag helps you capture the fleeting moment before the subject moves out of frame.
The speed you need for great photography
1/6000s Super Speed Shutter
You have a split second to take the shot your family will be talking about for generations. Take it with the Samsung SMART CAMERA NX300, which boasts a shutter speed of 1/6000s, the fastest in its class. With that kind of shutter speed—and the fast autofocus system—you can capture a skater whipping by or a snowboarder in midair, without a hint of motion blur.
Always ready to share your memories
Smart Camera 2.0 (Dual Band Wi-Fi)
Connect to your world—and to your smart devices. A dedicated Direct Link hot key lets you quickly and wirelessly send images to a mobile phone, tablet, PC or Smart HDTV—directly from your camera. It's perfect for sharing moments with friends, family and your favorite social networks. The Samsung Samsung SMART CAMERA NX300 also includes Dual band (2.4GHz and 5GHz) support so you can connect faster and with more stability to wireless networks around you.
Everything about the camera is faster, including the interface
Hybrid UI (Touch & 5 Way Key) Variation
The Samsung SMART CAMERA NX300 offers multiple options, even for navigating the menu on the 3.31"(84.0mm) WVGA screen. The intuitive Hybrid Touch User Interface combines a 5-way button with a touchscreen so you can quickly select menu options to apply effects, share images, input text and more. Whether you're tapping the screen or moving the cursor around, everything you do is easier and faster.
Designed to capture attention with retro modern style
Retro Modern Design
Taking its cues from the simplicity of vintage camera design and from state-of-the-art innovation, the design of the Samsung SMART CAMERA NX300 impresses with elegant, flowing lines and a luxuriously textured feel. It's crafted from sturdy metal, yet is compact and lightweight for easy on-the-go shooting. Sharp edging presents a sleek silhouette when viewed from above, while an ergonomic design ensures a safe and steady grip.
Get a different view on life
3.31"(84.0mm) AMOLED Tilt Display
See—and capture—the world differently. The 3.31"(84.0mm) AMOLED Tilt Display flips up 90º and down 45º. So now you can easily frame and capture a low-angle image without having to awkwardly contort your body or lie on the ground. You can also hold the camera over a crowd for a high-angle shot and see exactly what you're getting. Shooting from a variety of angles can also make for more exciting photo albums.
A powerful engine for perfect shooting
DRIMe IV New Image Engine
Powered by Samsung's next-generation DSP imaging engine, the DRIMe IV image processor accurately captures the special moments in your life. It's faster than its predecessor for improved overall performance, including superior color reproduction and noise reduction. Whether you're shooting 2D or 3D, this powerful engine ensures you'll treasure your memories—with enhanced Full HD movie quality—for the rest of your life.
Add pop to your movies and stills
True 3D Creator (World's First One Lens System) – 3D Still / Movie Capture Capability
Make vacation stills and videos pop off the screen with True 3D Creator. Featuring the world's first single lens system for capturing 2D and 3D images, the Samsung SMART CAMERA NX300 is also the only interchangeable-lens camera that lets you shoot stills and movies in 3D via Samsung 45mm 2D/3D lens. When you're done shooting, let your friends back home feel as if they were there with you, by showing off your stunningly vivid adventures on a compatible 3D HDTV.

*45mm 2D/3D Lens Kit only
Discover the true beauty of Full HD video
Full HD Movie (1080/60P)
The Samsung SMART CAMERA NX300 may not look like a camcorder, but it capably captures Full HD 1080/60P video. With uncompromising performance bolstered by an 18-200mm lens and wide zoom capability, the Samsung SMART CAMERA NX300 delivers smooth, professional-looking videos that play well on your HDTV. When you're ready for showtime, an HDMI interface lets you transmit your vision straight to the big screen.
Wide Range ISO (100~25600)


Capturing natural-looking images indoors, or outside at night, can require a higher ISO than most cameras allow. The Samsung SMART CAMERA NX300 lets you shoot up to ISO 25600 making it twice as sensitive to light as the previous model—so you can snap high-speed photos with minimal noise and blurring, even in low light.
Creative Shot
Instantly add emotional impact to your images without stopping to figure out which mode to use. Creative Shot automatically analyzes the scene when you take the shot, and prepares the appropriate effects. So a happy face beams a little brighter, and a sunset glows with a touch more orange.
Smart Mode
Tap Smart Mode to access a variety of settings that help you get the perfect shot every time—even if you're not a pro. Capture a high-speed scene with Sports Capture, or let Rich Tone create extraordinarily surrealistic photos with colors that pop. Just choose the mode you want and shoot perfection.
HDMI
Just one HDMI code is all it takes to connect your Camera/Camcorder directly into your TV, computer or DVD player. With Camera/Camcorder, making professional quality videos is just as easy as sharing them.
Smart Filter
Boost creative fun with the Smart Filter –right on the display! Cartoon filter makes any photo look like an animated film scene while Cross Filter makes light sources appear to have several points of light, like stars. There's also Ink Painting, Half-tone Dot and more ways for you to express your creative side.
Adobe Photoshop Lightroom 4


Adobe Photoshop Lightroom 4 is the perfect match with the NX300 to bring out all the details for crisp professional looking photos. Organize photos by the location they were taken with GPS tagging. View and make adjustments to video clips, turn them into still images, or trim and edit according to your needs.
tech specs
Lens
Usable Lens

Samsung Lenses for Samsung NX Mount
Image Stabilization
Technology

Lens Shift (Depends on Lens)
Distortion Correct
Mode

LDC On / Off (depends on Lens)
i-Function
i-Function

i-Depth, i-Zoom (x1.2, 1.4, 1.7, 2.0)
Display
Technology

AMOLED with Touch (C-type Touch Control Enabled) and Tilt (Up 90°, Down 45°)

Resolution

WVGA (800 x 480) 768k dots (Pentile)

User Display

Grid (4 types), Histgram, Icons: On / Off, Distance Scale: ft / m / Off
Focusing
Technology

Phase Detection & Contrast AF

Mode

Single AF, Continuous AF, MF, Touch AF & Shutter

Focusing point

- Total AF Point: 105 points (Phase Detection AF), 247 points (Contrast AF)
- Selection: 1 point (Free selection)
- Multi: Normal 21 (3 x 7) points (Cross point 1), Closeup 35 points
- Face Detection: Max. 10 faces
Shutter Speed
Technology

Electronically controlled vertical-run focal plane shutter

Speed

- Auto: 1/6000sec. ~ 1/4sec.
- Manual: 1/6000 sec. ~ 30 sec. (1/3EV step)
- Bulb (Limit time: 4 min.)
Exposure
Metering System

- TTL 221 (17 x 13) Block segment
- Metering: Multi, Center-weighted, Spot
- Metering range: EV 0-18 (ISO 100 · 30mm, F2)

ISO Equivalent

Auto, 100, 200, 400, 800, 1600, 3200, 6400, 12800, 25600 (1 or 1/3EV step)
* AUTO ISO upper level is selectable. (Up to ISO3200)
Drive Mode
Mode

Single, Continuous, Burst (5M size only), Self-timer, Bracket (AE / WB / PW)

Continuous

- 8.6fps
※ Maximum shooting speed is 8.6 frames per second.It will slow down after approx. JPEG 13 shots, RAW 5 shots.(Based on UHS-1 SD Card. May vary depending on the spec of memory card.)

Bracket

Auto Exposure Bracket (±3EV), WB, PW
Flash
Technology

External Flash only (Bundle with SEF8A)

Mode

Smart Flash, Auto, Auto+Red-eye reduction, Fill-in, Fill-in+Red-eye reduction, 1st Curtain, 2nd Curtain, Off

Angle of View Coverage

28mm wide-angle (Equivalent to 35mm)

Synchro (Flash attachment)
White Balance
Mode

Auto, Daylight, Cloudy, Fluorescent (W, N, D), Tungsten, Flash, Custom, K (Manual)

Micro Adjustment

Each 7 steps in Amber / Blue / Green / Magenta axis
Picture Wizard
Mode

Standard, Vivid, Portrait, Landscape, Forest, Retro, Cool, Calm, Classic, Custom (1~3)

Parameter

Contrast, Sharpness, Saturation, Color
Shooting
Mode

Smart Auto, Program, Aperture Priority, Shutter Priority, Manual, Lens Priority, Smart, Wi-Fi

Smart mode

Beauty Face, Landscape, Macro, Action Freeze, Rich Tone, Panorama, Waterfall, Silhouette, Sunset, Night, Fireworks, Light Trace, Creative Shot, Best Face

Smart Filter

Vignetting, Minature, Colored Pencil, Watercolor, Wash Drawing, Oil Sketch, Ink Sketch, Acryl, Negative, Selective Color (R / G / B / Y 4 Colors)

Image Size

- JPEG (3:2):20.0M (5472 x 3648), 10.1M (3888 x 2592), 5.9M (2976 x 1984), 2.0M (1728 x 1152), 5.0M (2736 x 1824): Burst mode only
- JPEG (16:9):16.9M (5472 x 3080), 7.8M (3712 x 2088), 4.9M (2944 x 1656), 2.1M (1920 x 1080)
- JPEG (1:1):13.3M (3648 x 3648), 7.0M (2640 x 2640), 4.0M (2000 x 2000), 1.1M (1024 x 1024)
- RAW: 20.0M (5472 x 3648)
* 3D Lens Image Size: JPEG (16:9) 4.1M (2688 x 1512), (16:9) 2.1M (1920 x 1080)(NX 3D Lens sold separately)
Image Play
Technology

Single image, Thumbnails (3 / 15 / 40 images), Slide show, Movie

Editing

Smart Filter, Red-eye fix, Resize, Rotate, Face Retouch, Brightness, Contrast

Smart Filter

Vignetting, Minature, Colored Pencil, Watercolor, Wash Drawing, Oil Sketch, Ink Sketch, Acryl, Negative, Selective Color (R / G / B / Y 4 Colors)
Movie Clip
Compression

- Movie: H.264 , Sound: AAC

Mode

Program, Aperture Priority, Shutter Priority, Manual

Video Recording

With Audio or without Audio (user selectable, recording time: 29 minutes 59 seconds)

Smart Filter

Vignetting, Minature, Colored Pencil, Watercolor, Wash Drawing, Oil Sketch, Ink Sketch, Acryl, Negative, Selective Color (R / G / B / Y 4 Colors) (1920 x 1080, 1280 x 720, 640 x 480, 320 x 240)

Image Size

1920 x 1080, 1920 x 810, 1280 x 720 , 640 x 480, 320 x 240 for Sharing

Frame Rate

60fps, 30fps, 24fps(1920 x 810 Only)
(*3D - 30fps Only)(NX 3D Lens sold separately)

Multi-Motion Recording

x0.25 (640, 320 only), x0.5 (1280, 640, 320 only), x5, x10, x20

Movie Editing

Still Image Capture, Time Trimming
Storage
Media

SD, SDHC, SDXC, UHS-1 Support

File Format

RAW (SRW ver2.0.0), JPEG (EXIF 2.21), MPO (for 3D), DCF, DPOF 1.1

Capacity (2GB)

20.0M: RAW 39
20.0M (3:2): Super Fine 130, Fine 163,
Normal 217
10.1M (3:2): Super Fine 277, Fine 356,
Normal 505
5.9M (3:2): Super Fine 471, Fine 570,
Normal 727
2.0M (3:2): Super Fine 1053, Fine 1426,
Normal 1941
Burst (5.0M): Super Fine 430, Fine 514,
Normal 638
16.9M (16:9): Super Fine 153, Fine 190,
Normal 251
7.8M (16:9): Super Fine 346, Fine 417,
Normal 568
4.9M (16:9): Super Fine 512, Fine 670,
Normal 896
2.1M (16:9): Super Fine 1015, Fine 1349,
Normal 1700
3.3M (1:1): Super Fine 217, Fine 227,
Normal 284
7.0M (1:1): Super Fine 336, Fine 465,
Normal 592
4.0M (1:1): Super Fine 559, Fine 752,
Normal 1203
1.1M (1:1): Super Fine 2149, Fine 2471,
Normal 2819

Movie: 1920 x 1080 60p: High Quality 10m 10s,
Normal 12m 43s
1920 x 1080 30p: High Quality 17m 41s,
Normal 22m 9s
1920 x 810 24p: High Quality 21m 35s,
Normal 27m 2s
1280 x 720 60p: High Quality 16m 51s,
Normal 21m 6s
1280 x 720 30p: High Quality 29m 11s,
Normal 36m 35s
640 x 480 30p: High Quality 120m 47s,
Normal 153m 30s
320 x 240 30p: High Quality 218m 48s,
Normal 278m 24s
※ These figures are measure under the Samsung standard.
Languages
Languages

29 Languages (Korean, English, Danish, German, Dutch, Swedish, Spanish, Italian, Czech, French, Portuguese, Polish, Finnish, Russian, Norsk, Simplified/Traditional Chinese, Arabic, Persian, Turkish, Hebrew, Thai, Greek, Hungarian, Estonian, Lithuanian, Latvian,Serbian, Croatian)
Interface
DC power input connector

DC 5.0V, 1A via Micro USB port
Power
Power Source

Technology

Rechargeable battery : BP1130 (1130mAh)

Battery*

160 min / 320 shots (CIPA Standard)
Design
Dimension (W x H x D)

122 x 63.7 x 40.7mm (excluding the projection part)

Operating Temperature (℃)
S/W and PC OS
Bundle PC S/W

Adobe Photoshop Lightroom, iLauncher, Adobe Reader
Wireless
Wireless

IEEE 802.11b/g/n support Dual Channel . AutoShare . Cloud . Email . Auto Backup . Remote Viewfinder . Mobile Link . Wi-Fi Direct . AllSharePlay . Social Sharing
NEWEST
MOST HELPFUL
HIGHEST RATING
LOWEST RATING