16-50mm F2-2.8 ED OIS Premium S Lens
S1650ASB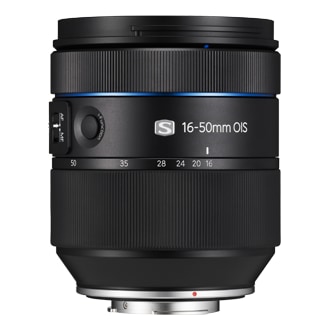 Samsung's new series of professional camera lenses, the Samsung Premium S Lens, is designed for photographers looking to elevate their creativity. A consummate blend of optical performance, the Samsung 16-50mm Premium S Lens features an elegant design and is easy to use. Designed to excel even in severely dusty conditions, this versatile and durable lens captures both glorious wide-angle vistas and intimate semi-close-ups with crystalline sharpness. It also features the brightest aperture F2-2.8 in its class, a fast, whisper-quiet inner focus system and a high-performance Ultra-Precise Stepping Motor (UPSM).
Premium S Lens - a professional standard zoom lens that create images that resonate
Recycling Batteries Responsibly
The European Directive on Batteries and Accumulators aims to minimise the impact of batteries on the environment and encourage the recovery of the materials they contain. In the UK, regulations on the recycling of batteries and accumulators (rechargeable batteries) were Introduced in 2009. The Waste Batteries Regulations aim to significantly increase UK collection and recycling of used portable batteries from 3% in 2007 to 25% by 2012, rising to at least 45% in 2016.

The battery symbol on a product or on its packaging indicates that the product must not be disposed of with general household waste. Instead, it is the consumer's responsibility to dispose of their waste batteries at a designated collection point so that they can be recycled. The separate collection and recycling of batteries at the time of disposal will help to conserve natural resources and ensure that they are recycled in a manner that protects human health and the environment. A comprehensive list of battery recycling centers can be obtained from: www.recycle-more.co.uk

All Samsung products that are subject to the Batteries Directive are compliant with the UK battery and accumulator Requirements. In accordance with national law, SAMSUNG Electronics (UK) Ltd is a member of an approved batteries producer compliance scheme. This scheme collects, treats and disposes of batteries on Samsung's behalf.
16-50mm F2-2.8 ED OIS Premium S Lens
SRP: 10,390
Features
- With melding precision engineering and reliable design, the Samsung 16-50mm Premium S Lens is a professional standard zoom lens that embodies the ideal of the new Premium S Lens series.
Create images that resonate
Premium S Lens Experience high-resolution clarity with expertly rendered details, colors and contrast for performance that is unrivaled at any setting. Deriving from the French word 'sommet', the "S" mark can be associated with words like 'superior', 'supreme', and 'summit', and the Samsung Premium S Lens series is exactly that; it represents the summit of optical lens design. Precision engineering, quality control and the latest technological advances coalesce into a series of durable high-performance lenses. Our enduringly valuable lenses allow photographers to bring their visions to life like never before.
Clearly designed to improve image quality
Extremely delicate optical lens design The Samsung 16-50mm Premium S Lens contains 18 elements in 12 groups—including three aspherical, two ED and two XHR lenses—to produce sharper images without color fringing. The lens is crafted with an extremely delicate optical lens design that incorporates SPMC (Superior Multi-Coating) technology to reduce ghosting and flare effects. As a result, you can shoot bright and clear low-lit images with an aperture setting even as low as F2. This lens meets the CIPA's OIS 4-Stop* guideline, meaning you can get clearer pictures with less blur in most situations.

* Lens meets CIPA OIS 4-Stop guideline only at 50mm focal length with the NX300 and NX30.
A brighter way to capture life
A bright F2- F2.8 aperture Standard 16-50mm lenses have difficulty maintaining high resolution when shooting at larger apertures, which is why they are typically offered at F2.8. But the Samsung 16-50mm Premium S Lens goes as low as F2 while still maintaining a high resolution, due to its meticulously crafted optical lens design. This means you can shoot bright and clear low-lit images with an aperture setting as low as F2—and capture a whole new world in the dark or create even more stunning photos with more of an out-focusing effect.
Designed for life in adverse conditions
Reliable lens design Elegantly crafted of metal, this new addition to the Samsung 16-50mm Premium S Lens series defines rugged luxury. Every element of the lens, including the zoom and focus rings, is manufactured to exact standards so you can smoothly adjust settings with precise control. In addition, its dust-proof and water-resistant design enables shooting under sandy or grimy conditions—from beaches to deserts to construction sites.
A smoother, faster, quieter autofocus
Still / Video High-speed AF Samsung's newly developed Ultra-Precise Stepping Motor (UPSM) eliminates the kind of noises often generated by conventional autofocus (AF) systems. You'll appreciate its quiet AF performance every time you record video. And the UPSM allows for very accurate incremental positioning, for smoother AF performance that's also three times faster.
The perfect system for capturing unwavering video
Inner Focus System The lens's inner focus system does not change length during focusing, ensuring stability for recording steady, unwavering video. Nor does the lens barrel rotate, so you can use a non-rotating front lens assembly, such as a polarizing filter or a lens hood. The inner focus system also delivers faster and smoother operation while helping to make the lens more compact and portable.
One-touch access to the perfect picture
i-Function Integrated into the lens barrel design, the intuitive i-Function system lets you frame the shot, adjust manual settings and preview changes—all at the same time. To capture the image you envision, press the i-Function button on the side of the lens and twist the value ring to change variables such as aperture, shutter speed, ISO and white balance. Capture the moment instantly—and perfectly.
Reliable lens design
Applied optimized material & water-repellent lubricant to each part to protect inside
High-speed AF by UPSM
3 times more precise control = "Better Accuracy" Improving the accuracy of position of AF Motor UPSM gives you more precise picture.
tech specs
Features
Focal Length in 35 mm Equivalent

Lens Construction - Elements

Lens Construction - Groups

Number of Diaphragm Blades

Minimum Focus Distance (Wide)

Minimum Focus Distance (Tele)
Physical specification
Weight (Lens Only, Approx.)
NEWEST
MOST HELPFUL
HIGHEST RATING
LOWEST RATING