17mm F1.8 OIS Large Aperture Prime Lens (NX-M)
YN17ZZZA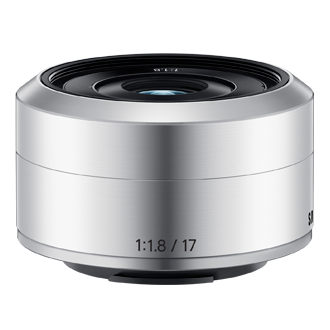 17mm F1.8 OIS
Prime Lens
Offers high imaging performance with standard focal length of 17mm (format equivalent to 45.9mm of 35mm film cameras)
Recycling Batteries Responsibly
The European Directive on Batteries and Accumulators aims to minimise the impact of batteries on the environment and encourage the recovery of the materials they contain. In the UK, regulations on the recycling of batteries and accumulators (rechargeable batteries) were Introduced in 2009. The Waste Batteries Regulations aim to significantly increase UK collection and recycling of used portable batteries from 3% in 2007 to 25% by 2012, rising to at least 45% in 2016.

The battery symbol on a product or on its packaging indicates that the product must not be disposed of with general household waste. Instead, it is the consumer's responsibility to dispose of their waste batteries at a designated collection point so that they can be recycled. The separate collection and recycling of batteries at the time of disposal will help to conserve natural resources and ensure that they are recycled in a manner that protects human health and the environment. A comprehensive list of battery recycling centers can be obtained from: www.recycle-more.co.uk

All Samsung products that are subject to the Batteries Directive are compliant with the UK battery and accumulator Requirements. In accordance with national law, SAMSUNG Electronics (UK) Ltd is a member of an approved batteries producer compliance scheme. This scheme collects, treats and disposes of batteries on Samsung's behalf.
17mm F1.8 OIS Large Aperture Prime Lens (NX-M)
SRP: $1,790
Features
- Superior lens designed for NX mini, Offers high imaging performance with standard focal length of 17mm (format equivalent to 45.9mm of 35mm film cameras
- Take perfect selfies and portraits with an exceptionally bright F1.8 aperture - even in low light
- Capture steady shots thanks to the Optical Image Stabiliser
- Carry the compact and lightweight NX-M 17mm lens (weighting 55g only) easily
Bright prime lens
With an exceptionally bright F1.8 aperture, the NX-M 17mm gives you the power to capture truly captivating portraits and selfies with superb out-of-focus effects. It's also very effective in low-light situations.
Stylishly compact with a premium metal finish
The NX-M 17mm is compact and light, yet boasts a bright F1.8 aperture. Its minimal design is perfect for the NX Mini, and features a solid metal build completed by Samsung's stylish color material finish (CMF).
OIS for a steadier shot
The Optical Image Stabilizer enables clear and steady shots even at slow shutter speeds and in low-light situations. It also captures amazingly smooth video, and reduces any blurriness caused by slight shakes.
NEWEST
MOST HELPFUL
HIGHEST RATING
LOWEST RATING