WB30F
SAMSUNG WB30F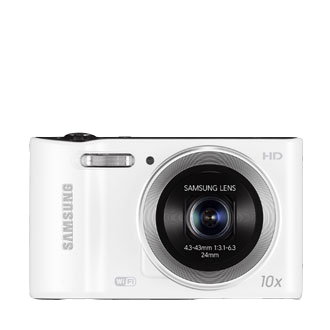 The Samsung SMART CAMERA WB30F is the debut of the exclusive microslim design. You can easily create professional-quality pictures and HD video with 10x zoom and a 24mm wide-angle lens. Powered by SMART CAMERA 2.0, the new functionalities and upgrades let you shoot and share photos instantly.
10x zoom and a 24mm wide-angle lens
SMART CAMERA 2.0
Direct Link Wi-Fi sharing instantly
Recycling Batteries Responsibly
The European Directive on Batteries and Accumulators aims to minimise the impact of batteries on the environment and encourage the recovery of the materials they contain. In the UK, regulations on the recycling of batteries and accumulators (rechargeable batteries) were Introduced in 2009. The Waste Batteries Regulations aim to significantly increase UK collection and recycling of used portable batteries from 3% in 2007 to 25% by 2012, rising to at least 45% in 2016.

The battery symbol on a product or on its packaging indicates that the product must not be disposed of with general household waste. Instead, it is the consumer's responsibility to dispose of their waste batteries at a designated collection point so that they can be recycled. The separate collection and recycling of batteries at the time of disposal will help to conserve natural resources and ensure that they are recycled in a manner that protects human health and the environment. A comprehensive list of battery recycling centers can be obtained from: www.recycle-more.co.uk

All Samsung products that are subject to the Batteries Directive are compliant with the UK battery and accumulator Requirements. In accordance with national law, SAMSUNG Electronics (UK) Ltd is a member of an approved batteries producer compliance scheme. This scheme collects, treats and disposes of batteries on Samsung's behalf.
Features
- The Samsung SMART CAMERA WB30F is the debut of the exclusive microslim design.
- You can easily create professional-quality pictures and HD video with 10x zoom and a 24mm wide-angle lens.
- Powered by SMART CAMERA 2.0, the new functionalities and upgrades let you shoot and share photos instantly.
Wi-Fi Connectivity with Direct Link
Share anytime anywhere, without limits
The dedicated Direct Link hot key helps you quickly connect to Wi-Fi networks while MobileLink, Social Sharing & Email as well as Samsung Link let you share precious memories with friends and family around the world.
10x Optical Zoom, 24mm Wide-Angle Lens
Go far and wide for the perfect shots
Use the 24mm wide-angle lens to capture panoramic shots, even those wider than can been seen with the unaided eye. There's also a 10x Optical Zoom that lets you quickly take stunning close-ups from far away, so you can get sharply rendered images of a clock tower or the colorful details of exotic birds in the wildlife park.
Microslim Design
10x zoom and breathtaking image quality in a microslim package
Samsung's exclusive microslim design delivers big performance that's ready to go where the action is. See every detail up close with a powerful 10x optical zoom. Plus, capture beautiful color and stunning, crystal-clear pictures and HD video with a professional-quality 24mm ultra wide-angle lens.
[NEW] AutoShare
Save pictures to your camera and phone— Instantly


Simultaneously send every picture you take to your mobile phone via Wi-Fi connection—to make backing up and sharing your high-quality photos super easy. Set up AutoShare once and the camera saves it as the default setting. AutoShare also GPS tags your photos with your Smart Phone.
[NEW] Samsung SMART CAMERA App.
Connect to your camera faster - one touch, three apps

Download the Samsung SMART CAMERA App. – which features Remote Viewfinder, AutoShare, and MobileLink – without having to download each app individually. Rather than launching the apps one at a time on your smartphone, you can open all three apps at once, with the touch of a finger.
Remote Viewfinder
Remotely control your camera from a smartphone
Control your camera by using your smartphone as the viewfinder. Remote Viewfinder lets you preview images, adjust the camera settings, zoom in and out and frame each scene— all from your phone, wirelessly. This feature is available for select smartphones.
MobileLink
Cameras, smartphones and tablets - makes sharing easier
Now you can select and send an image or video directly to a smartphone, iPhone or tablet with the Samsung MobileLink. You can control the album on your phone with greater convenience.
Samsung Link
Shoot, share, play - across all devices
Samsung Link lets you connect to all devices that support Samsung Link. You can wirelessly stream photos and videos from your camera to nearby devices to share with friends and family at once, or simply upload to Web Storage instantly for easy management.
Cloud
Never lose your valuable memories
With Cloud, you'll never run out of room in your memory card or lose valuable pictures. Wirelessly save images to a cloud storage, then view them anytime on your smartphone, tablet or download them to your PC later.
Social Sharing & Email
Share with the world, anywhere in the world
You can instantly email or post must-see images and videos to your favorite social networks. Just select and upload wherever you have a Wi-Fi connection, and then add tags and comments. Share with your Blog followers, or post to Facebook, Weibo or YouTube - and many more social networks.
Auto Backup
Shoot once. Save forever.
Wirelessly transfer photos and movies to your PC or Mac. Simply choose AutoBackup and you're all set. All your photos and videos are transferred wirelessly and safely stored onto your computer. Feel free to delete photos from your camera, reducing wasted storage space while increasing space for more wonderful images.
[NEW] S/W Upgrade Notifier
Get firmware notifications pushed to your camera
When a firmware update is available and you are connected to a Wi-Fi network, a notification window will pop up on the camera's screen. Connect your camera to your PC for the upgrade, and start using the latest features without delay.
What is "Wi-Fi"?


802.11 is a set of Wi-Fi standards created by the Institute of Electrical and Electronics Engineers (IEEE). "a, b, g, n" represent the continuous increased intensity of Wi-Fi signal coverage. Wi-Fi stands for "Wireless Fidelity", is a play on Hi-Fi, which is what people used to call their record players back in the early days of stereo.
What is Samsung Link?


The Samsung Link service lets you play content saved over the Internet onto various types of devices. You can view and play the content on your devices and share it with other devices, websites, or storage services. With Samsung Link, managing content on your devices is more convenient than ever.
Smart Filter
Amazing, Surreal Image Manipulation
Boost creative fun with Smart Filter lens and color effects — right on the display! Cartoon Filter makes any photo look like an animated film scene while Cross Filter makes light sources appear to have several points of light. There's also Ink Painting, Half-tone Dot — and many more ways for you to express your creative side!
Live Panorama
180º Sweep Panorama Shot
With Live Panorama, you can capture every peak of a sprawling mountain range or every skyscraper in a magnificent city skyline to create astounding 180º panoramic images. And you can preview the image on the LCD before you even snap it. Just hold the shutter button, sweep across the scene and see what you're going to get before you get it.
Motion Photo
Add action to your still photos
With Motion Photo, you can freeze time around a moving subject to create enchanting images. Simply shoot the footage, and then rub the area on the display where you want action—just like in a Hollywood blockbuster. The photo around it will freeze—it's that easy.
Magic Frame
Frame your pictures in fun
Magic Frame comes with 12 background templates such as Wall Art, Full Moon, Magazine and Holiday that let you easily create poster-quality art that's perfect for sharing.
Zoom Noise Reduction (Sound Alive)
Crystal-clear video deserves crystal-clear sound. Perfect!
HD Movie with ZNR automatically adjusts and optimizes the sound when recording in HD, and even eliminates the whirring noise of the zoom function. Your ears will thank you.
3.0" LCD Screen


The 3.0-inch LCD screen on the back of the Camera provides a perfect, glare-free way to review your photos. The wide and bright screen reproduces the images so they look as they truly appear—even in direct sunlight.
Smart Camera 2.0 Provides Instant
Shoot and Share On the Go
Redesigned to add a number of innovative functionalities, this Samsung SMART CAMERA offers diversified ways to share photos better than ever. You are able to capture every detail of the world right before your eyes in incredibly crisp, vibrant color and stunning vividness. Enjoy the great ease of shooting and sharing immediately with this camera. Meanwhile, you can share photographic memories with friends and family anywhere in the world, enabling them to share your precious moments.
More Choices‧More Powerful Features‧More Fun
tech specs
Sensor
Sensor Type

1/2.3″ (Approx. 7.76mm) CCD
Lens
Focal Length

SAMSUNG LENS 10x Zoom Lens f = 4.3 ~ 43mm (35mm film equivalent: 24~240 mm)

Digital Zoom

Still Image mode: 1.0X ~ 5.0X (Optical x Digital : 50x), Intelli-Zoom : 2.0X (Optical x intelli :20X)
Image Stabilization
Mode

Optical Image Stabilization
Focusing
Technology

TTL Auto Type: TTL Auto Focus (Center AF, Multi AF, Tracking AF, Face Detection AF), Video Continuous Auto Focus

Range

Normal: 80cm ~ Infinity (Wide), 250cm ~ Infinity (Tele)
Macro: 5cm ~ 80cm (Wide), 130cm ~ 250cm (Tele)
Auto Macro: 5cm ~ Infinity (Wide), 130cm ~ Infinity (Tele)
Shutter Speed
Shutter Speed

Smart Auto: 1/8 ~ 1/2,000 sec.
Program: 1 ~ 1/2,000 sec.
Night: 16 ~ 1/2,000 sec.
Fireworks: 2 sec.
Exposure
Metering System

Multi, Spot, Center-weighted, Face Detection AE

ISO Equivalent

Auto, 80, 100, 200, 400, 800, 1600, 3200
Flash
Mode

Auto, Auto & Red-eye reduction, Fill-in flash, Slow sync, Flash Off, Red-eye fix

Range

Wide: 0.2m ~ 3.3m (ISO Auto), Tele: 0.5m ~ 1.6m (ISO Auto)
White Balance
Mode

Auto WB, Daylight, Cloudy, Fluorescent_H, Fluorescent_L, Tungsten, Custom
Shooting
Mode

Mode: 1) Smart Auto 2) Program 3) Scene 4) Photo Filter 5) Split Shot 6) Motion Photo 7) Close up 8) Magic Frame 9) Live Panorama 10) Beauty Shot 11) Night shot
* Scene: Landscape, Text, Sunset, Dawn, Backlight, Beach & Snow
* Smart Auto: Portrait, Night Portrait, Night, Backlight Portrait, Backlight, Landscape, White, Macro, Macro Text, Tripod, Action, Macro Color, Natural Green, Blue Sky, Sunset Sky, Fireworks, Candle, Spotlight, Spotlight(Macro), Spotlight(Portrait)
* Continuous: Single, Continuous, Motion Capture, AEB
* Photo Filter: Miniature / Vignetting / Ink Painting / Oil Painting / Cartoon / Cross Filter / Sketch / Soft focus / Fish Eye / Old Film / Half Tone Dot / Classic / Retro / Zooming Shot
* Self timer: Off, 10 sec., 2 sec., Double(10 sec., 2 sec.)
Image Play
Image Play

Single image, Thumbnails, Advanced Slide Show, Movie Clip
Date Imprinting
Date Imprinting

Date & Time, Date, Off (user selectable)
Movie Clip
Video Recording

* Smart Movie: Landscape, Blue Sky, Natural Green, Sunset
* Movie Size: 1280×720, 640×480, 320×240, 240 web
* Frame Rate: 30fps
* Sound Alive: Sound Alive On, Sound Alive Off, Mute
* Video Editing (embedded): Paused During Recording
* Time: off, 10sec

Effect

* Smart Filter: Miniature, Vignetting, Half Tone Dot, Sketch, Fish-eye, Classic, Retro, Palette Effect 1, Palette Effect 2, Palette Effect 3, Palette Effect

Edit

Still Image Capture / Time Trimming
Storage
Media

* Internal memory: Approx 9.5MB
* External memory: Micro SD™ (up to 2GB guaranteed), Micro SDHC™ (up to 32GB guaranteed), Micor SDXC (up to 64GB guaranteed)
* Internal Memory Capacity may not match these specifications

File Format

* Still Image: JPEG (DCF), EXIF 2.21, GIF
* Movie Clip: MP4(H.264), Audio: AAC

Image Size

16 M: 4608 x 3456
14 MP: 4608 x 3072
12 MW: 4608 x 2592
10 M: 3648 x 2736
5 M: 2592 x 1944
3 M: 1984 x 1488
2 MW: 1920 x 1080
1 M: 1024 x 768
Interface
Audio

Microphone: Mono Internal
Speaker: Mono

Video output

AV: NTSC, PAL (User selectable)
Power
Power Source

Technology

Rechargeable battery: BP70A
Connector Type: micro USB (5 pin)
Design
Dimension

Dimension (W x H x D)

Weight

131g (without battery and memory card media)

Operating Temperature (℃)
S/W and PC OS
Compatible OS

Windows XP SP2 / Vista / 7 / 8
System Requirement in General
For Macintosh

Power Mac G3 or later, Mac OS 10.5 or higher, Minimum 256MB RAM, 110MB of available hard-disk space, USB port, CD-ROM drive

For Windows

PC with processor better than Intel Core 2 Duo 1.66 GHz / AMD Athlon X2 Dual-Core 2.2 GHz or higher, Minimum 512MB RAM (Over 1GB recommended), Windows XP SP2 / Vista / 7 / 8, 250MB of available hard-disk space (Over 1GB recommend), USB 2.0 port, CD-ROM drive, nVIDIA Geforce 7600GT or later / Ati X1600 series or later 1024×768 pixels, 16-bit color display compatible monitor (1280x1024, 32-bit color display recommended), Microsoft DirectX 9.0c or later
Wireless
Wireless

MobileLink, Remote Viewfinder, Auto Backup, Email, SNS & Cloud, AllShare Play, AutoShare, Wi-Fi Direct, S/W Upgrade Notifier
NEWEST
MOST HELPFUL
HIGHEST RATING
LOWEST RATING