WB50F
SAMSUNG WB50F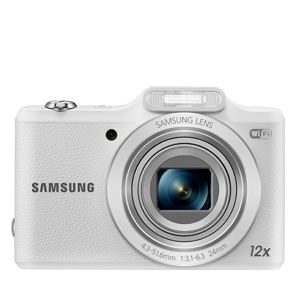 Wherever you go, capture and share warm portraits of your newborn with Soft Flash, and indirect flash that won't harm your baby's eyes.
Tilt Soft Flash Light
Tag & Go, Share as fast as you snap
Recycling Batteries Responsibly
The European Directive on Batteries and Accumulators aims to minimise the impact of batteries on the environment and encourage the recovery of the materials they contain. In the UK, regulations on the recycling of batteries and accumulators (rechargeable batteries) were Introduced in 2009. The Waste Batteries Regulations aim to significantly increase UK collection and recycling of used portable batteries from 3% in 2007 to 25% by 2012, rising to at least 45% in 2016.

The battery symbol on a product or on its packaging indicates that the product must not be disposed of with general household waste. Instead, it is the consumer's responsibility to dispose of their waste batteries at a designated collection point so that they can be recycled. The separate collection and recycling of batteries at the time of disposal will help to conserve natural resources and ensure that they are recycled in a manner that protects human health and the environment. A comprehensive list of battery recycling centers can be obtained from: www.recycle-more.co.uk

All Samsung products that are subject to the Batteries Directive are compliant with the UK battery and accumulator Requirements. In accordance with national law, SAMSUNG Electronics (UK) Ltd is a member of an approved batteries producer compliance scheme. This scheme collects, treats and disposes of batteries on Samsung's behalf.
Features
- Capture the Touching Moments with the Tilt Soft Light
Capture the Touching Moments with the Tilt Soft Light
Wherever you go, capture and share warm portraits of your newborn with Soft Flash, and indirect flash that won't harm your baby's eyes.
Expand your range of photo opportunities
12X Optical Zoom, 24mm Wide Angle From up close or far away, preserve the moment exactly how you want to remember it. Capture a spectacular mural that takes up the entire side of a building—or a field of colorful wildflowers that seems to stretch for miles—with the 24mm wide-angle lens. When you can't get physically closer to your subject, such as a windsurfer sailing across the sea, the 12X optical zoom lets you capture every sharp detail.
Share as fast as you snap
Tag & Go (NFC/Wi-Fi) Tag&Go (NFC/ Wi-Fi) features like Photo Beam, AutoShare, Remote Viewfinder and MobileLink let you share images to compatible smartphones right next to you or on the other side of the world. Photo Beam easily sends any photo that you're viewing to a smartphone instantly. AutoShare saves photos to your smartphone as you shoot and with Remote Viewfinder, you can control your camera with your smartphone. Effortlessly post photos to social networks and store them on the cloud.
The safe and sweet way to capture memories
Soft flash New parents will especially appreciate the WB50F Camera. Slim enough to slip into your packed diaper bag, it's capable of shooting high-quality images you just can't get with a smartphone. It features Soft Flash so you can take beautiful portraits without fear of harming your baby's eyes, and it captures clear shots of your child in action, even from a distance, thanks to optical image stabilization and 12x optical zoom. Snap away, then share your cutest shots with one touch, via Tag & Go.
The easiest way to shoot like a pro
Smart Mode Stop being jealous of the pros with their big cameras, and start taking great shots. Like the perfect trails of light at night on a busy intersection full of red taillights. Or instantly capture a high-speed scene with Action Freeze. A quick tap of Smart Mode and you're set with various special modes. Just choose the one you want and shoot perfection.
Capture brilliance, not noise
16M CCD Sensor Tiny sensors tend to lead to noisy pictures. The WB50F, however, comes equipped with a 16-megapixel CCD sensor that's larger—1/2.3", to be exact—than those found in most compact digital cameras. The results are vivid yet natural images, whether you're shooting in a dimly lit room or outside on a sunny day.
Intelligent LCD
75.0mm (3.0") LCD Screen Its 3.0"(75mm) Intelligent LCD provides for improved contrast and color reproduction, which allows you to enjoy a wider and clearer image. And its Intelligent LCD brightness automatically detects environmental illumination and adjusts the LCD brightness for optimal image viewing. It does the thinking for you, which makes the WB50F a smart choice.
A palette of artistic filters to express yourself
Photo/Video Filter Just because you can capture reality as you see it doesn't mean you have to. Samsung's Smart Filter gives you creative license to produce artistic images. Reignite childlike wonder with the Miniature filter, which can make a cityscape look like a play set. Other effects include Vignetting, Classic, Retro, Cross Filter, and Fish Eye.
It's easier than ever to be social
Facebook / YouTube / Picasa / DropBox / Email Show off a fabulous selfie with the rest of the world in no time flat. As long as you have a Wi-Fi connection, you can post images and videos directly to Facebook, YouTube, and now Picasa. Tag and add comments, too. You can also upload photos right to your blog, or email them to your family. Feel free to keep shooting, because your SMART CAMERA also comes with 2GB of free Dropbox web storage or 50GB if you have a GALAXY smartphone.
Seamless sharing and play—across all devices
Samsung Link Effortlessly save every moment you've captured. Samsung Link instantly and wirelessly streams your photos your PC or favorite web storage service such as DropBox. No more waiting to go home to manually upload images. With one touch, you can show off photos and videos on your Smart TV or send them to any compatible smartphone. Sharing has never been this easy.
See what you are going to get
Live Panorama With Live Panorama, you can capture a seemingly endless procession of gondolas gliding past a magnificent Venetian palace with an astounding 180º panoramic image. And you can preview the image on the LCD before you even snap it. Just hold the shutter button, sweep across the scene and see what you're going to get before you get it.
The easy way to capture perfection
Smart Auto Turn fleeting moments into memories with professional-style results. The Samsung SMART CAMERA's Smart Auto automatically analyzes the shooting environment and then chooses the appropriate scene mode for the best possible results. Smart Auto analyzes key elements in the composition and automatically adjusts its various modes to capture the best shot.
tech specs
Sensor
Sensor Type

1/2.3″ (Approx. 7.76mm) CCD
Lens
Focal Length

Samsung 12x Zoom Lens f = 4.3~51.6mm (35mm film equivalent: 24~288 mm)

Digital Zoom

Still Image mode: 1.0X ~ 2.0X (Optical *Digital: 24x)
Intelli-Zoom: 2.0X (Optical *intelli: 24X)
Image Stabilization
Mode

Optical Image Stabilization
Focusing
Technology

Type: TTL Auto Focus (Center AF, Multi AF, Tracking AF, Face Detection AF), Video Continuous Auto Focus

Range

Normal: 80cm ~ Infinity (Wide), 250cm ~ Infinity (Tele)
Macro: 5cm ~ 80cm (Wide), 130cm ~ 250cm (Tele)
Auto Macro: 5cm ~ Infinity (Wide), 130cm ~ Infinity (Tele)
Shutter Speed
Shutter Speed

Smart Auto: 1/8 ~ 1/2,000 sec.
Program: 1 ~ 1/2,000 sec.
Night: 8 ~ 1/2,000 sec.
Fireworks: 2 sec.
Exposure
Metering System

*Metering: Multi, Spot, Center-weighted, Face Detection AE
*Metering Range: EV 2~17 (Wide, ISO Auto), EV 4~19 (Tele, ISO Auto)

ISO Equivalent

Auto, 80, 100, 200, 400, 800, 1600, 3200
Flash
Mode

Auto, Auto & Red-eye reduction, Fill-in flash, Slow sync, Flash Off, Red-eye fix

Range

Range:
Wide: 0.2m ~ 4.0m (ISO Auto)
Tele: 0.5m ~ 1.6m
White Balance
Mode

Auto WB, Daylight, Cloudy, Fluorescent_H, Fluorescent_L, Tungsten, Custom, K
Shooting
Mode

Mode:
*Smart Auto, Program
*Smart mode, Photo Filter, Live Panorama
*Smart Mode: Landscape, Action Freeze, Silhouette, Sunset, Fireworks, Light Trace, Beauty Face, Night, Macro, Soft flash
*Smart Auto: Portrait, Night Portrait, Night, Backlight Portrait, Backlight, Landscape, White, Macro, Macro Text, Tripod, Action, Macro Color, Natural Green, Blue Sky, Sunset Sky, Lowlight, Spotlight, Spotlight(Macro), Spotlight(Portrait)
*Continuous: Single, Continuous, Motion Capture, AEB
*Photo Filter: Miniature, Vignetting, Cross Filter, Fish Eye, Classic, Retro
*Self timer: Off, 10 sec., 2 sec., Double(10 sec., 2 sec.)
*Edit: Rotate, Smart Filter, Brightness, Contrast, Saturation, ACB, Face Retouch, Red-eye Fix, Resize, Trimming
Image Play
Image Play

Single image, Thumbnails, Advanced Slide Show, Movie Clip
Date Imprinting
Date Imprinting

Date&Time, Date, Off (user selectable)
Movie Clip
Video Recording

*Mode: Movie, Smart Movie
*Movie Size(Frame Rate): 1280x720(30fps), 640x480(30fps)
For sharing: 320x240 (30sec)
*Format: MP4 (Max. recording time: 20 min.)
*On/Off/ Zoom Mute
*CAF Button On/Off

Effect

Movie Filter: Miniature, Vignetting, Fish-eye, Classic, Retro, Palette Effect 1, Palette Effect 2, Palette Effect 3, Palette Effect 4

Edit

Still Image Capture / Time Trimming
Storage
Media

*Internal memory: Approx 30MB
* External Memory (Optional): micro SD™ (2GB guaranteed), micro SDHC (up to 32GB guaranteed), micro SDXC (up to 64GB guaranteed)
*Class 6 and above recommended
*Internal memory capacity may not match these specifications.

File Format

Still Image: JPEG (DCF), EXIF 2.3, GIF
Movie Clip: MP4(H.264)
Audio: AAC

Image Size

16 M: 4,608 x 3,456
14 MP: 4,608 x 3,072
12 MW: 4,608 x 2,592
10 M: 3,648 x 2,736
5 M: 2,592 x 1,944
3 M: 1,984 x 1,488
2 MW: 1920 x 1080
1 M: 1,024 x 768
Interface
Audio

Microphone: Mono
Internal Speaker: Mono

Video output

AV: NTSC, PAL (User selectable)
Power
Power Source

Technology

Rechargeable battery: BP70A
Connector Type: micro USB (5 pin)
Design
Dimension

Dimension (W x H x D)

101.0 x 68.0 x 27.1(20.5)mm

Weight

157g (without battery and memory card media)

Operating Temperature (℃)
S/W and PC OS
Compatible OS

Windows XP SP2 / Vista / 7 / 8
System Requirement in General
For Macintosh

PC with processor better than Intel Core 2 Duo 1.66 GHz / AMD Athlon X2 Dual-Core 2.2 GHz or higherMinimum 512MB RAM (Over 1GB recommended) Windows XP SP2 / Vista / 7/8250MB of available hard-disk space (Over 1GB recommend) USB 2.0 port CD-ROM drive nVIDIA Geforce 7600GT or later / Ati X1600 series or later1024×768 pixels, 16-bit color display compatible monitor (1280x1024, 32-bit color display recommended) Microsoft DirectX 9.0c or later

For Windows

Power Mac G3 or laterMac OS 10.5 or higher Minimum 256MB RAM 110MB of available hard-disk space USB port CD-ROM drive
Wireless
Wireless

Tag & Go (NFC), MobileLink, Remote Viewfinder, Email, SNS & Cloud, Nearby Devices(DLNA),AutoShare, S/W Upgrade Notifier
NEWEST
MOST HELPFUL
HIGHEST RATING
LOWEST RATING