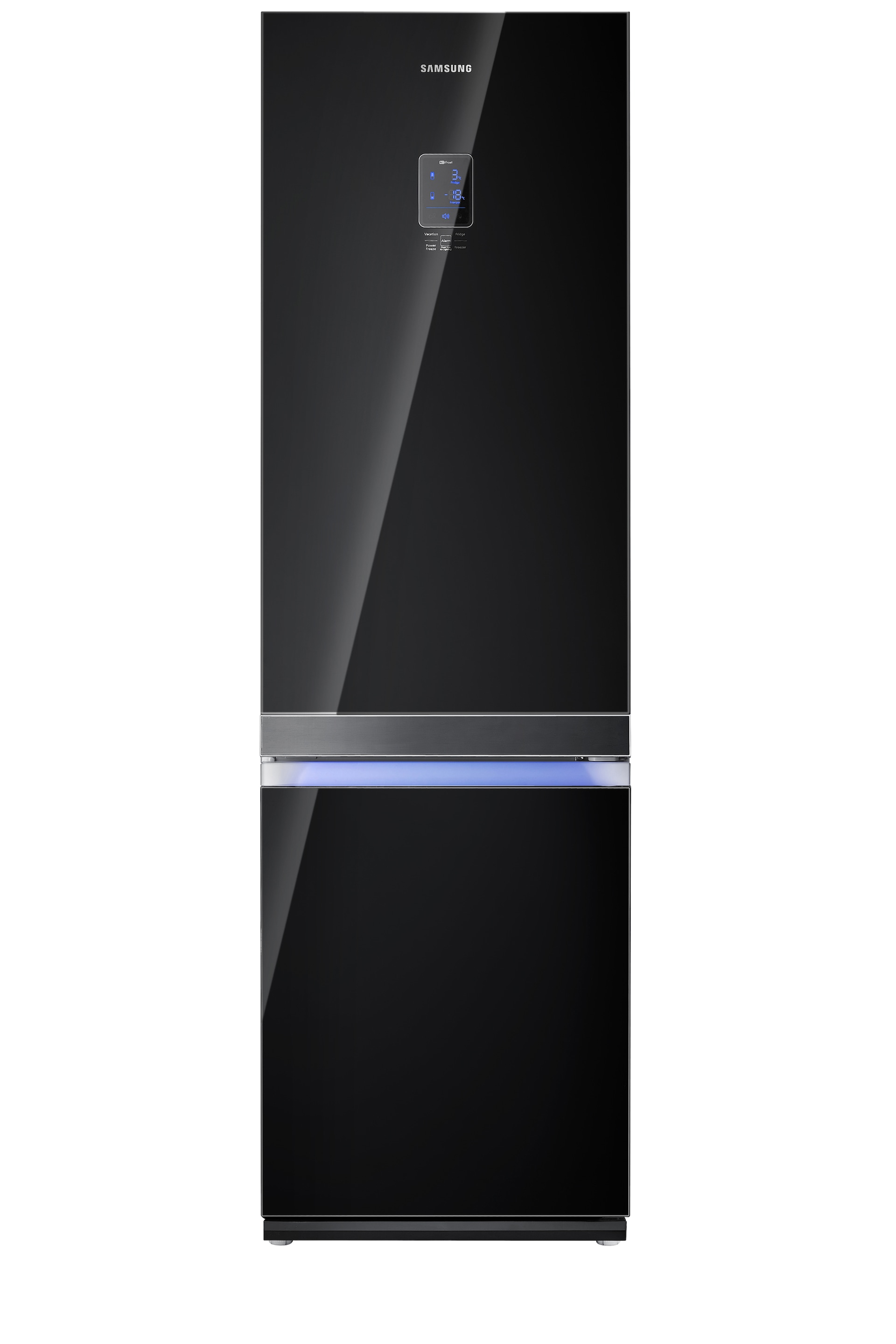 RL55TTE2C1/XSH
RL55TTE2C1/XSH 2 door Refrigerator 328L Black Glass
Stylish design
Select the suitable Temperature
Freezing in a short time
All Around Cooling
Cooling System
15.14
Freezing Capacity (Kg/24 hour)
Sleek, chic design that enhances your décor
The trendy black exterior has a high gloss for an elegant finish. Keep your kitchen as stylish as the rest of your home with the black RL55.
LED Display & Control
The sophisticated blue LED Display graces the exterior of the refrigerator door with its state-of-the-art look, enhancing both usability and design. The easy-to-view display allows you to control the temperature and refrigerator modes, without ever having to open the fridge door.
Blue Handle Lighting
The warm, blue glow from the innovative handle lighting feature will coat the kitchen in its ambient glow. Not only does the lighting create a nice lighting effect, but it also comes in handy when looking for items in the freezer-especially useful for those late-night snacks.
CoolSelect Zone™ within the refrigerator
Only Samsung's CoolSelect Zone™ provides you with another freezer in the refrigerator compartment which sets the temperature how enough to allow medium-term storage for meat and other perishables.
Frost-free freshness, the Samsung way.
Kiss routine defrosting chores goodbye! Besides keeping your food fresh, nutritious and looking delicious, no-frost technology means never having to worry about defrosting your refrigerator again, saving you tons of time and even more frustration. Fresher food and frustration-free maintenance are the chief benefits of Samsung's no-frost refrigerators. But no-frost technology also ensures no icy build-ups, so there's always more space for food. So just relax and let Samsung do the work for you.
Mezzanine Box
You know that one drawer in the house where you keep oft-used items like take-out menus and corkscrews? Well, why shouldn't your fridge have one? Whether you use your ultra-convenient Slim Tray for ice cube trays, a candy stash or frozen family favorites, this thin, flat, refrigerated box gives you instant access to your little go-to food items.
Multi Flow
With the Multi Flow feature, a stream of cool air flows through a series of vents located on every shelf level to create an evenly cooled environment. So the RL55 can maintain the ideal temperature keeping your foods fresher, longer.
Power Freeze for super taste
Power Freeze can quickly freeze any item so that it stays as fresh as the day you bought it. It is great for seafood and meats.
LED light – illuminates everything it refrigerates
This eye-catching feature will delight you as soon as you open the door. The LED tower emits very little heat and runs on even less energy so you'll also see the difference in your electricity bills. Plus the beautifully-designed tower is bright enough to cast a light in every corner of the fridge so finding food is never a problem.
Fold it to fit it
These easy-to-use shelves make storing over-sized items a snap. And the three-step folding shelf provides the additional flexibility you need for all sorts of sizes.
Egg Container
Protect your eggs with the RL55's handy Egg Container. The larger capacity lets you store more eggs while the self-contained container protects the rest of your fridge against spillage or broken eggs.
Vacation Mode
The Vacation Mode feature on the RL55 was designed specifically to keep your entire fridge running efficiently while you're away from home. Going on vacation? The intelligent Vacation Mode turns off the fridge while keeping the freezer working to keep foods frozen. So enjoy your time away from home without worrying about your energy bill or food going bad.
Clean Back
Usually the back of the fridge is that last thing you'd think of. Not for Samsung. They've even thought through how a clean, finished back will not only add to the beautiful design, but also enhance the convenience factor. Now you don't have to worry about the accumulation of dust and debris, making it easier to clean and maintain.
Reversible Door
The RL55 is all about customization, even down to the door design. Now you can choose from two options for the way the door opens. So you no longer have to be concern whether or not the fridge will fit into your kitchen layout.
10-Year Warranty
Samsung provides 10-Year Warranty guaranteeing long-life durability of Digital Inverter Compressor. For 10-Year Warranty, improvement of component quality and optimal design were conducted. This enhanced Samsung technology extends durability without utilization of expensive components.
Minimal Noise
Digital Inverter Compressor reduces perceptible noise by 4.5dB compared to conventional AC and attains incredible 38.5dB*. Amazingly, the reduction of 4.5dB will change disturbing sound to peaceful and stress-free sound. *The data is measured by laboratory testing. Actual noise level may differ depending on usage.
328L

Net Total

All Around Cooling

Cooling System

2

EEL Level

15.14

Freezing Capacity (Kg/24 hour)
User manual & Downloads
Live Chat
How It Stacks Up
Features and specifications are subject to change without prior notification.


- Images are for reference only.