To reduce the possibility of screen burn in, current model Samsung Plasma TVs are equipped with a pixel shift function. This function lets you set pixel shift up and down (Vertical Line) and side to side (Horizontal Dot), and lets you set the time in minutes between shifts so that the image shifts slightly on the screen at specific time intervals. The regular, timed shifting of the image reduces the possibility of screen burn in. The image shift, because it is so slight, is virtually unnoticeable to most viewers.
Note 1: Because the pixel shift function reduces the possibility of screen burn in, you should set up and initiate the pixel shift function before you have a burn in problem.
Note 2: Pixel shift is available on Samsung Plasma TVs only.
To use the screen burn prevention function, follow these steps: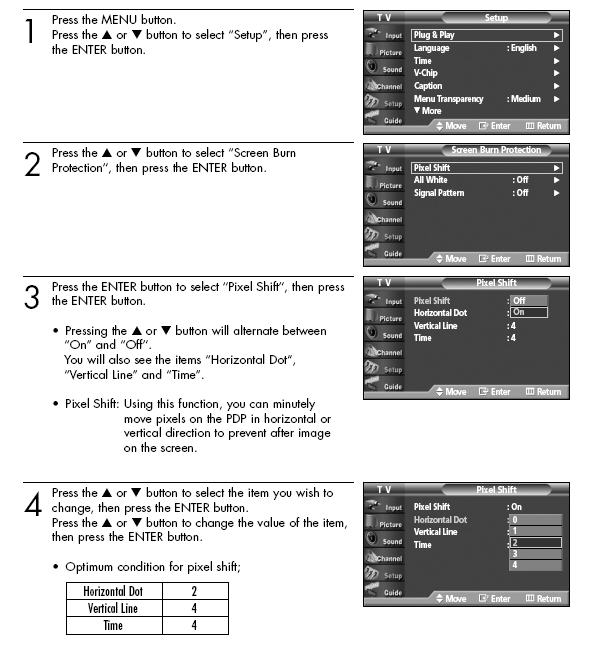 Important: The optimum pixel shift setting for the TV used in this example is displayed in the table immediately above this sentence. Other Samsung Plasma TVs will have other optimum pixel shift settings. When you set the optimum pixel shift for your TV, set the pixel shift to that listed in your user's manual.
Contents Satisfaction Survey
Q1. Is this content helpful?
Q2. How satisfied were you with this content?
Q3. Tell us what you think. What could we have done to answer your question better?
Samsung has launched Carry-in Online Appointment Service to save your time on making appointments for repair, maintenance and firmware upgrade! Experience Now!