To transfer images from your camera to your PC using the Intelli-Studio software provided with the camera, follow these steps:
Note: Intelli-Studio is pre-loaded on most Samsung cameras (if your Samsung camera does not have Intelli-Studio this guide will not apply). Installing Intelli-Studio is a matter of simply connecting your camera to your PC and turning it on (as per the steps below). Intelli-Studio is Windows based and will not work on Macintosh computers.
1. Connect your camera to your PC with the USB cable provided.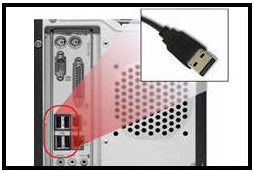 2. Turn your camera on. If a message appears on your camera select the Computer option.
3. Intelli-Studio should automatically open and a pop-up window will appear. To save photos on your camera to your PC click Yes in this window.

Note: if you would like to change the location to which your photos are saved click the Change button and select the folder you'd like your photos to be stored in.
Intelli-Studio will proceed to copy your photos to the specificed location (which could take a few minutes, depending on the number of photos on your camera to copy). You can view these photos through Intelli-Studio and by accessing the folder on your PC where the photos are stored.
Contents Satisfaction Survey
Q1. Is this content helpful?
Q2. How satisfied were you with this content?
Q3. Tell us what you think. What could we have done to answer your question better?
Samsung has launched Carry-in Online Appointment Service to save your time on making appointments for repair, maintenance and firmware upgrade! Experience Now!