Before attempting to upgrade your firmware please verify the following:
Intelli-Studio 3.0 or higher is installed on your PC.
Your camera's battery is fully charged (if the camera powers off during a firmware update it could damage your camera).
Your camera has a formatted memory card inserted. (Formatting the memory card will delete all the files stored on it, so please copy anything you want to keep on the camera to your PC before formatting the memory card).
Warning: when the firmware is downloading do not disconnect your camera from the PC or you will risk damaging the camera. Once the firmware is downloaded and installed on the camera it may not be possible to restore your firmware to an earlier version.
Follow the steps below to update your camera's firmware:
1. Connect your camera to your PC with the USB cable that came with the camera.
2. Turn on your camera.
3. After Intelli-Studio launches click Web Support from the menu bar. (If a memory card is not in your camera you will not be able to do this).
4. Select Upgrade firmware for the connected device.

A pop-window will appear. After Intelli-Studio connects with the Samsung server the latest firmware version will appear in the pop-up window.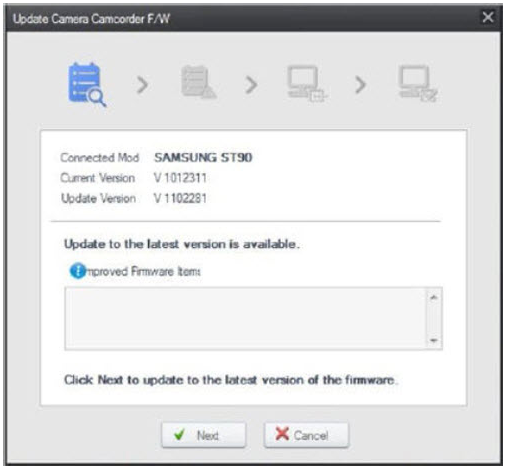 Note: if your camera has the latest version available the message: "No need to upgrade" will appear.
5. Click Next to begin transferring the firmware to your camera. A progress bar will appear.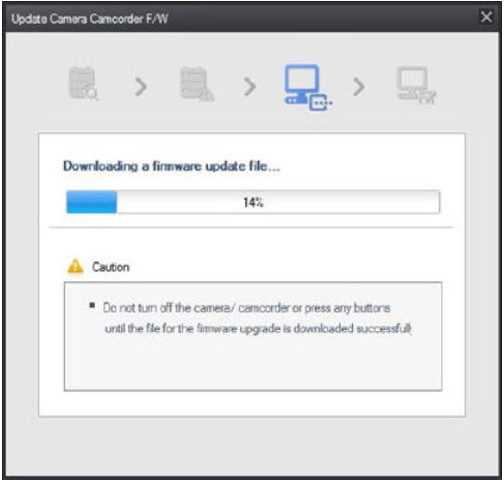 6. Once the firmware has finished downloading click the Close button and disconnect your camera from the PC.
Note: please make sure your battery is fully charged before taking the next step: if your camera turns off during the following process it could suffer serious damage.
7. Turn your camera on and press the shutter button to begin updating the firmware.
A message will appear informing that the firmware is updating. After the firmware has upgraded your camera will turn off. The camera will delete the firmware update file from your camera's memory card once the update is complete.
You can update your PC Intelli-Studio by following the instructions below:
1. Launch Intelli-Studio on your PC.

2. Click on Tools > Update Intelli-studio > Start update.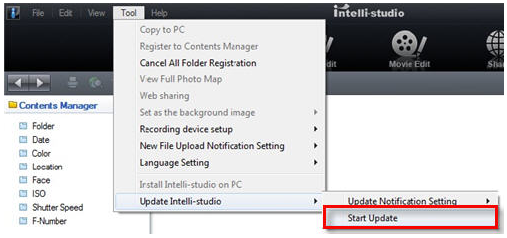 3. You will receive a prompt to update your software. After the download is complete restart your PC.
Samsung has launched Carry-in Online Appointment Service to save your time on making appointments for repair, maintenance and firmware upgrade! Experience Now!